I got an email from our friends at The Creative Workshop last month. Broward would be celebrating its centennial across multiple cities, and Dania Beach is the oldest city in Broward county! So, in the spirit of this momentous occasion, The Creative Workshop would open its doors for a '100 Years of Broward' car show.
And, of course, I'd be there. As usual, I arrived an hour early and was greeted by Jason and company. I said my hellos and went straight to work. This place fills up quick, so I wanted to get some nice unobstructed shots. As I rounded the corner into the main shop floor, I stopped to smell that magical scent of wood and machine. What laid before me was a sea of perfection.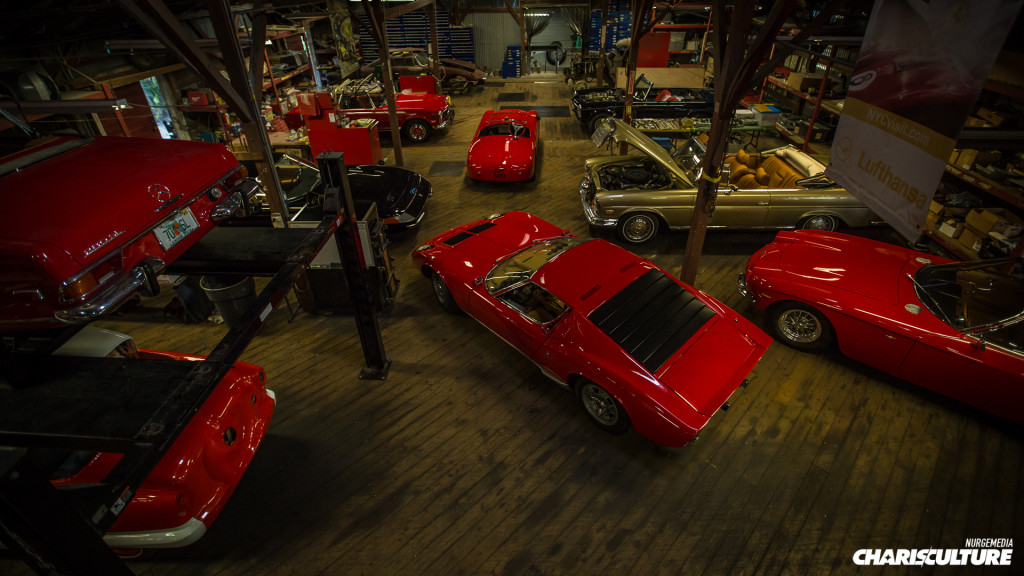 I went straight to the loft area above to get this overhead shot. As you can see, red convertible Mercedes were popular vehicles that day.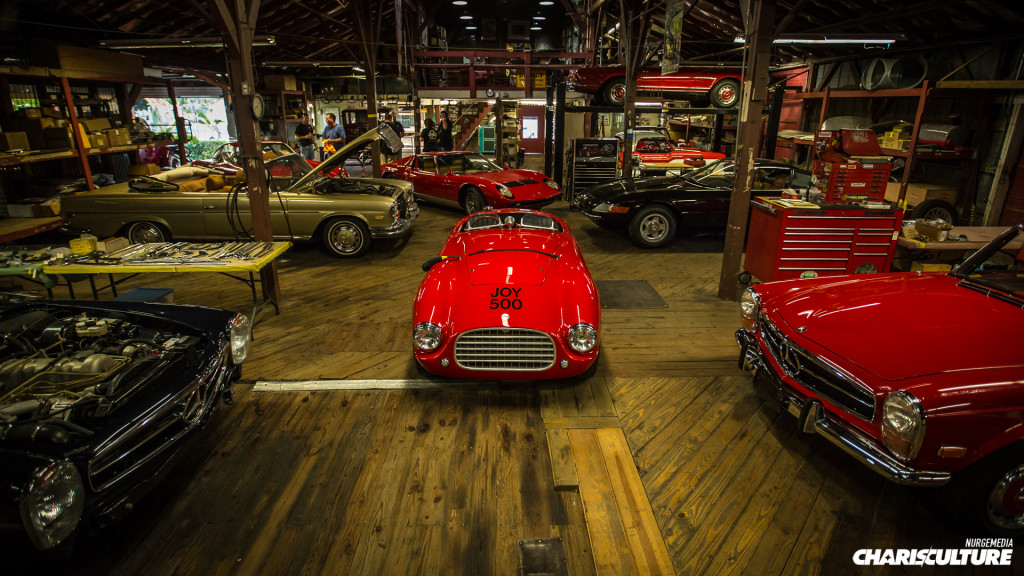 I went downstairs to get a closer look at these beauties. The last time I was here, the "centerpiece" was a rare 1953 Stanguellini 750. This time, there was yet another rare vehicle: a 1951 Cooper MG Barchetta.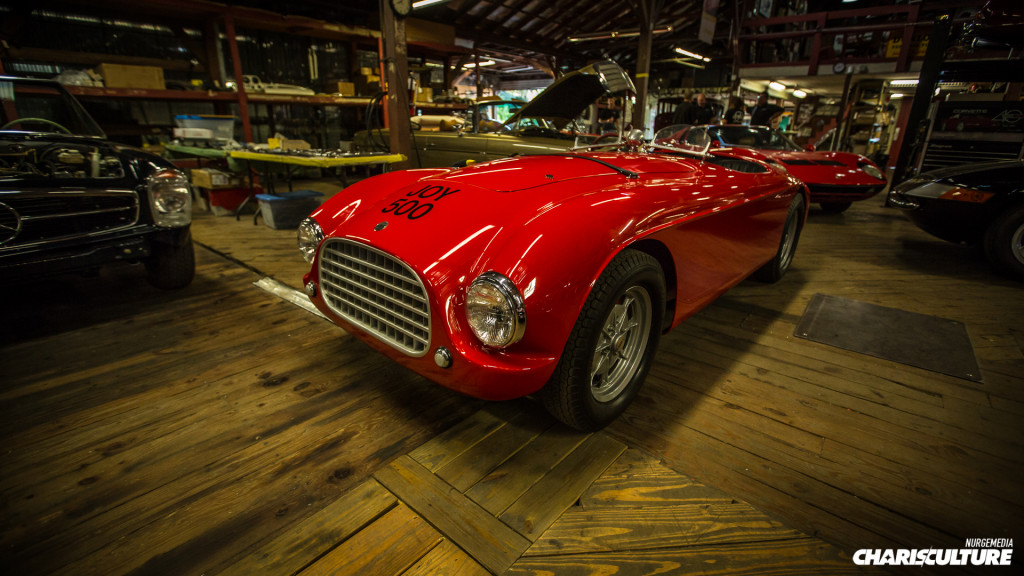 This car was an English take on the Italian sports cars of the time. The styling was lifted from the Ferrari 166 chassis, and it's powered by a highly modified MG engine. This particular car, registered as 'Joy 500,' has quite the racing heritage.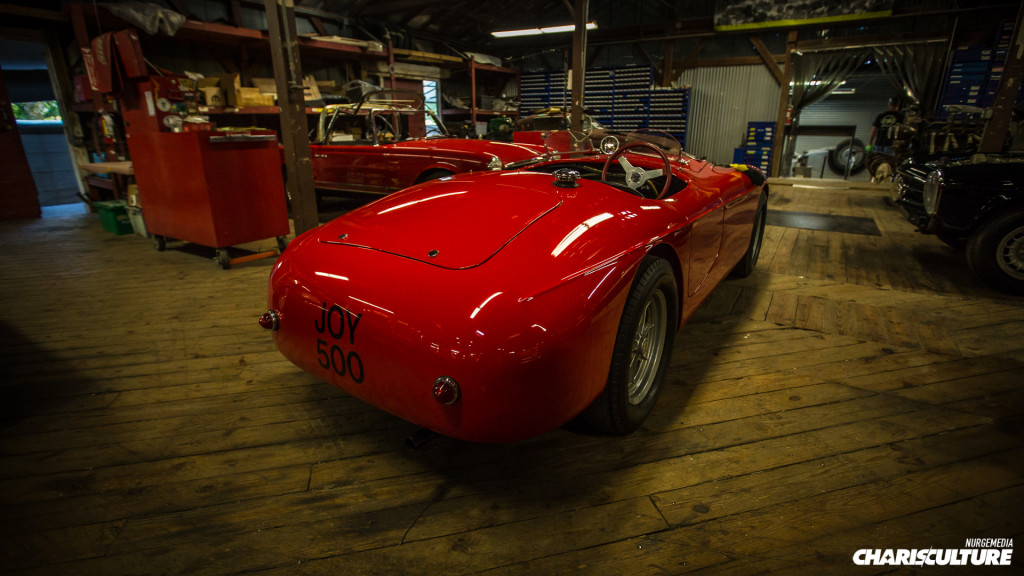 Between 1952 and 1953, it earned over 50 podium finishes! The 'Joy 500' is regarded as the most successful British race car ever built.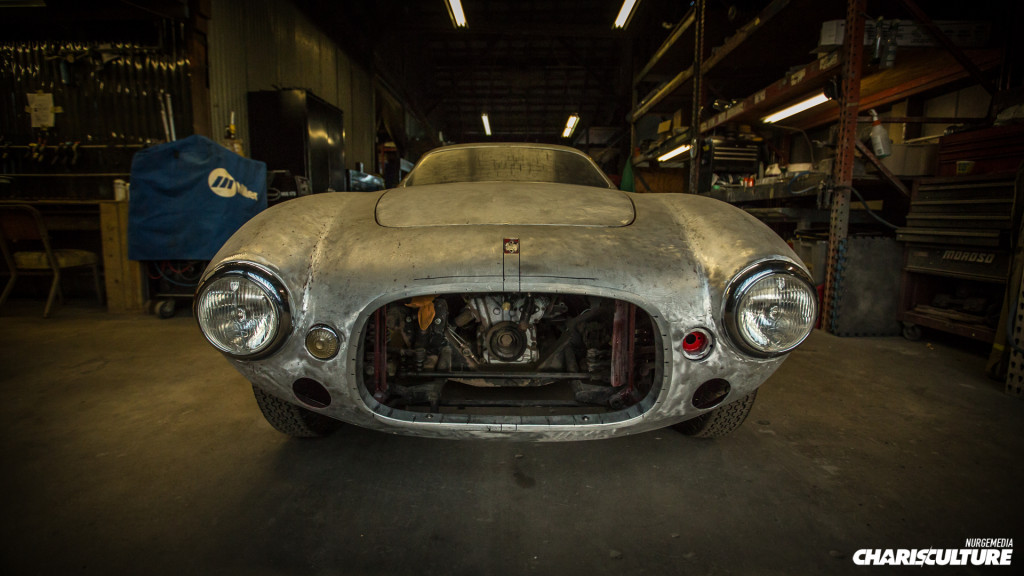 I headed towards the back of the shop through the clear noodles and down a few steps to the find a 1951 Ferrari 340 America in the midst of restoration. This beauty is the epitome of coach building. Jason saw me eyeing it and gave me the rundown. This car is an homage to the 1951 Mille Miglia winner. Yes, the famous Ferrari that, despite its damage, still came back and won the race…in the rain no less!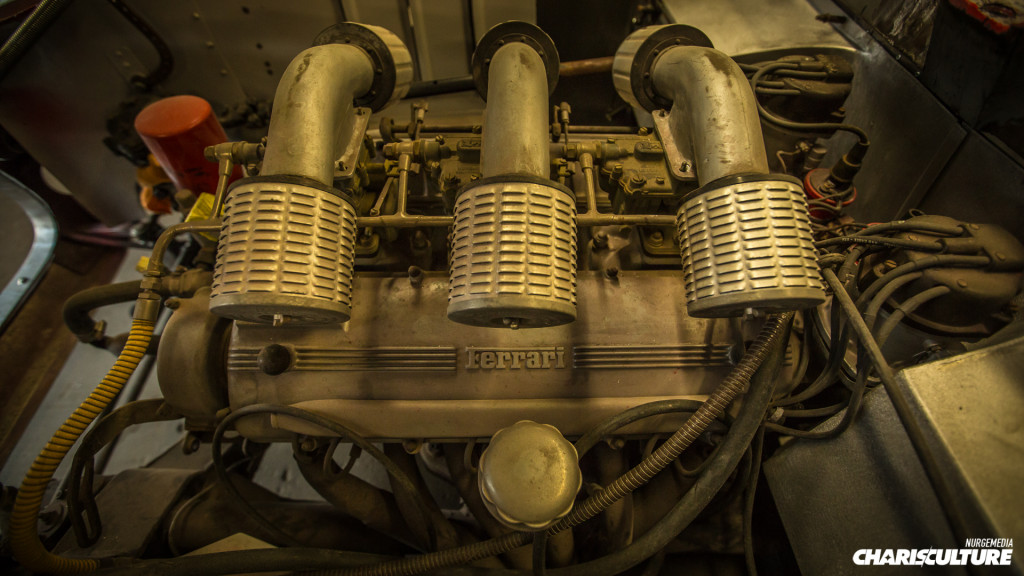 He popped the hood, and I felt my pants tighten. The engine was was just beautiful. It was hard to believe that this was a 4.1L V12! It looked so small in that engine bay, but it has a very capable engine with an output of 220bhp / 268ft-lbs. A true work of art was hidden beneath the front bonnet. You guessed it. This Ferrari is an FR platform.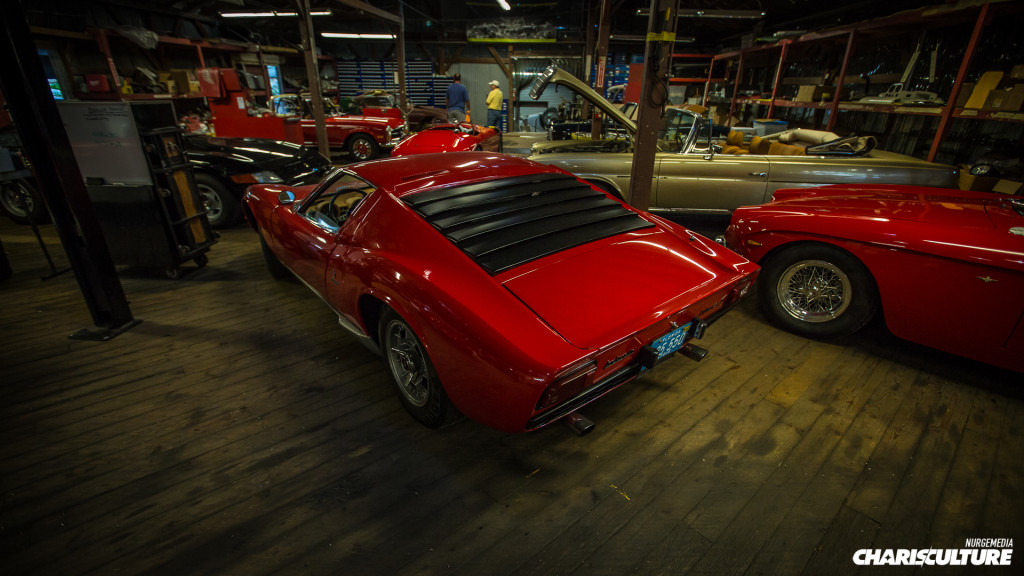 I took a lap around the side and wound up back in the sea of red. As people started showing up, I couldn't ignore the two Lamborghinis any longer!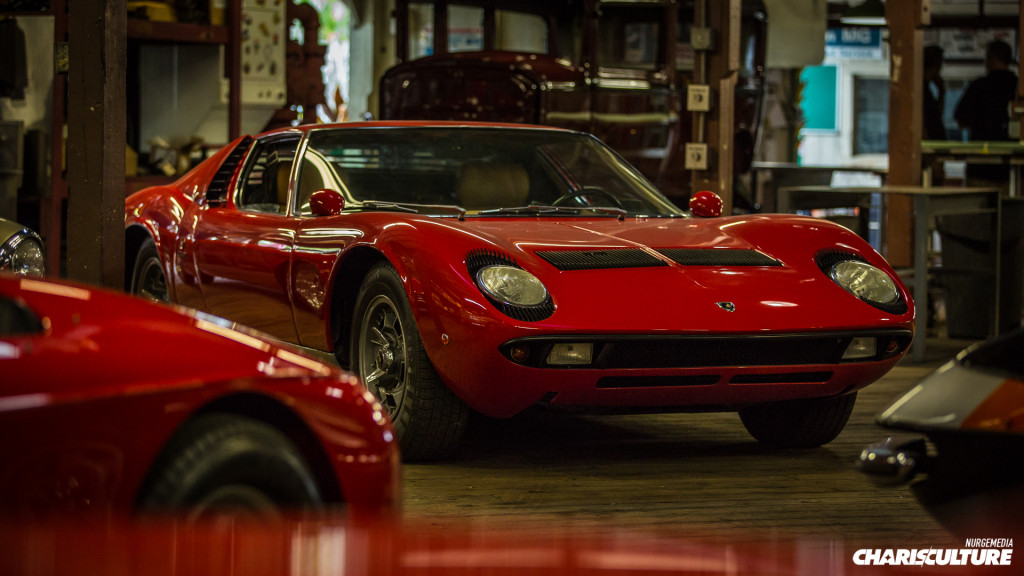 The Lamborghini Miura is one of those cars that I've only seen in magazines and on posters. Seeing one in person is just astounding.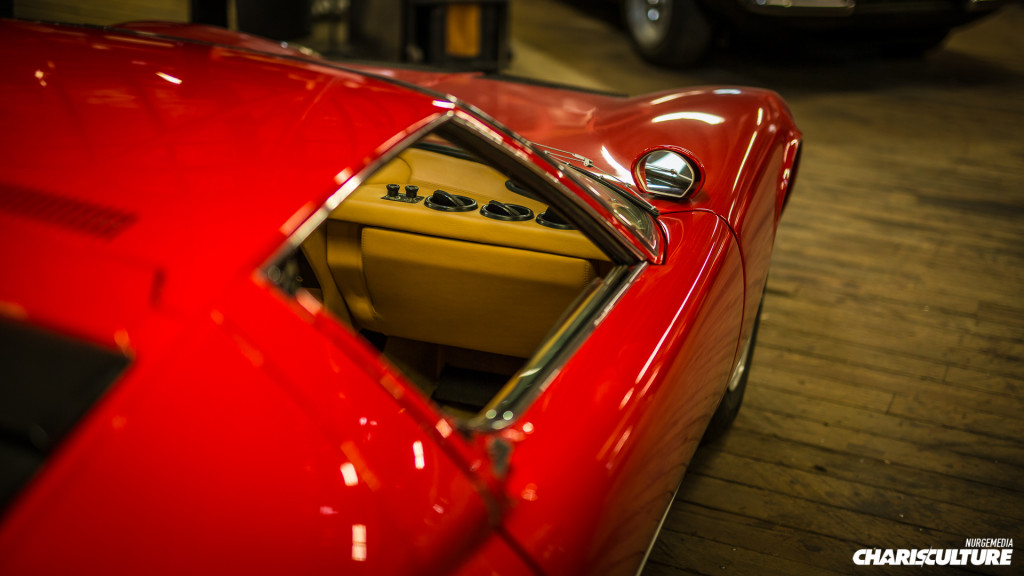 The Miura was released in 1966. At that time, it was the fastest production road car on the market. With only 764 built, it's no wonder they don't show up often (at least in the circles I hang around in).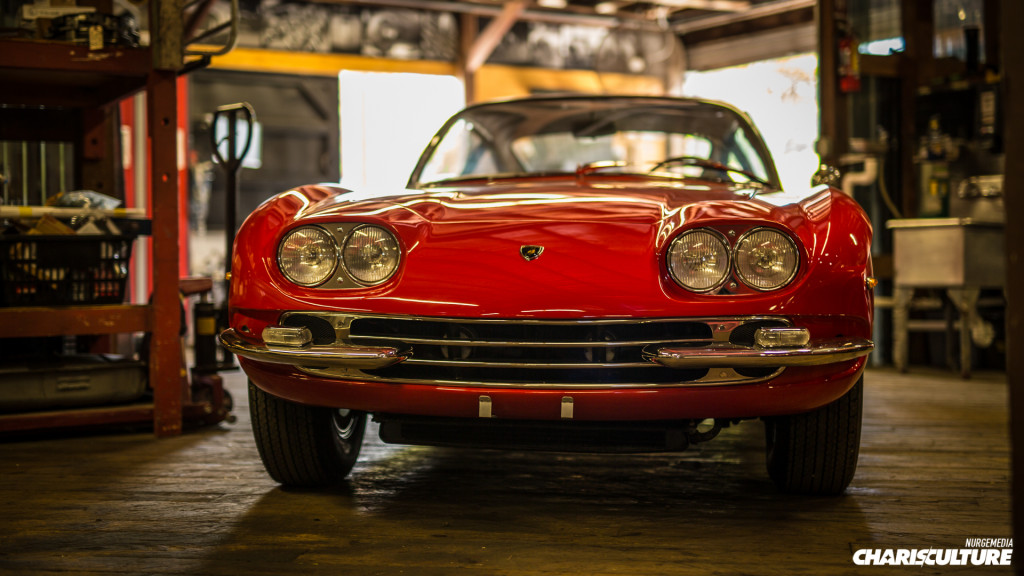 The other Lamborghini has to be the same one I saw at my first Creative Workshop encounter – a 1966 Lamborghini 400GT 2+2. I didn't even know that this was a Lamborghini! I've never seen one until this year. Just a beauty in and out.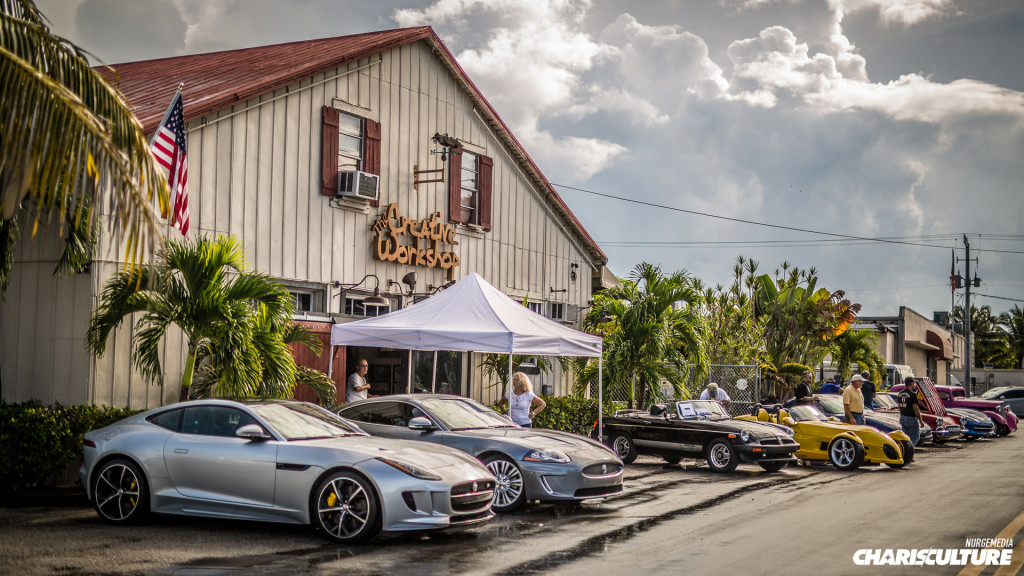 I went outside towards the front of The Shop to see what cars had rolled in. To my surprise, there was quite a collection of vehicles despite the rain.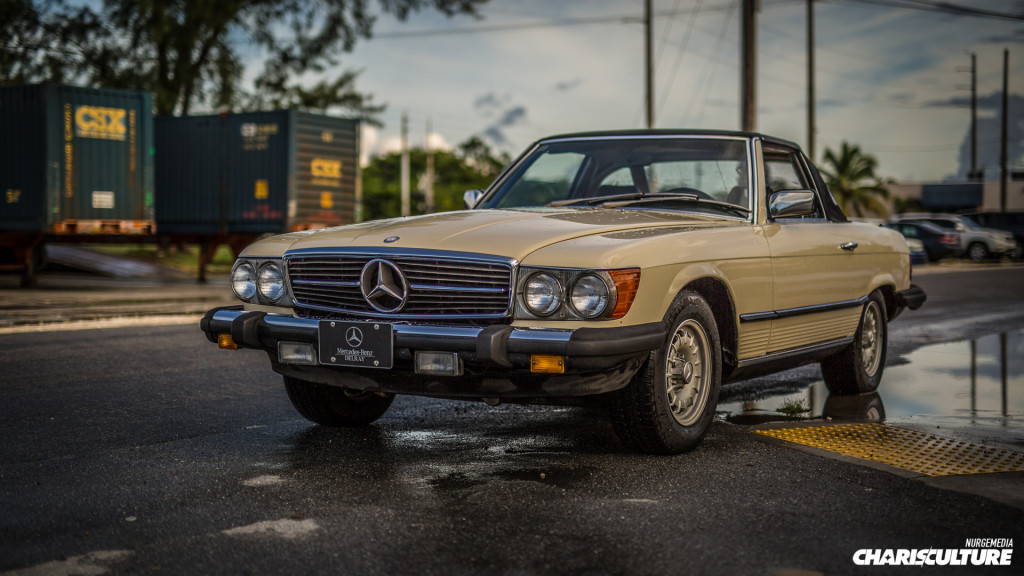 I've always loved these mid-80's Mercedes. This particular 380sl was on point. Good thing he had the top on because it was pouring just moments ago!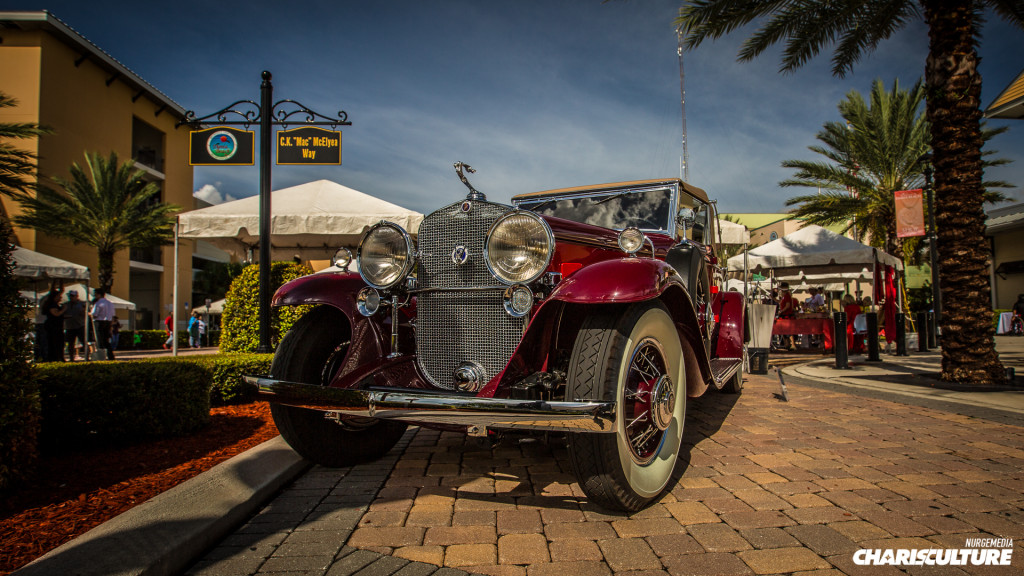 One of the Workshop crew told me they had two more cars by the Dania Beach library where the rest of the Broward 100 festivities were being held.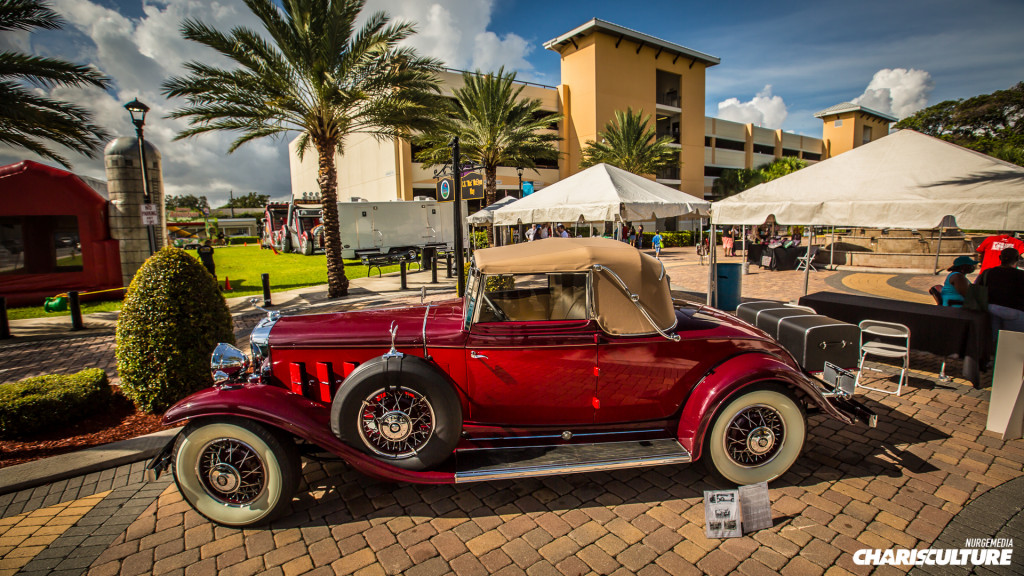 I made a beeline for them. There sat a 1928 Cadillac 341 A with a gorgeous, deep red paint job.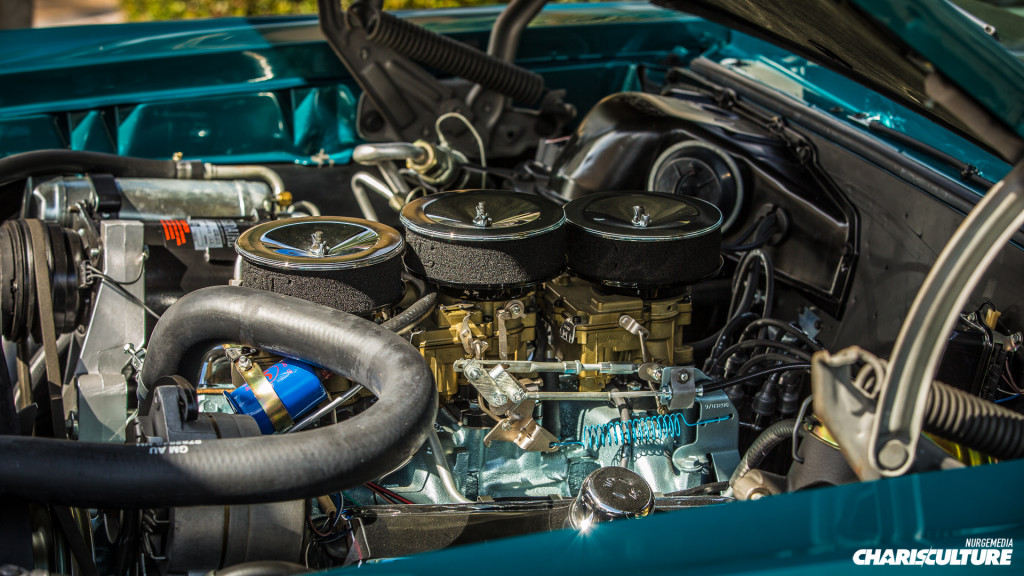 The other car, parked adjacent to the Caddy, was the Tri-power 1966 Pontiac GTO, which had been painstakingly restored to factory condition.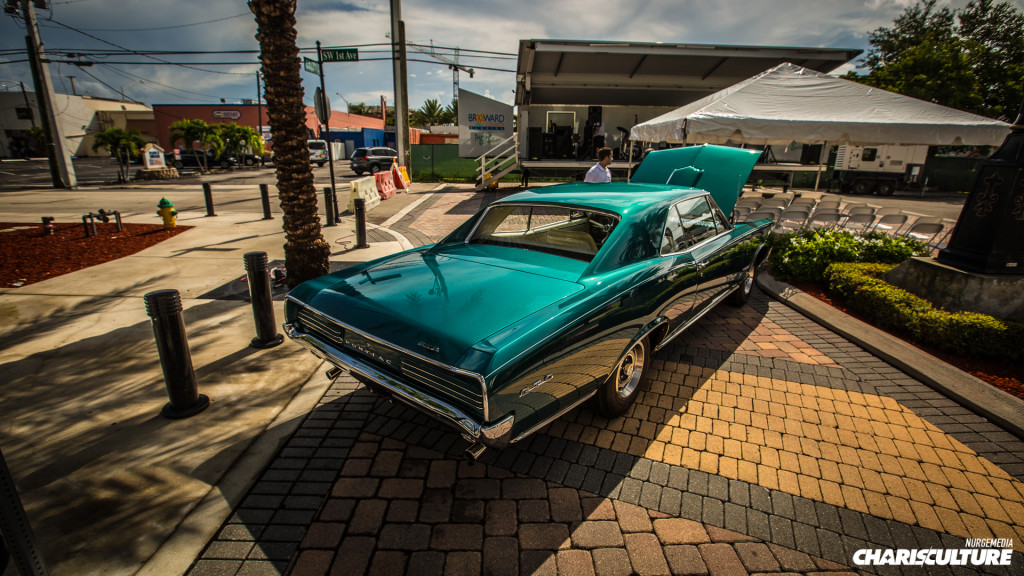 No detail was left out on this restoration. Even the overspray pattern in the trunk area was recreated!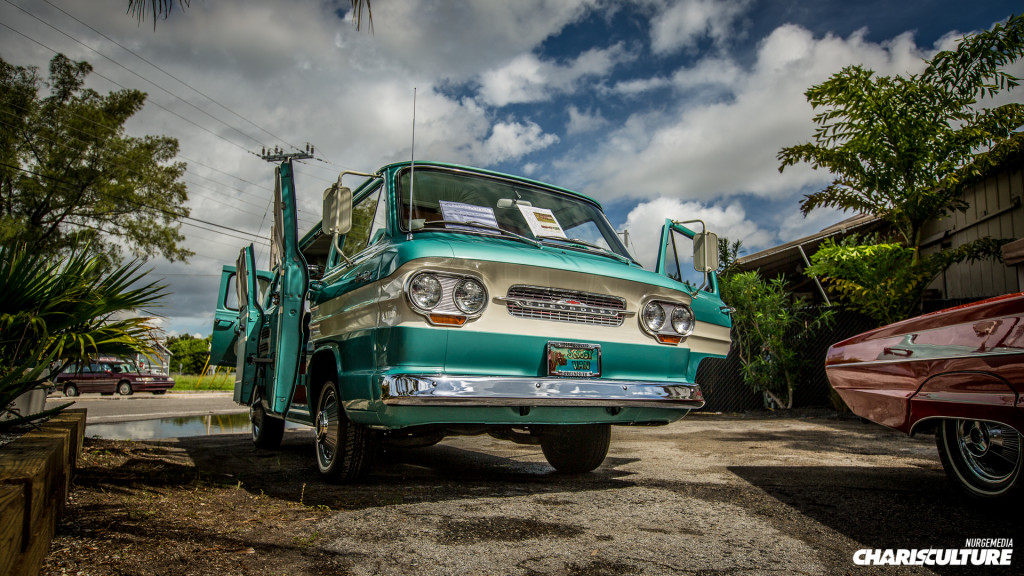 I returned to the Workshop, and some more cars had arrived. I had no clue what this one was, but I knew I was in love.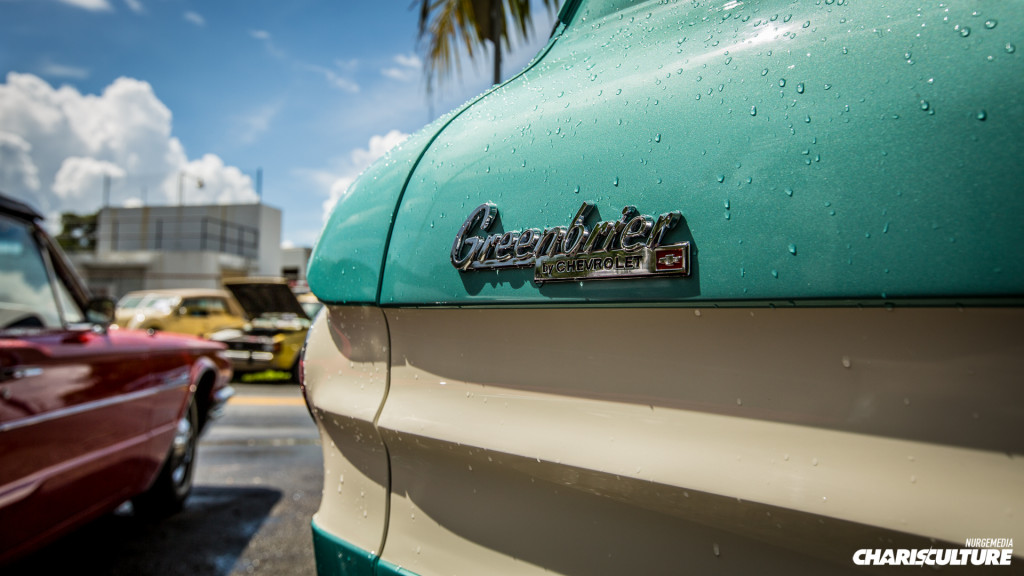 It looked like a 64' Impala van to me at first glance. I thought, "That's just crazy."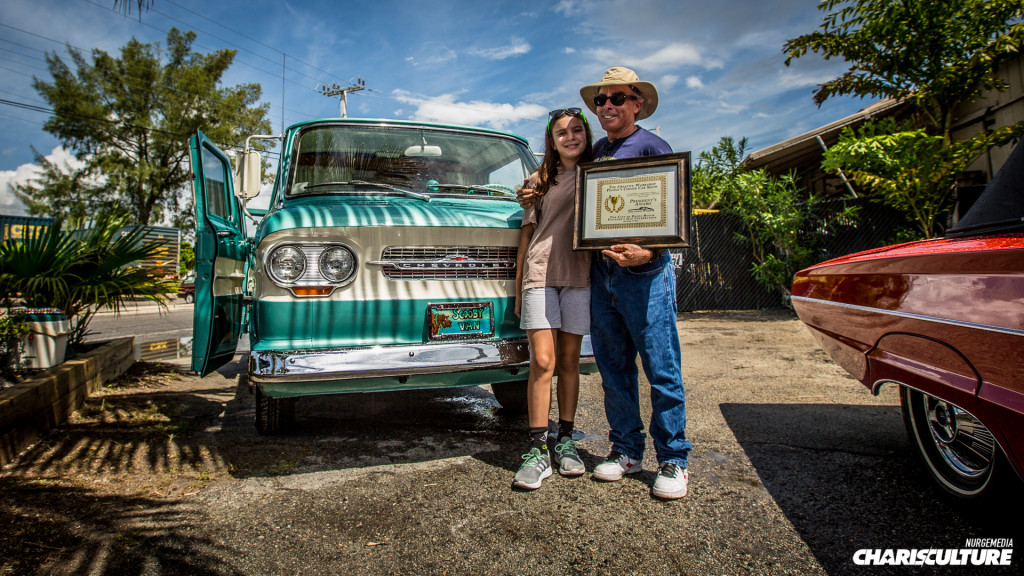 Upon further inspection, I did have the year and make correct, but the model was a 1964 Chevy Corvair Greenbrier, which went on to win best in show!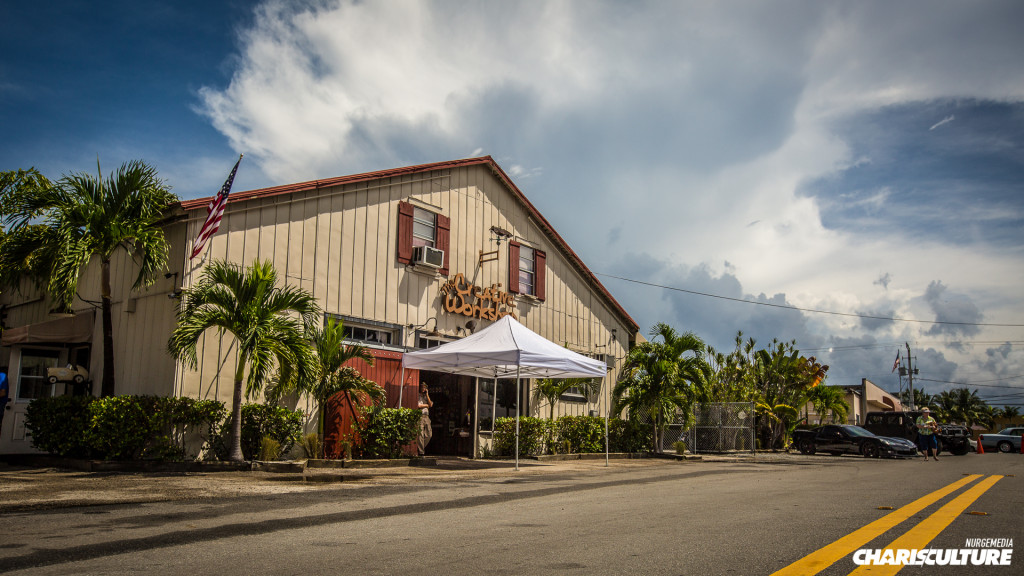 As the crowd started to dissipate, I made my rounds to say, "Until next time!" The Creative Workshop is always a pleasure to visit. I urge anyone who loves cars to check out any of the events they put on.You can find the rest of the photos on our Flickr : Here.
Visit The Creative Workshop Facebook for any upcoming events!