Daniel Wu is well-known in the world of cinema, most recently for his role in the AMC series Into the Badlands. Along with his training in martial arts, it's fair to say his skill set and talents are about as diverse as they come. Daniel isn't your average individual, and when it comes to car shows, SEMA isn't your average show. It really doesn't matter what social status you hold when it comes to building a car, and no human being is above the stress that the SEMA crunch carries.

This year, Daniel's road to Las Vegas began with an idea built on a classic JDM brand. Unfortunately, when procuring older vehicles, especially those from the 60's, one of the main enemies you may run into is rust.

This is what Daniel faced first-hand when digging in to the chassis chosen for his 2019 SEMA build. The unveiling revealed more flaws than anticipated, so he decided to reach out to his friend Big Mike to have another set of eyes on his situation.

Big Mike is no stranger to the SEMA stage, and a pillar in the Honda community. More importantly, he's a good friend, so he and Daniel discussed a few different moves that could be made to ensure things wouldn't go off track.

Deciding to push forward instead of calling it quits, Daniel found himself on the internet working with a gentleman from eBay parting out a Honda S800. Considering he needed more than just a few pieces, it helped that the salesman had an additional complete S800 available for sale he wasn't willing to part out. The following day, after a trip to Los Angeles, Daniel would become the owner of a second S800 chassis, which played the role of helping solidify the build's foundation.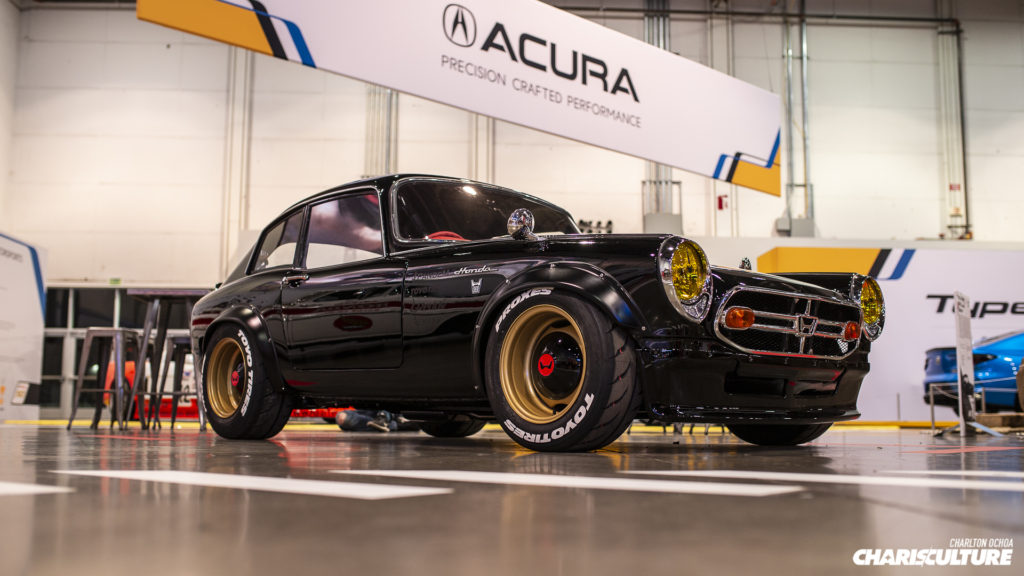 The outcome: A Rocket Bunny kitted Honda S800 Outlaw. Kei Miura did a fantastic job after receiving a 3D-Scan of the car (which was captured at the official SEMA garage) and creating the over-fenders in Japan.

This is a testimony to the greatness that modern technology can do bring to our community, since without Miura's involvement, chances are this build would not be here today.

It's very impressive to see that, while the car was not physically in Japan for the development of the over fenders, Miura-san was able to produce a set of proper pieces with a perfect fit.

Of course, the outcome lies in the craftsmanship abilities of the builder, but modern technology made the bridge for data. As an engineer, the nerd in me comes out thinking about how cool that is.

(If you would like to learn more about this scanning technology you can read more about it here.)
The car's interior doesn't feel like the traditional JDM style we are used to with the Hondas we currently see. The reason for this is because the S800 is from one of the initial batch of cars produced in the early 60's, and during that time, the competition was European vehicles from brands like Fiat and the Triumph Motor Company.

Naturally, inspiration came from what they had to directly work against, but, of course, that rapidly went away as the company grew into what we know and love today.

However, let's not consider this a bad thing. The European 'feel' is what initially drew Daniel's attention. So, they decided to stay on course with the look and have the entire interior refreshed by DjDesgins.

The goal was to play upon those European accents, keeping the same patterns in the seats and wrapping everything in fresh, red Italian leather. The rear was inspired by his previously owned Jaguar U-type, adding in luggage rails and other familiar details.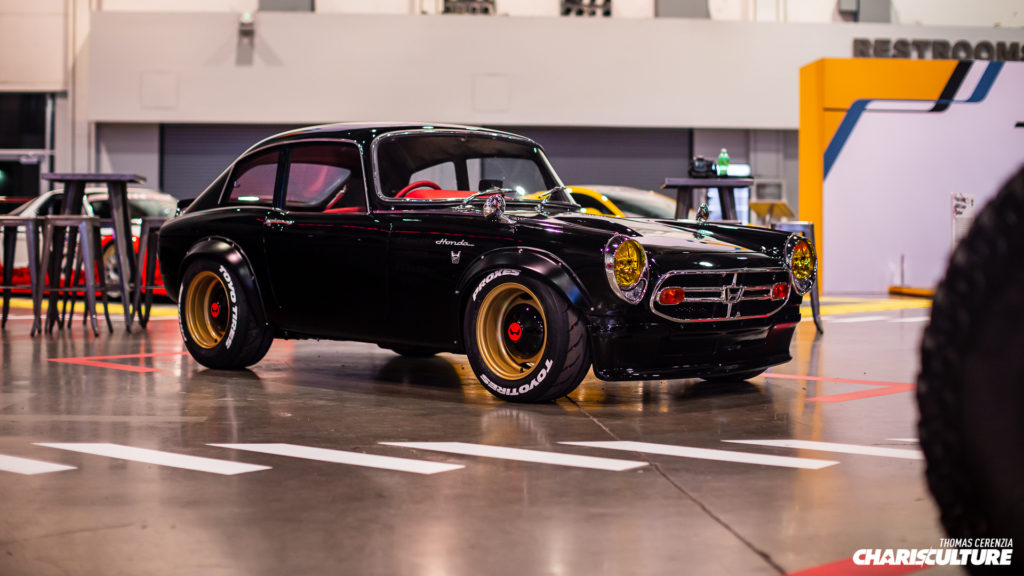 Rocket Bunny is known for some pretty wild kits, and if it were up to Miura-San, the fender flares would have been an additional 2 inches wider to accommodate a more aggressive setup (which we honestly, wouldn't mind seeing). However, given the fact that wheels for this car were already difficult to find, Daniel had to tone it down a notch and decided to keep the fender flares a more reasonable size.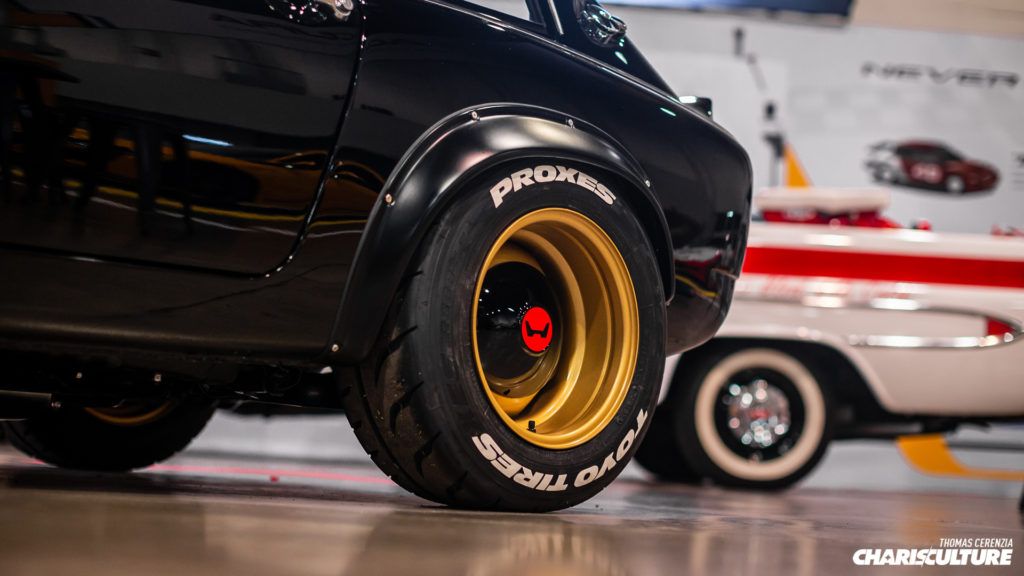 Although the desire existed to make a custom set of wheels for Daniel, there just wasn't enough time. So, in order to meet the timeline with this build, the stock hubs were removed and the all (4) wheels were rebarreled, 7 inches up front and 8 inches for the rear. This allowed them to retain the original hub caps and go with a black and red color scheme, which not only matches the cars interior and exterior combination, but was also paid homage to the red used in Honda's Type-R logo design.


The original tail lights were unusable, and like many builds from this era, you come to find out that it's difficult, if not impossible, to replace certain items.

So, in keeping with the European feel, Daniel and his team were actually able to source and fit tail lights from a Ferrari 250.

They ended up fitting just right, which not only made for a smooth transition with continuing the build, but also satisfied Daniel's desires to keep the smooth accents from the 60's, which is also a favorite from the automotive design era.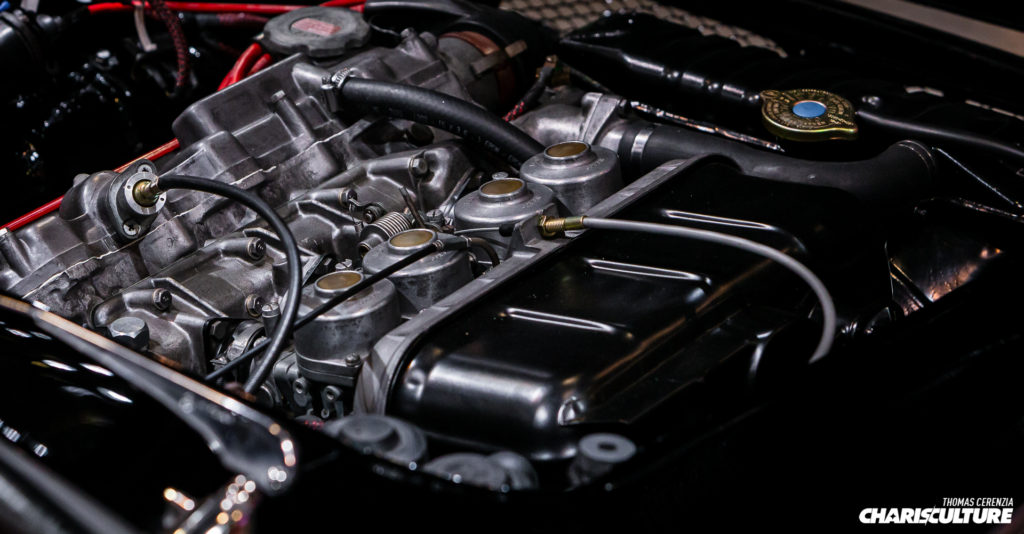 The Power Plant is still the original 791cc 4-cylinder DOHC motor with a signature Honda redline of over 9000 RPM.

Honda built upon its motorcycle heritage when developing engines in the early 60's for machines with 4 wheels. This can also be seen in more common Honda production vehicles, such as the S2000.

"The car loves everything above 7000 RPMs," Daniel says, and you can only imagine how amazing it sounds.

Like many of us, he found himself making the rounds on YouTube and came across what we believe to be this video that Honda S800 Sound posted in 2013. You can see the video below and understand why it made such an impression on Daniel at the time!


Watching the RPM needle fly towards redline and the exhaust note screaming through the speakers laid the foundation for what would become a desire for Daniel and ultimately one of the centerpieces in the Honda booth at the 2019 SEMA show.

Daniel is someone who can rightfully own and build any car he wants, yet he chose a Honda, and one which perhaps your average JDM fan does not even find themselves familiar with.

He is meticulous and unique when it comes to his career and overall lifestyle. It's not about doing what everyone else does just because he can.

The car is not just a showpiece and more importantly, not for sale. You can expect to see it at some JCCS events in the future, or perhaps at a red carpet showing. We're thankful to have people like Daniel with desire to help showcase our passion to the world, the right way, with style.

If you would like to see more photos of Daniel's build at the 2019 SEMA Show, click here.