Tuesday, April 21, 4:00pm. I just found out that I would be going to Daytona for four days to shoot content for
BFGoodrich. WOW! This is awesome! I called my good friend Dmitry of Cool Coconut Studios to ask if he would join me. He was just as excited as I was! The plan was to leave Thursday morning and meet the rest of the crew in Daytona to kick off the project. I spent the next forty hours prepping. I had no idea what to expect, but I had a shot list and a whole bunch of ideas. That's enough for me. Now what to wear?
Dmitry and I set out Thursday morning for Daytona in a Ford Fiesta rental. Tiny, adorable, peppy and great on gas! On our way up, we saw a few Jeeps on trailers. We had no idea what we were in for. I've seen many trailer queen cars but never a Jeep being towed on a trailer. Usually, it's the Jeep pulling the trailer! We made it to Daytona in record time and headed to the hotel for check in. The rest of the crew was still on their way from Orlando, so we killed some time by getting lunch at Publix. For those of you that have experienced a Publix sub, you know the joy that one can give, especially after a three-hour car ride! We enjoyed our delicious delicatessen delights in the Publix parking lot with a soundtrack of giant knobby tires driving up and down Ocean Ave. There were Jeeps everywhere! We got word from Sung and Dan, the rest of the crew, and headed back to the hotel to drop off our gear and get to work. We hopped in their Dodge Caravan and the adventure began.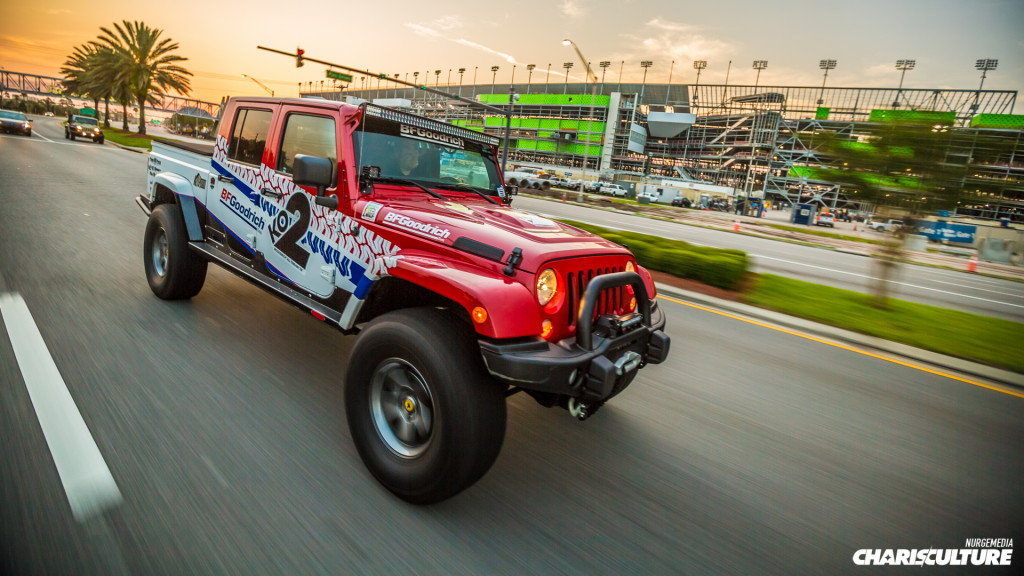 We arrived at Daytona International Speedway to meet the BFG team. From there, we got to ride in one of the beastliest looking Jeeps I've ever seen: the BFG Brute. This is not your average Wrangler by any means. Think Wrangler on 'roids with a dash radioactive mutation and a splash of indestructible. Essentially, you take your puny Wrangler to AEV (American Expedition Vehicles) and they go to town on it. One key aspect is the 23" extension in front of the rear axle. Then they add another 16" in the rear to make room for the bed. Not only do the frame extensions lengthen the Brute, they also strengthen the frame at the same time! I was enthralled, to say the least, and I'm not well versed in Jeeps. I had a feeling by the end of this shoot that I was going to learn quite a bit.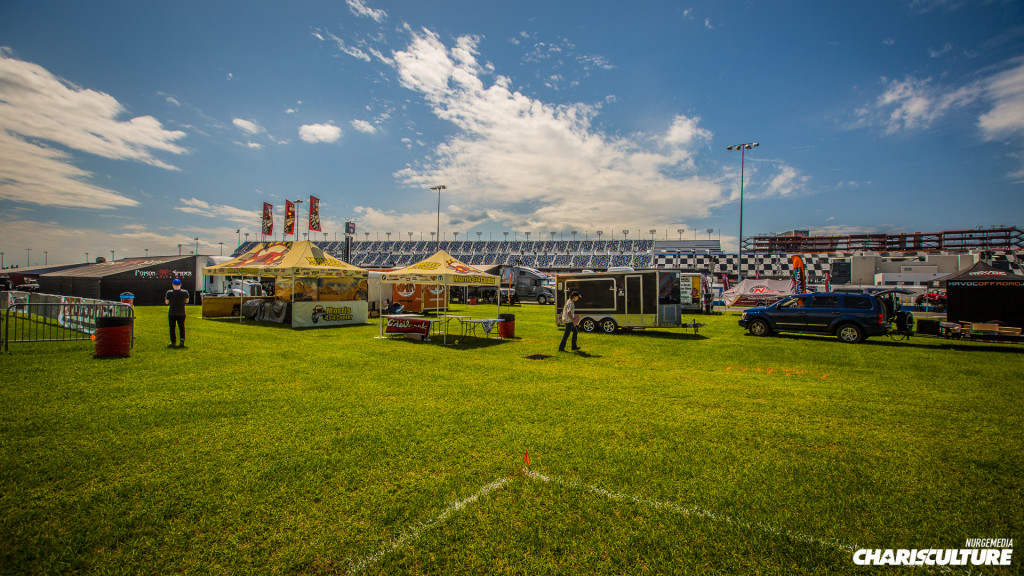 We hopped into the bed of the Brute and drove through the Gate 40 tunnel into the Daytona infield. We filmed from the moment we got in the bed. I didn't realize how awesome this was going to be until we exited the tunnel. There we were, heading towards the center of the track towards the BFG trailer. Then it hit me, this was big time. (I'm still trying to figure out how to put it all into words.)
Dmitry and I jumped out and just went to town on the setup.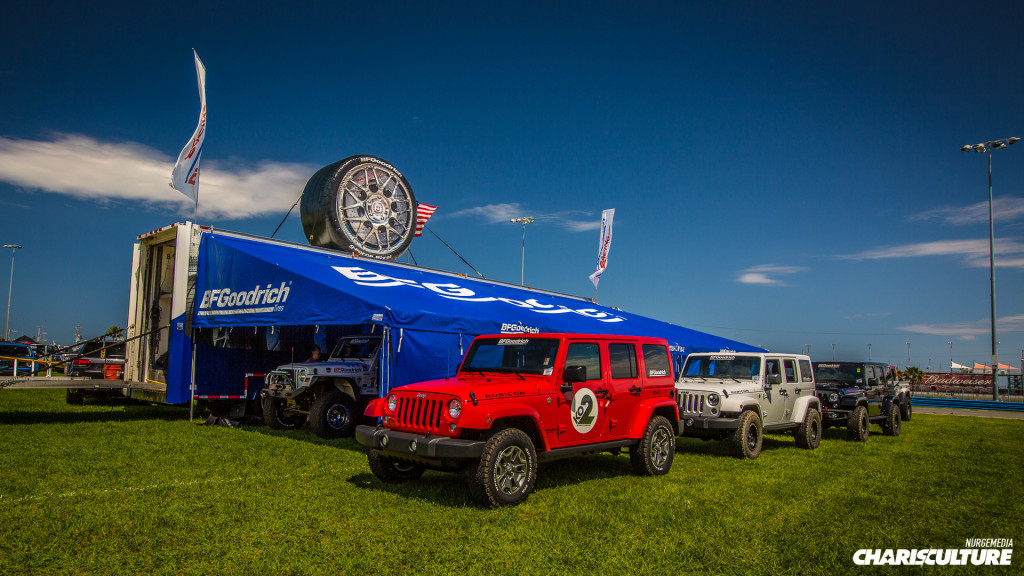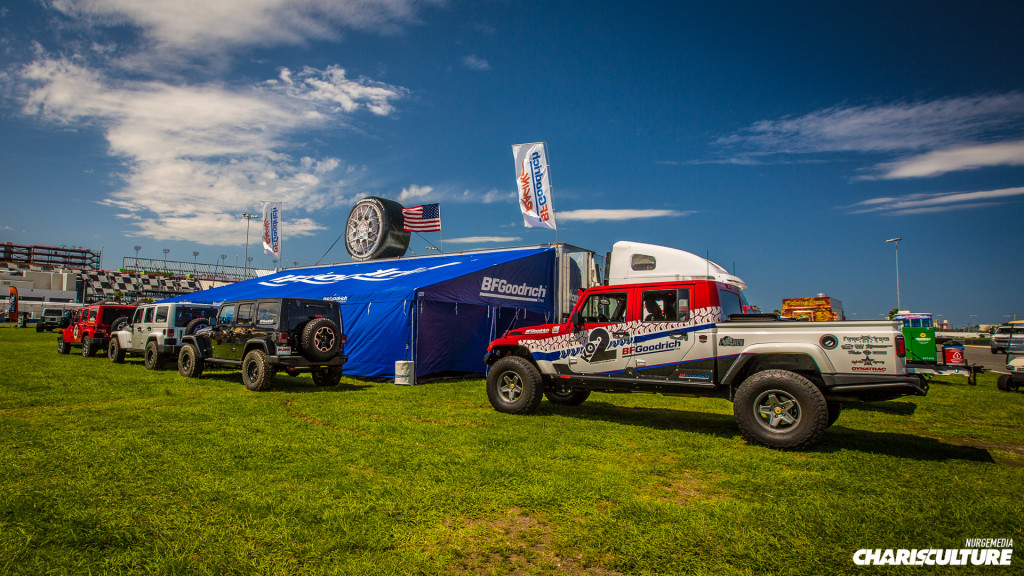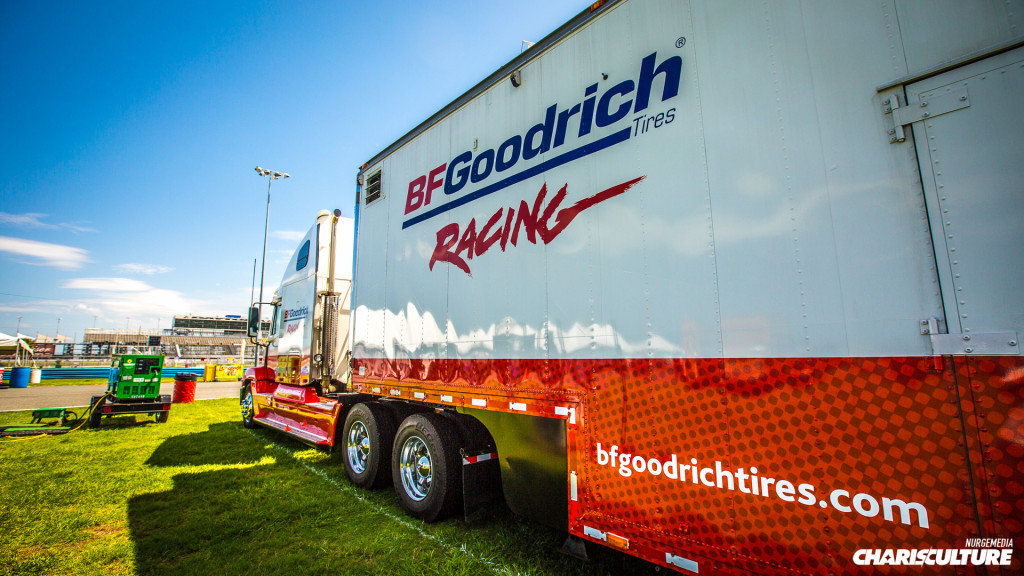 As we were shooting and filming, our BFG contact told us about the Jeep Beach 2015 event. There were two tracks: one for everybody to tear up and down and the other for BFG. Yes, BFG had their own course and their own Wranglers for people to drive with their own instructor!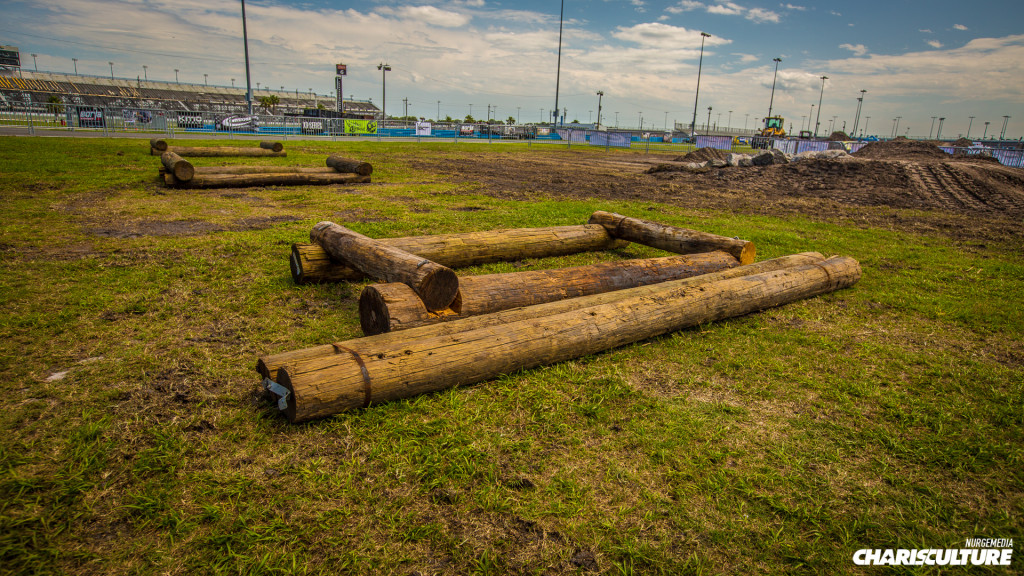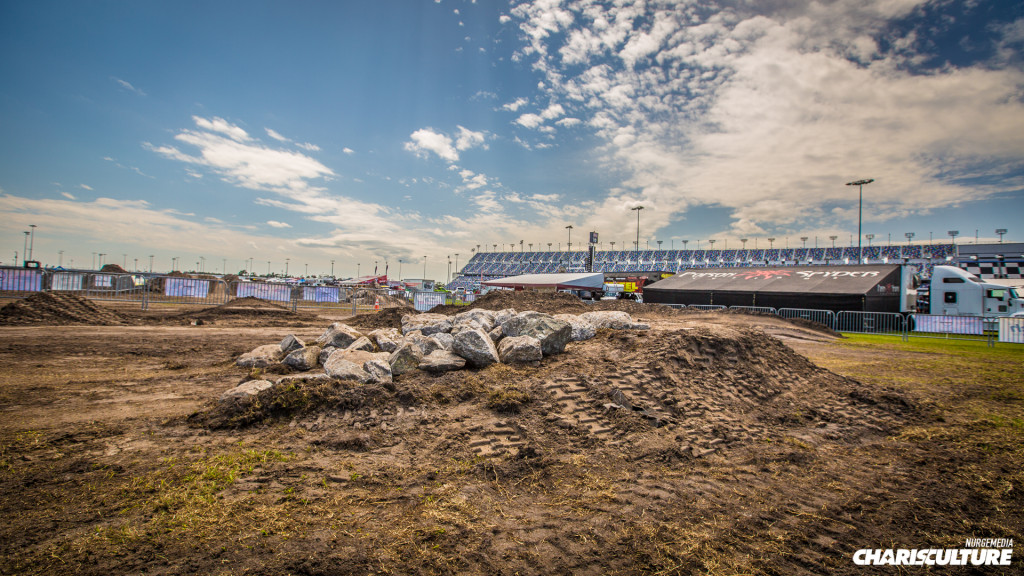 We had some time to check out the course while it was still quiet to get some ideas for Saturday, and it was time to go before we knew it. We had more Jeeps to see.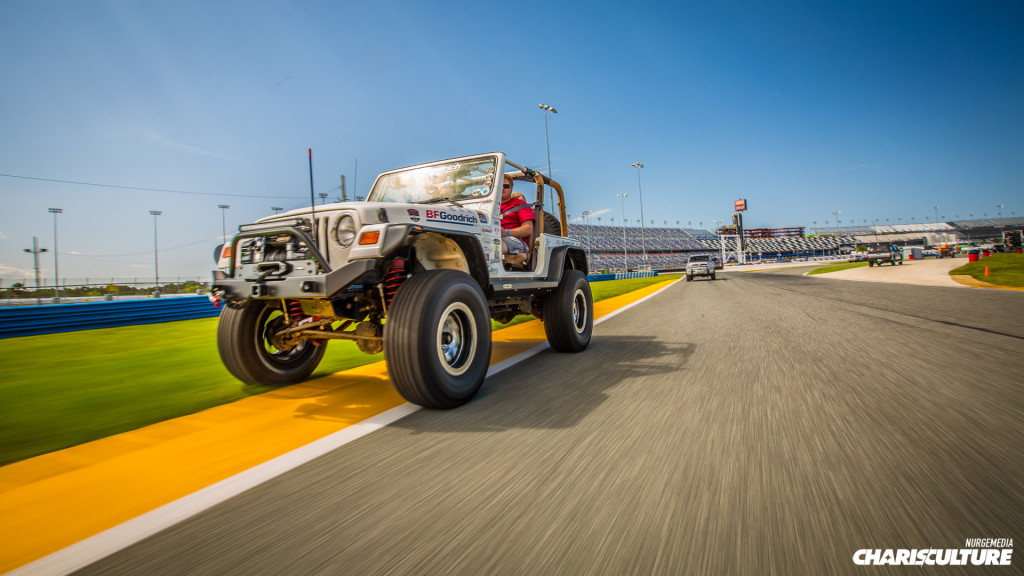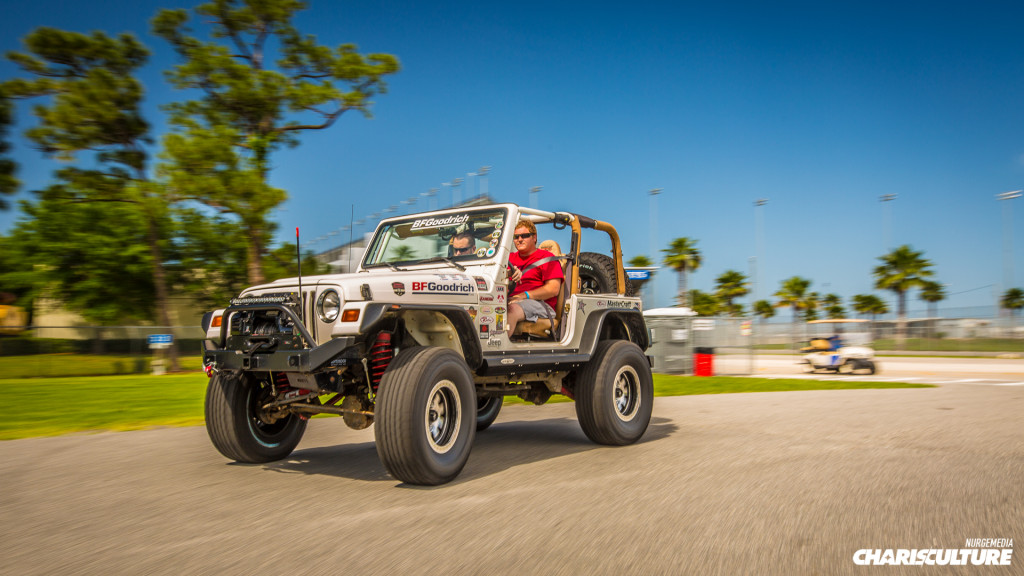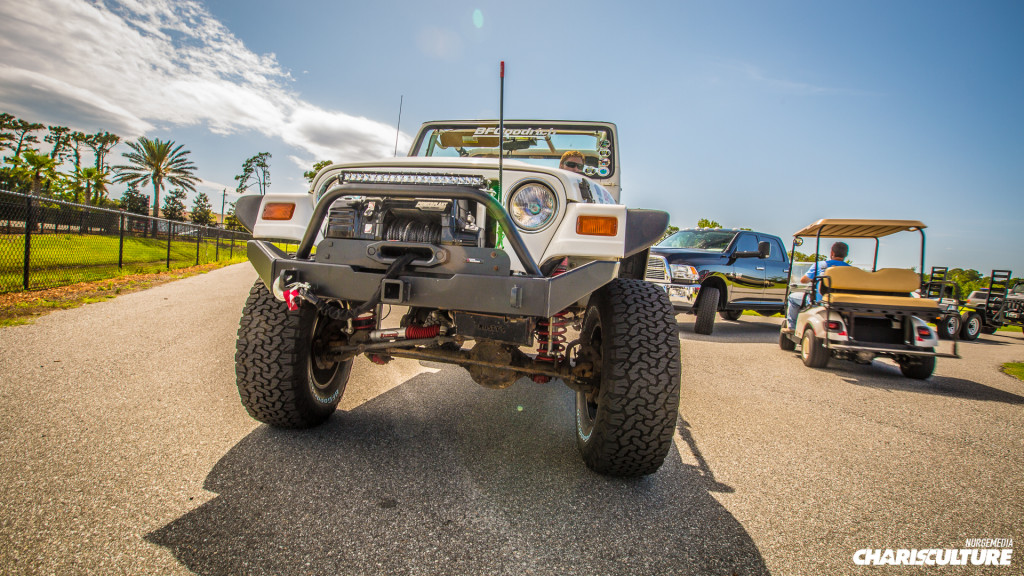 Back in the bed of the Brute we go! Luckily our follow vehicle was an equally awesome BFG Jeep, so, of course, it was photo time!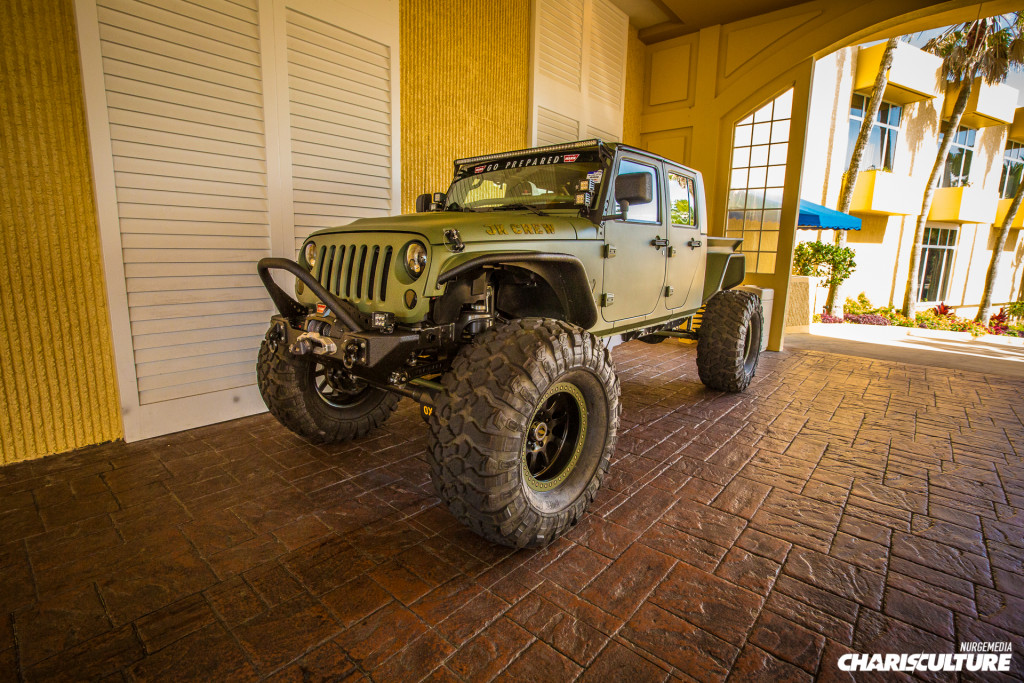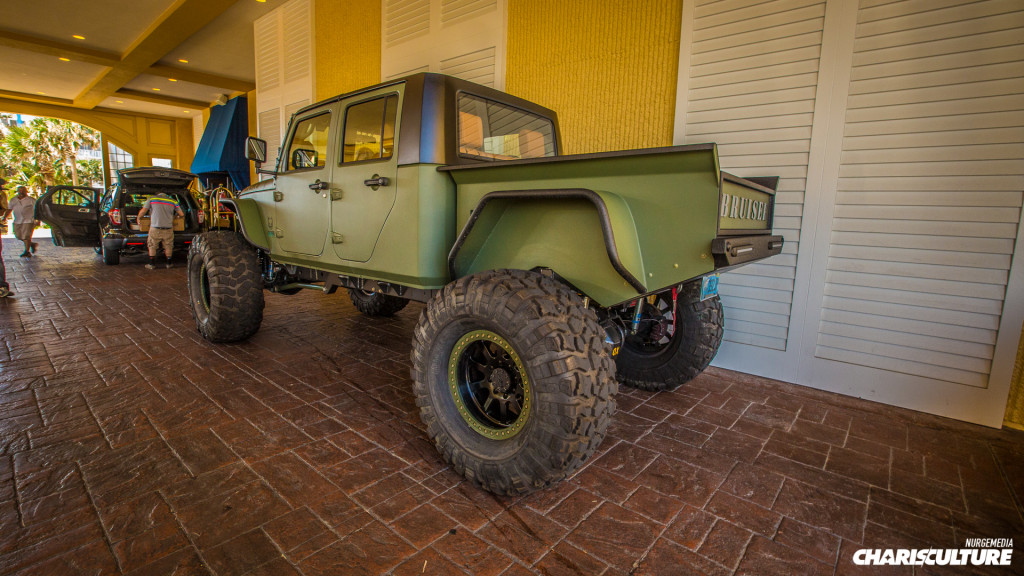 We returned to the hotel to clean up and rest for a little before going back to the track for the kick off BBQ and were greeted by this behemoth of a Jeep. Apparently, AEV isn't the only steroid dealer. This build was done by Bruiser Conversions
. These are the kinds of Jeeps I've only ever seen at SEMA. Seeing one on the road really puts it in perspective. It was massive!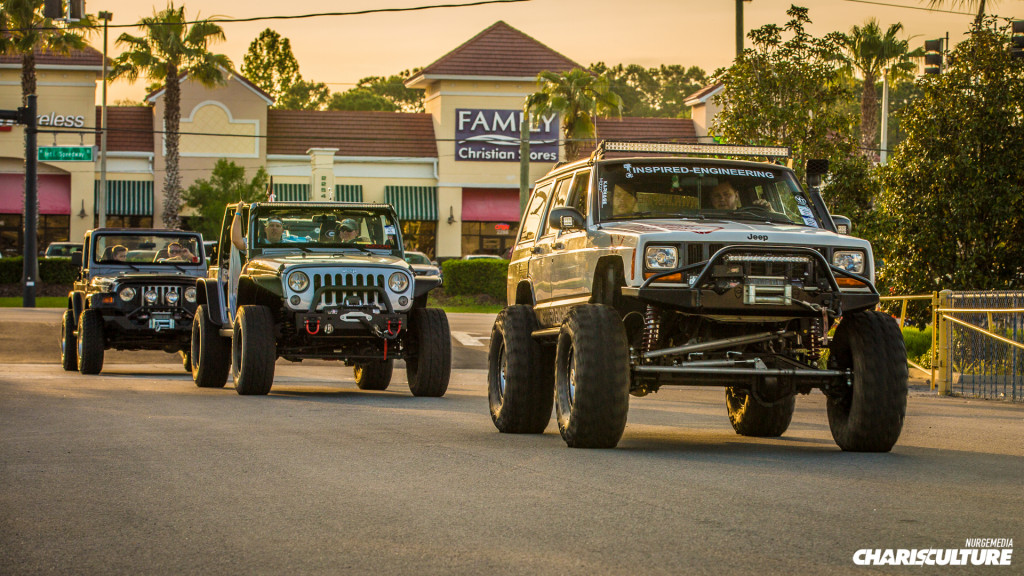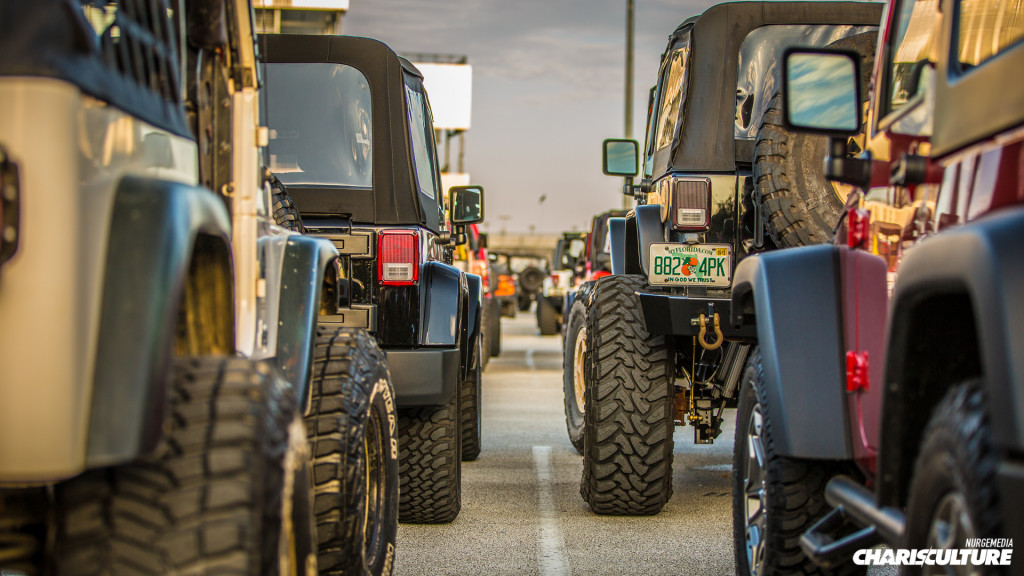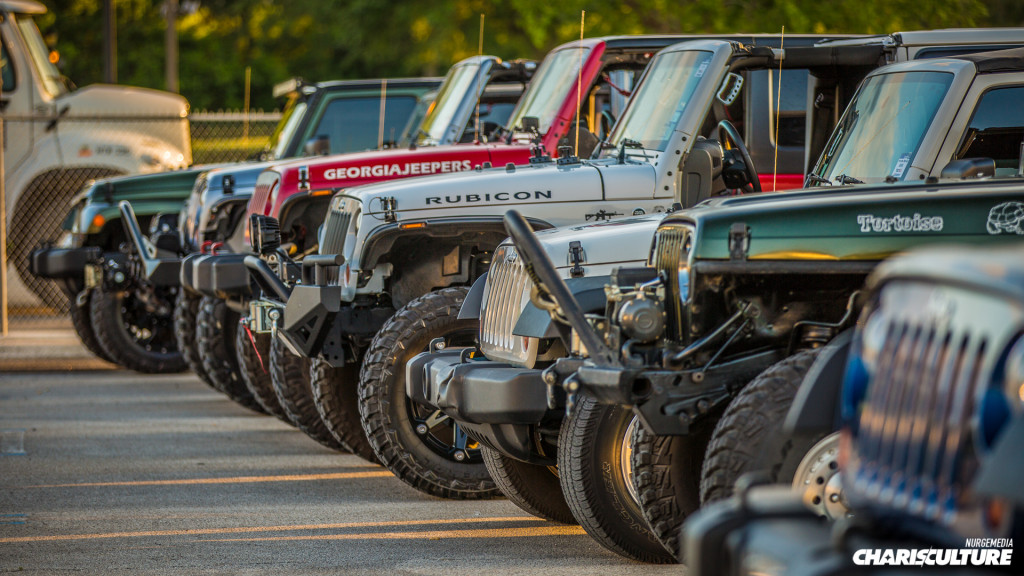 About two hours later, we arrived at the track but never made it to the BBQ. There was a sea of Jeepery to consume. Jeeps coming and going and never a moment when there wasn't an abundance of Jeeps. Just rows upon rows, and mind you, this is still Thursday. So, it was safe to assume that not all Jeeps were even in town yet!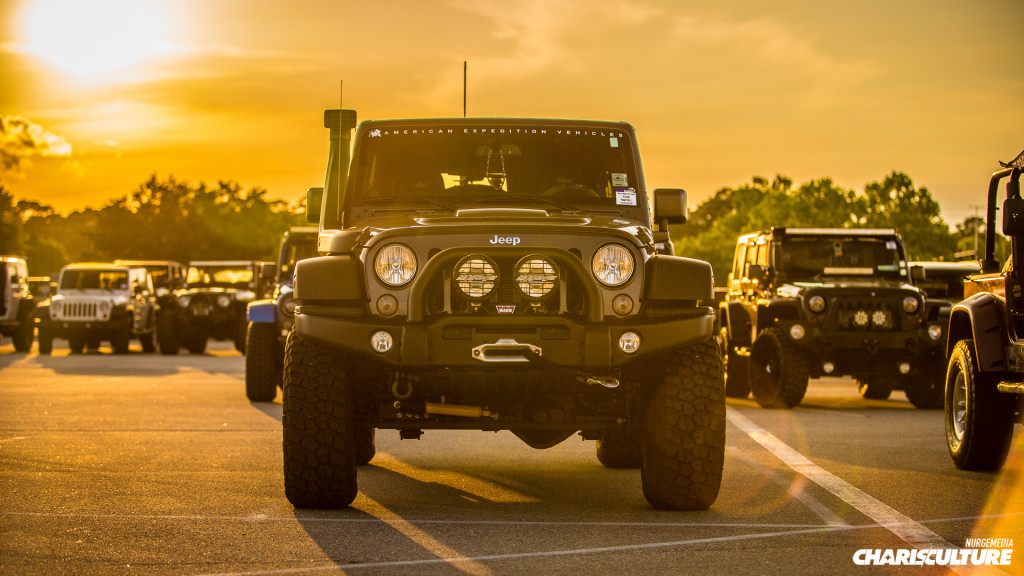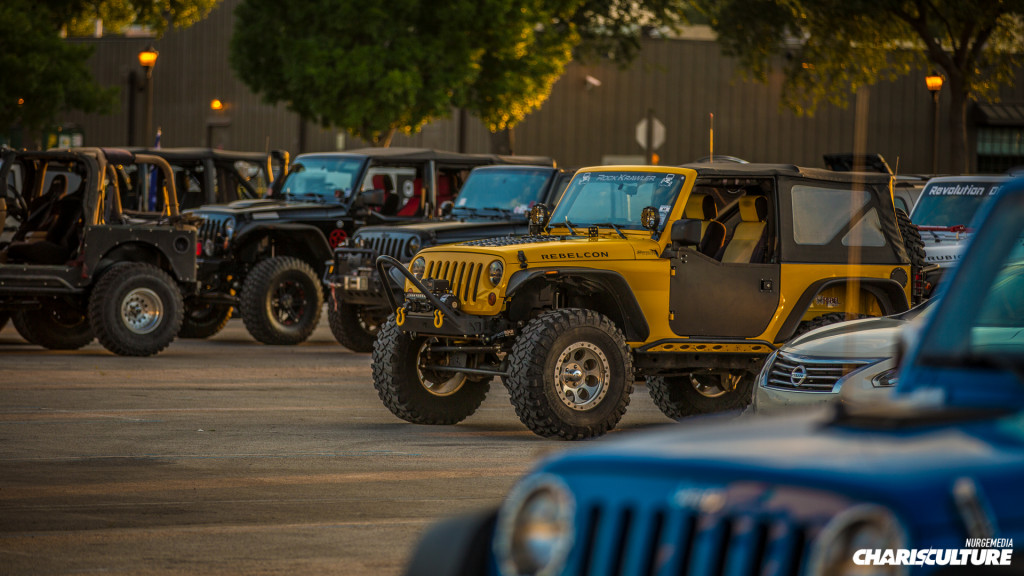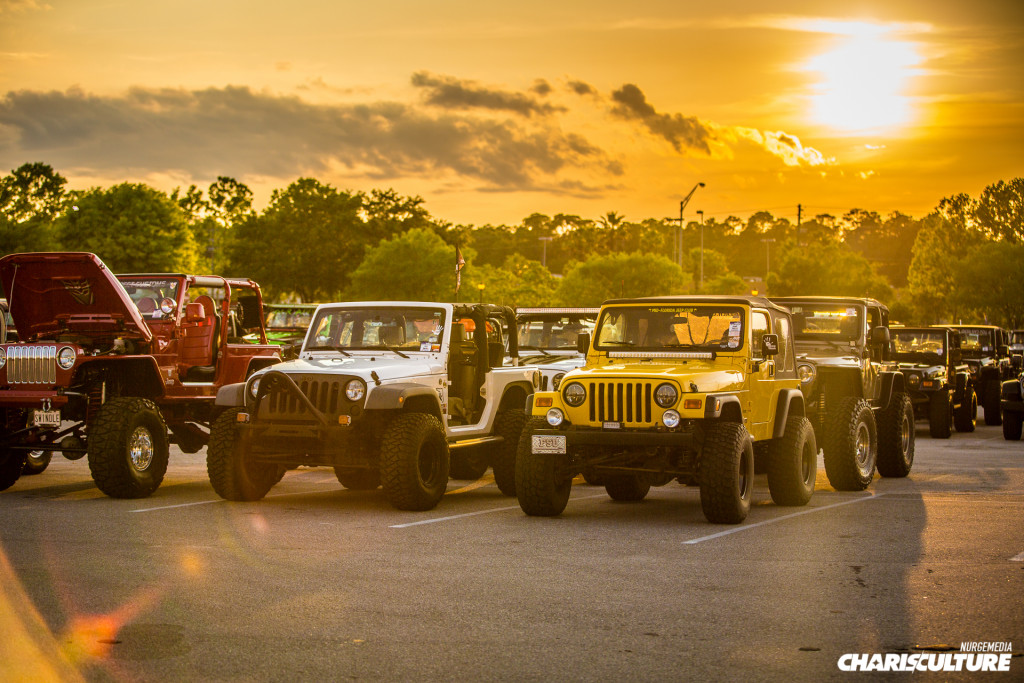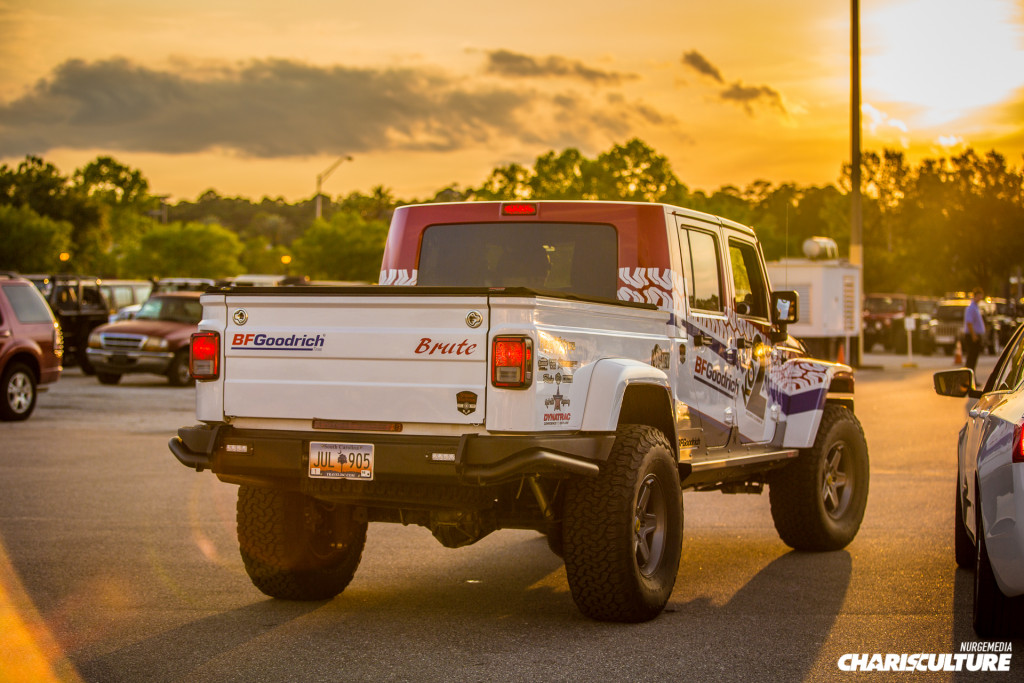 Luckily, the golden hour was upon us, so we started grabbing some fantastic shots! Of course, the Brute just continued to shine like a Greek God amongst mere mortal Jeeps. I want one.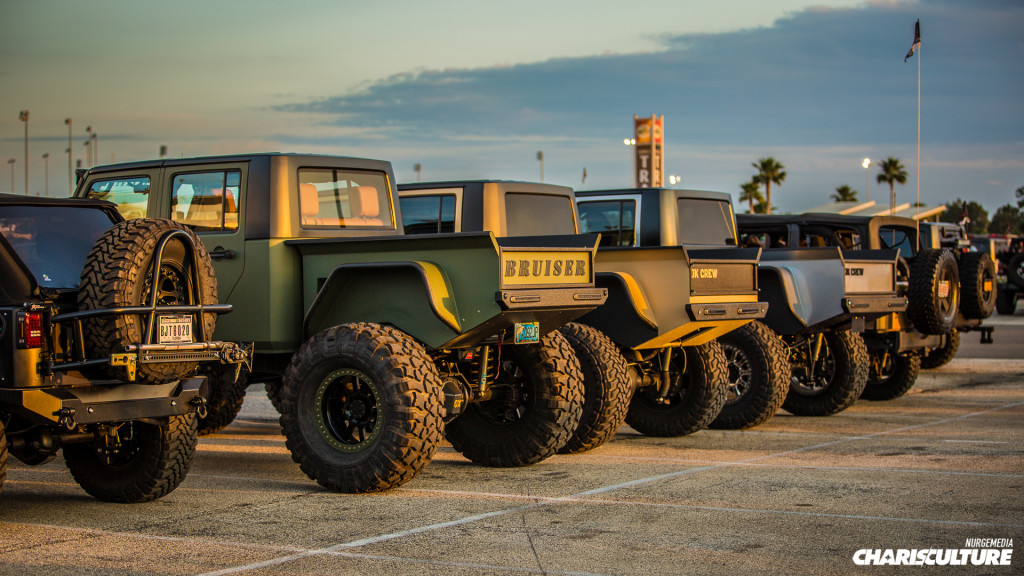 And then we found more of those previously mentioned Bruiser Conversions in various shades of camo. Very nice indeed.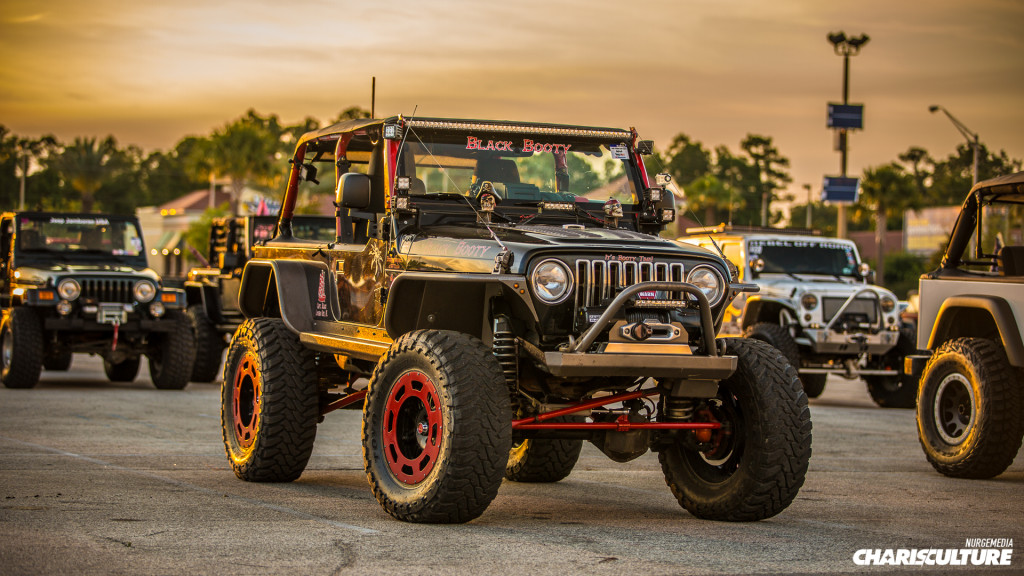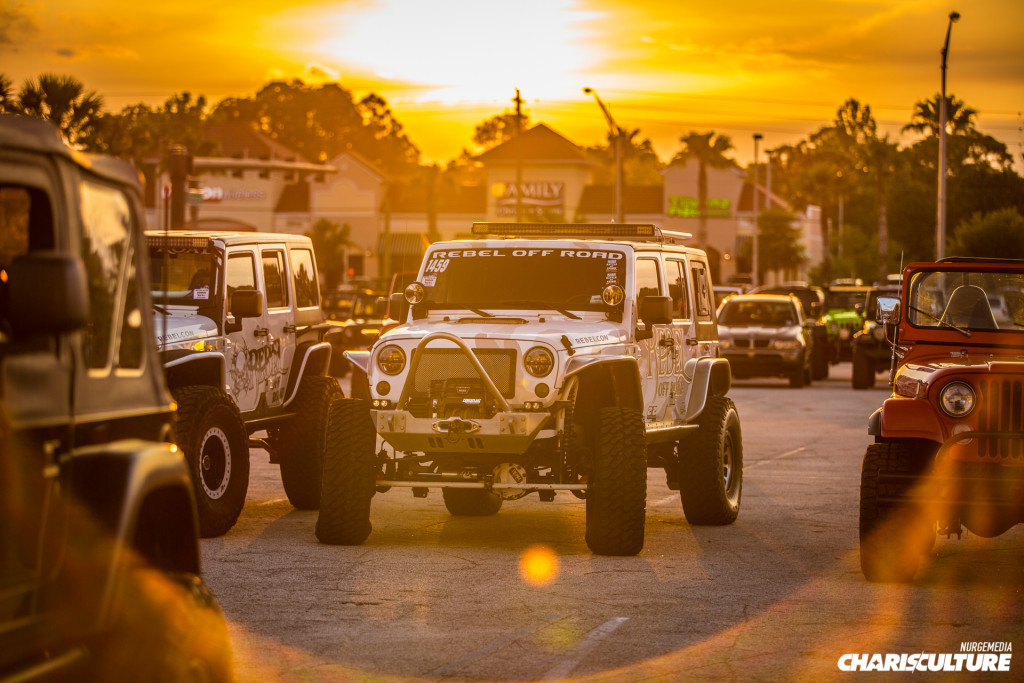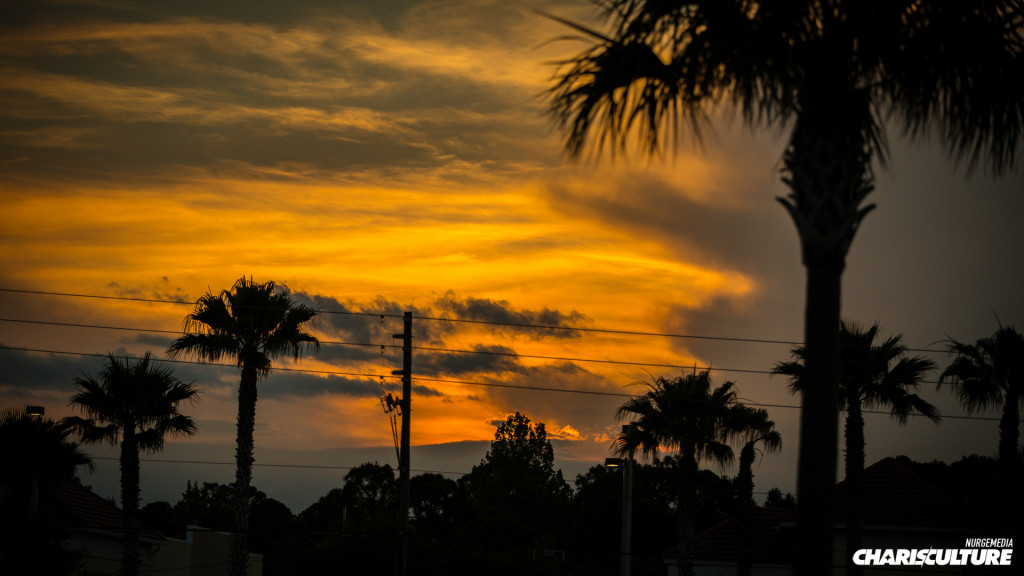 After a few more beauty shots, we realized it was time to eat. So, we radioed Sung and Dan that we were done and off we went in search of food. Thanks to Dan's Yelpery
, he found a fantastic place called The Lucky Rooster. (Side note: the Santa Fe Burger was outstanding!)
Day 1 down more to come! For more photos check out our flickr gallery here.
Next Assignment : BFGoodrich – Goodguys 2nd Florida Nationals – Day 2