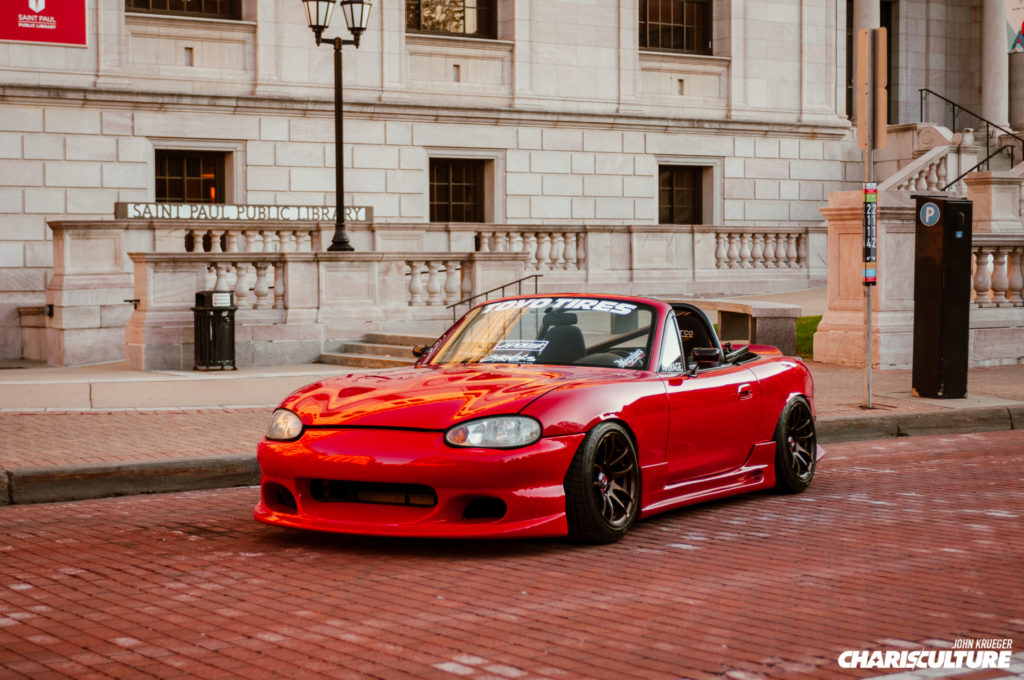 This feature started out very differently than what eventually happened. This feature was supposed to be about telling the interesting story of how I came into possession of this Miata, which I will still do, but now the ending has drastically changed. When I went to shoot these photos for the feature, I had no clue that I'd be shooting the car for the last time (at least in my possession), but more on that later. Fate, destiny, or whatever you want to call it, can work in mysterious ways, and it is certainly involved in this car.
To really set the premise of this feature, we need to rewind the clock a few years back to 2017 when we featured Patrick Behrendt's Rocket Bunny Miata. You see, Patrick is my husband, and after working closely with that car for several years, I got the itch to get a Miata of my own. At the time I was working on two VIP car projects, and the thought of having a Miata for each of us to enjoy kept entering my mind. Early in 2018, I decided to put one of my projects up for sale and one of my friends took notice and was really interested. The catch? He needed to sell his Miata in order to buy my car. This is when our interests started to align. After a month or so of neither of us having any luck with buyers, I proposed the idea of trading and my friend jumped at the opportunity. Not long after there was a second Miata in my driveway.
The car came to me fairly well sorted with some decent parts; Work wheels, a 4-point roll bar, and some suspension work. The plan was simple enough, clean the car up a bit and enjoy it for a little to scratch that Miata itch. I just happened to get a bit carried away at some point, but in all honesty I got really lucky with some of the parts I found.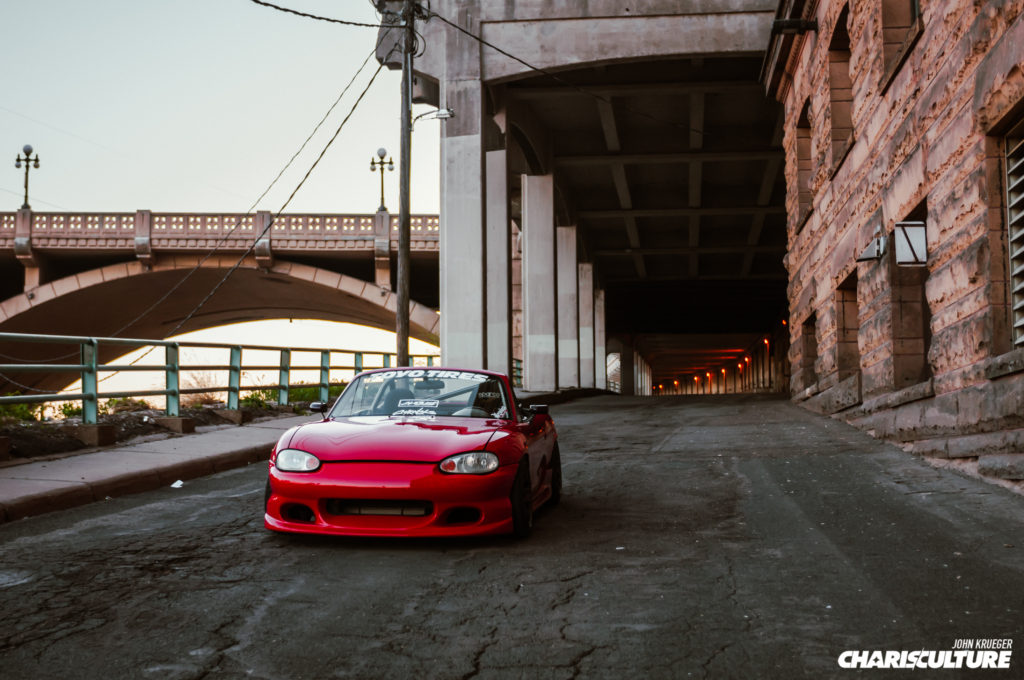 If you've followed the progress of my husband's Rocket Bunny Miata, you'll know that both he and I get a lot of inspiration and styling cues from the Honda community. What we did to extreme levels on the Rocket Bunny car we toned down for this Miata because I intended to drive this one both on the street and the track. Parts selection is huge for me, and a lot of Facebook Marketplace scouring led me to some pretty cool parts and the vision started to take shape.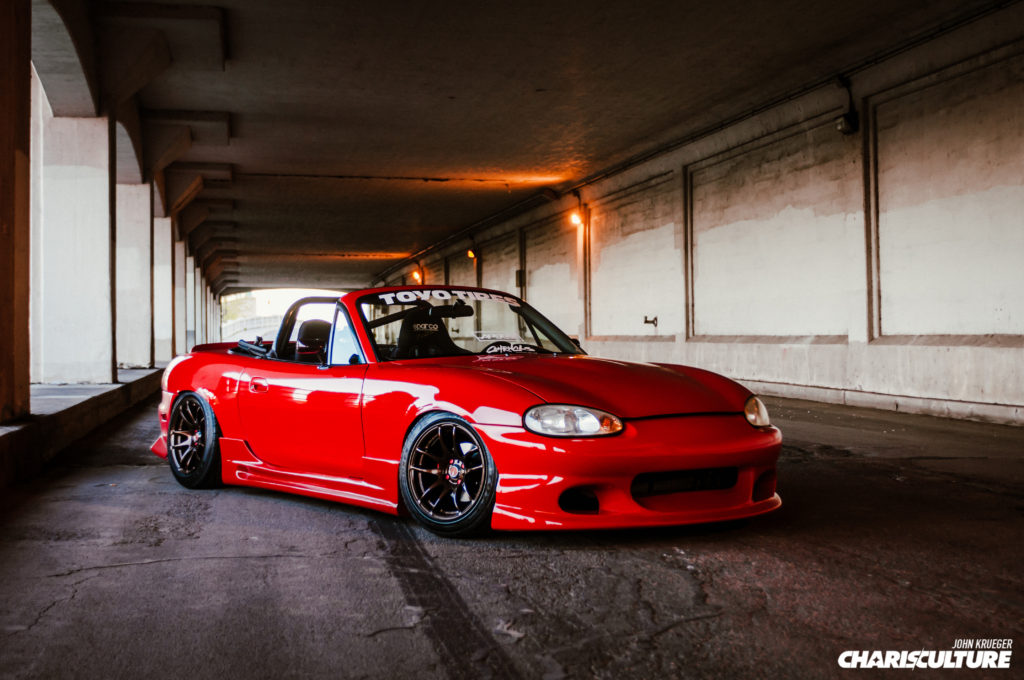 One of the coolest finds was the legit Bomex kit that I scored brand new. I found it in one of the Miata groups and for whatever reason people were passing it up. The seller bought the kit over a decade ago and left it in his storage unit and kind of forgot about it till he sold his car. It was all still in the original plastic when I received it which was pretty cool. I matched the kit with NUE Japan rear canards, a Treasure Coast Miata duckbill trunk, and a new OE hood to create a stylish, throwback look.
The interior of the car was pretty well sorted when I got it. The aforementioned roll bar was accompanied with LRB Speed door panels, a Momo steering wheel with a quick-release hub, Rev Limiter gauges and RaceQuip harnesses. I added my touch with a Sparco Pro 2000 bucket seat for the driver, and gave the sound system a little update with a double-din head unit and some Memphis Audio speakers. This was a street car after all, and nothing beats hot laps at the track with the top down blasting Initial D.
The engine and drive line is another area where I did a little more work to. The stock 1.8 was pretty much stock when I got it. An ACT clutch and flywheel, over-sized radiator with electric fans, an exhaust and welded diff were what I was left with. The welded diff was the first to go and in it's place a factory limited-slip differential was installed. Another late-night find on the FB Marketplace landed me a complete ARC intake box and chamber, a fairly rare item for the Miata. This past winter though, the car went to my buddy Andrew's, aka Mandrew Made, for a little bit of work to match my husband's car. The center piece for my Miata's engine bay is definitely the custom, equal length, hi-rise header that Andrew made. Coupled with the wrinkle red valve cover, custom Mandrew Made spark plug cover, and Arc Intake, the engine bay showcased a balance of style and function. With the custom exhaust, the intake and header combo made all the right noises and added a new level of fun to experience when driving the car.
To finish the car off for this year, I wrapped the Work Emotion CR Kiwamis in fresh Toyo R1R tires and got a fresh alignment before shaking the car down on some spirited runs along the river valley. But, like all good stories, this one came to an end, at least under my ownership. You see, over the last two years under my ownership, I knew the previous owner missed the car. He followed its progress and would message me regularly to say how nice the car was coming out. I enjoyed the car a lot, and thought it had the potential to be a main-stay in mine and my husband's garage, but then the thoughts of, "what's next," started entering my head. Exactly a week after I shot these photos, I sold the car back to the guy I got it from.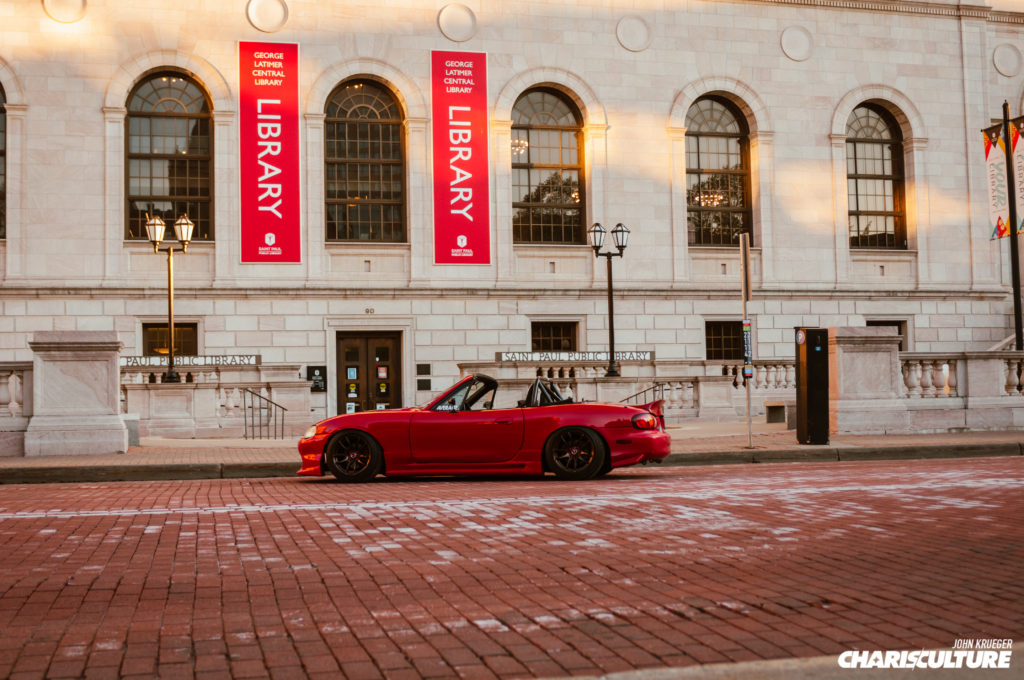 It's always hard to say goodbye, but it felt like it was the right thing to do. Ultimately, the car was always his car. I just looked after it for a few years and made some changes that he happened to really liked. I'm happy it's back in his hands and I know he'll enjoy it to the same lengths that I did. It's kind of funny to me how the car went full circle back to its rightful owner. I definitely scratched my Miata itch, and it was nice having matching cars with my husband for cruises. I just wished I could've used those R1R tires at the track once before I sold it!
What's next? I guess you'll have to wait and see. The next project is a long time coming, and now that both the Rocket Bunny Miata and my VIP project are both pretty much finished, my time and efforts can be focused on this next project.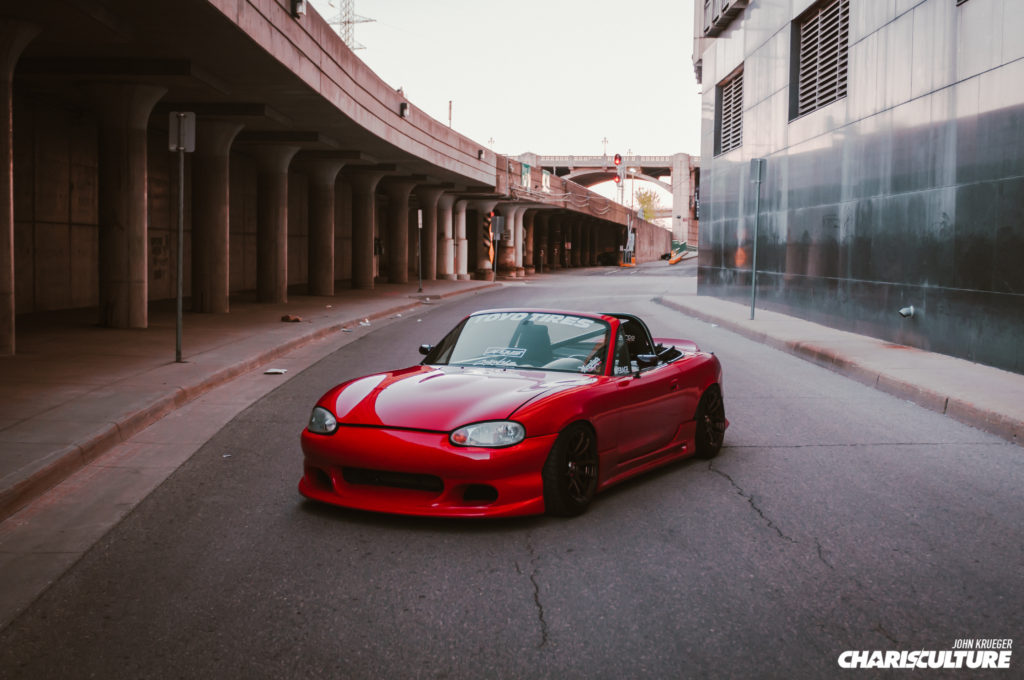 If you liked this Miata and want to continue to follow its adventures, follow the new (old) owner at; @clintjollygreen. Before I put an end to this chapter of my automotive adventures, there's a few people I'd like to thank for this one; my husband Patrick for everything. Andrew at Mandrew Made for being an absolute legend and all around good guy. Erik Coleman, the same goes for you. Karl and Stan at Toyo Tires, Brendan at Meguiar's, Joey at The Chronicles, Yuta Akaishi, Wayne at August Cascade, Abbitt at AW Stickers, Jason for paint, and last but not least, my parents (rest in peace Mom). Also, thanks to Clint for trading me the car and then buying it back, haha

Tuning Menu:
Engine:
-ARC Intake box and chamber
-ARC radiator cap
-Euro-spec square top intake manifold
-Custom Mandrew Made equal length exhaust manifold
-2.5" custom Mandrew Made exhaust
-Powdercoated valve cover
-Custom Mandrew Made spark plug cover
-JDM ECU w/8500rpm red line
-Aluminum radiator w/dual electric fans
-Oil cooler
-ACT single plate, 6-puck clutch & lightened flywheel
-Braided steel clutch line
Body:
-Authentic Bomex front bumper
-Authentic Bomex side skirts
-NUE rear canards
-TCM duckbill trunk
-APR carbon mirrors in custom kandy apple red
Suspension & Brakes:
-326 Power coilovers w/12k front and 8k rear springs
-modified steering knuckles
-Frozen Rotors brake rotors
-Hawk HP+ pads
-Torsen LSD swap
Interior:
-Momo steering wheel w/quick release hub
-LRB Speed aluminum door panels
-Rev Limiter gauges
-Sparco Pro 2000 driver seat
-Race Quip 4-point harness
-Custom 4-point roll bar
-Battlecraft shift knob
Wheels & Tires:
-15×8 +0 Work Emotion CR Kai Kiwami in custom Root Beer Brown powdercoat w/red Work center caps
-205/50/15 Toyo R1R tires