There are generally two types of SEMA builds, those which are built for the show with powerhouse marketing machines backing them, and those which are passion projects put together with an immaculate attention to detail worthy of being on the Las Vegas Convention Center grounds drawing attention of anyone who walks by. Here we have the latter. Meet Raul Ramirez, Owner of Checkerdsports and his stunning RHD 1992 Honda Civic EG4.

The Show starts Tuesday, but Raul was kind enough to meet with us on Monday morning at 6am before the incoming rush of foot traffic. Considering this is an exceptional Honda, we found it appropriate to only work with our friend Big Mike, and have him speak with Raul about this incredible build, which you will also be able to catch a behind-the-scenes video on his Instagram TV channel this week.

The car is his second track built EG, 10 years from his previous build. A project which is a testament to his growth as a builder. While we all want to share our passion with each other within this incredible community, this particular journey was about challenging himself and taking his craft to the next level. This naturally results in wanting to showcase your project to the world, and what better place to do it than our automotive World Series.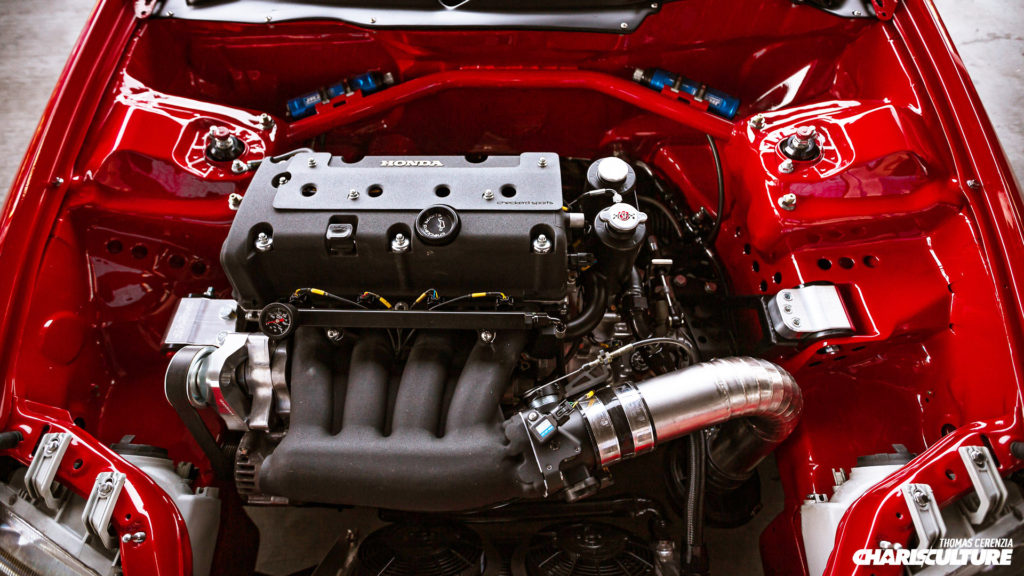 The engine bay is a stunning display of less is more. A clean combination of style and function, utilizing a numerous amount of Checkerd sports custom parts which range from a custom titanium intake and titanium center exhaust to his own custom made coil cover, oil cap and fuel rail.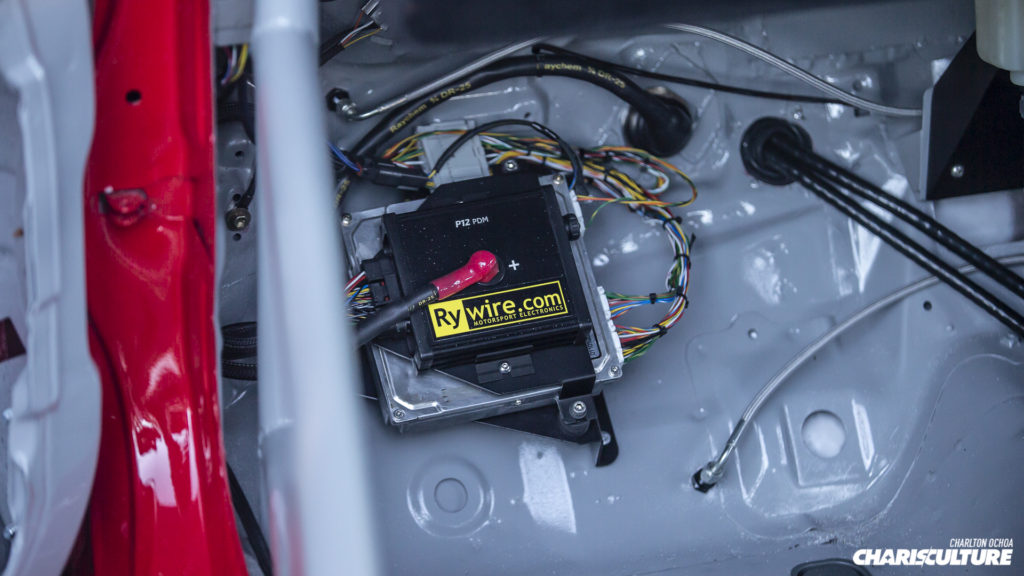 The K20A is attached to a 6 Speed Type R transmission, and controlling everything is a Rywire full PDM chassis harness and engine wiring harness with an AEM Infinity ECU.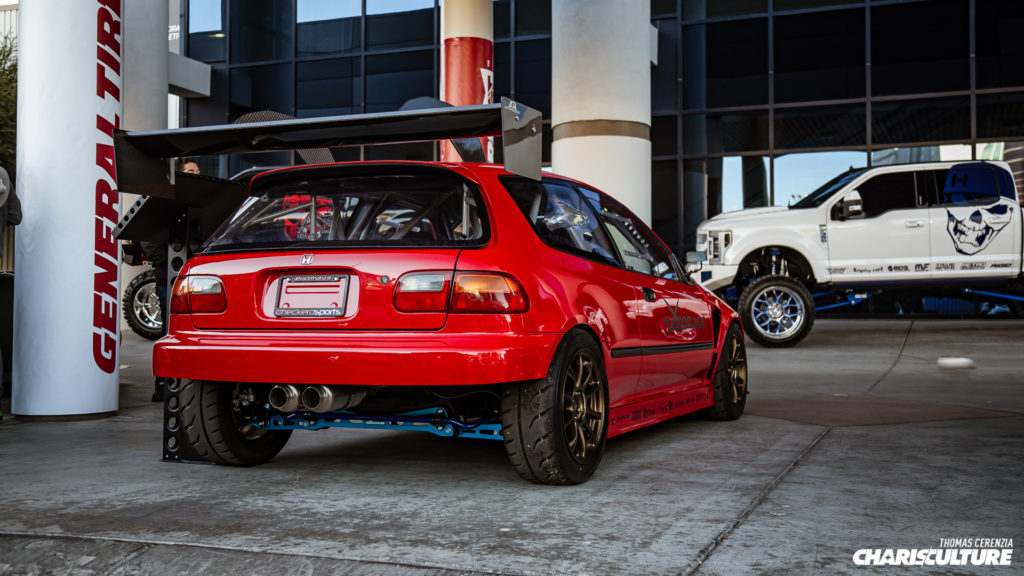 A large wing is always a conversation starter after drawing a crowd and this setup was significantly different from anything else we have seen on an EG4. Inspired by Cody Loveland of Love fab , Raul decided take an aggressive approach for his down-force needs resulting in a wing that flows perfectly with the rest of the build.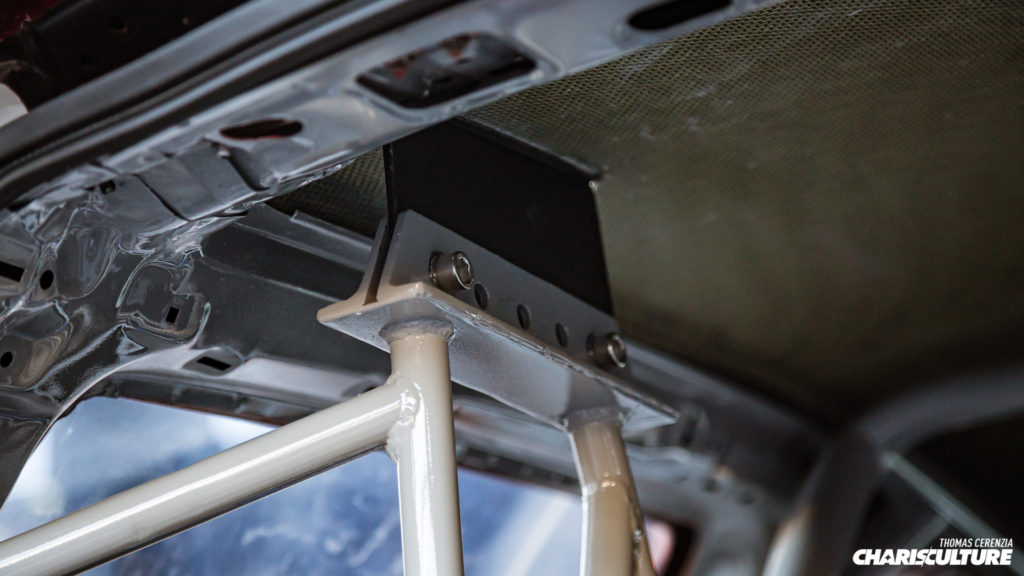 While the wing stands slide in through the roof, everything here starts at the bottom. The sub frame is fully boxed and runs up the shock towers which is connected to the cage. The shock towers then have the braces that run right under the roof. A pretty cool setup which looks much better than the story photos can tell.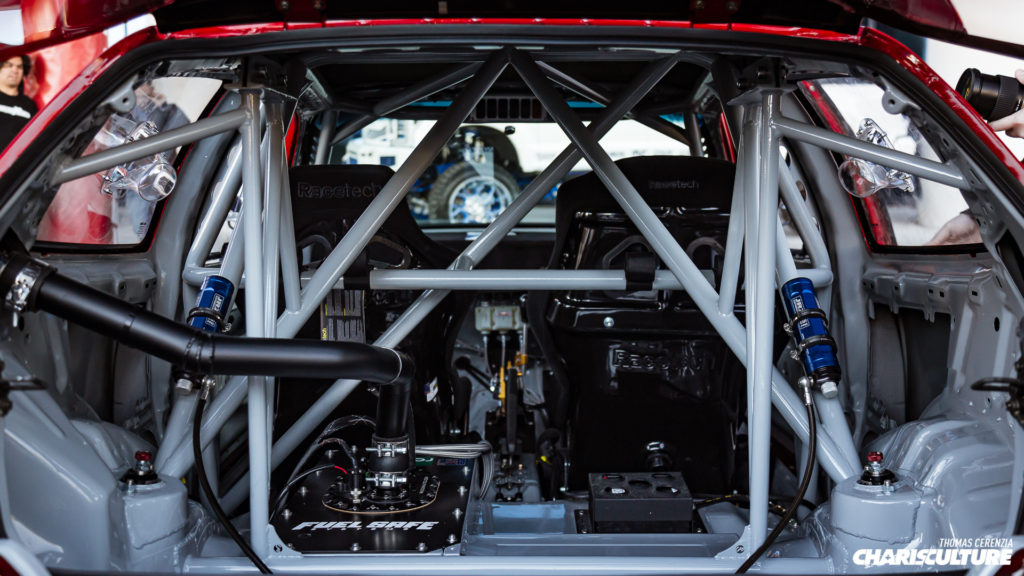 The entire setup wasn't completely planned from the beginning, which at times can be a bit dangerous but for Raul, it worked out by following his instinct and staying the course.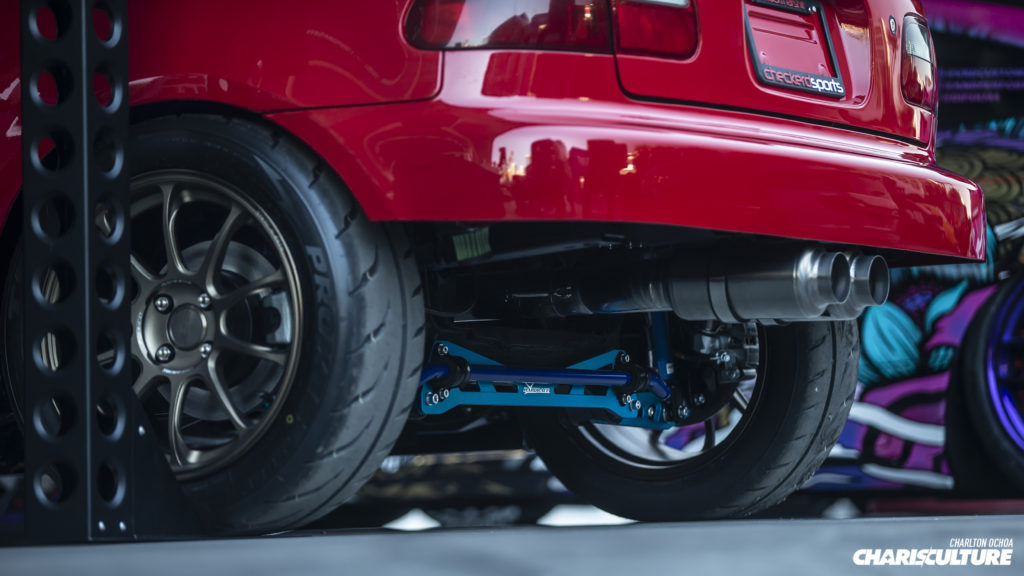 After you get over the extremely unique wing, you should find your eyes wandering down to something else you don't see often on these type of builds, which is this true center exit exhaust. It is a 3 inch titanium exhaust, fabricated by Raul him self which makes its away directly along the center of the car, no bends what so ever which make for a gnarly sound to say the least.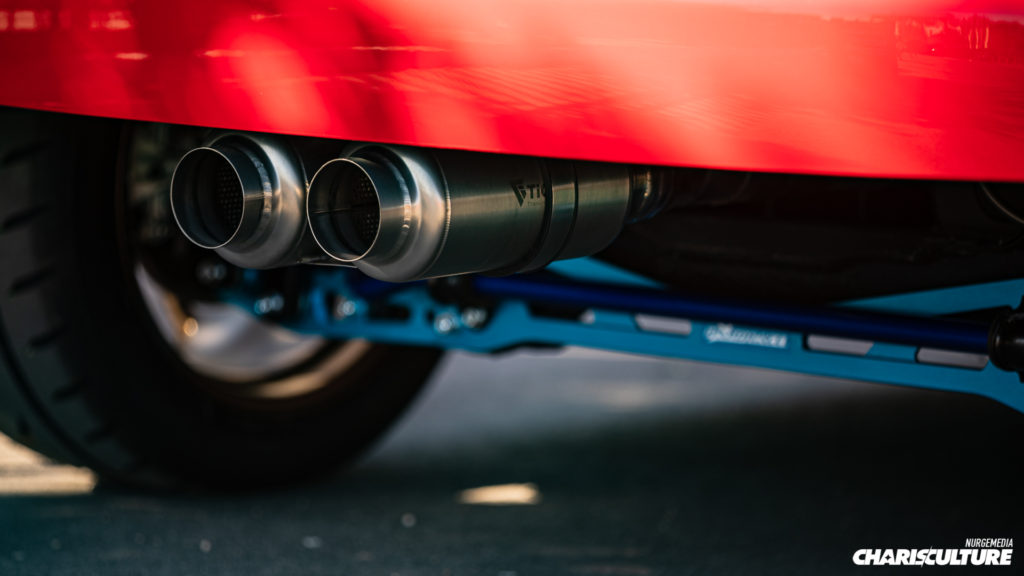 In order to achieve this type of setup, Raul had remove everything from the base of the car and re weld the entire floor. A strenuous amount of work not everyone is willing to do, but resulting in an exceptional outcome.
The car is built for racing, but don't be shocked when you see it driving on the streets. The combination of Toyo Proxes and some light weight VOLK ZE40's make for a show ready style which can easily be mistaken for a clean street car.
One of the problems with having a little bit of OCD as a builder is everything needs to be solid. Raul's passion for perfection went beyond the car it self and onto the stand. Which is a beautifully crafted stand wearing subtle details such as the CS ( Checkerd sports ) and a clean, legible mod list surrounding a slick render of the build.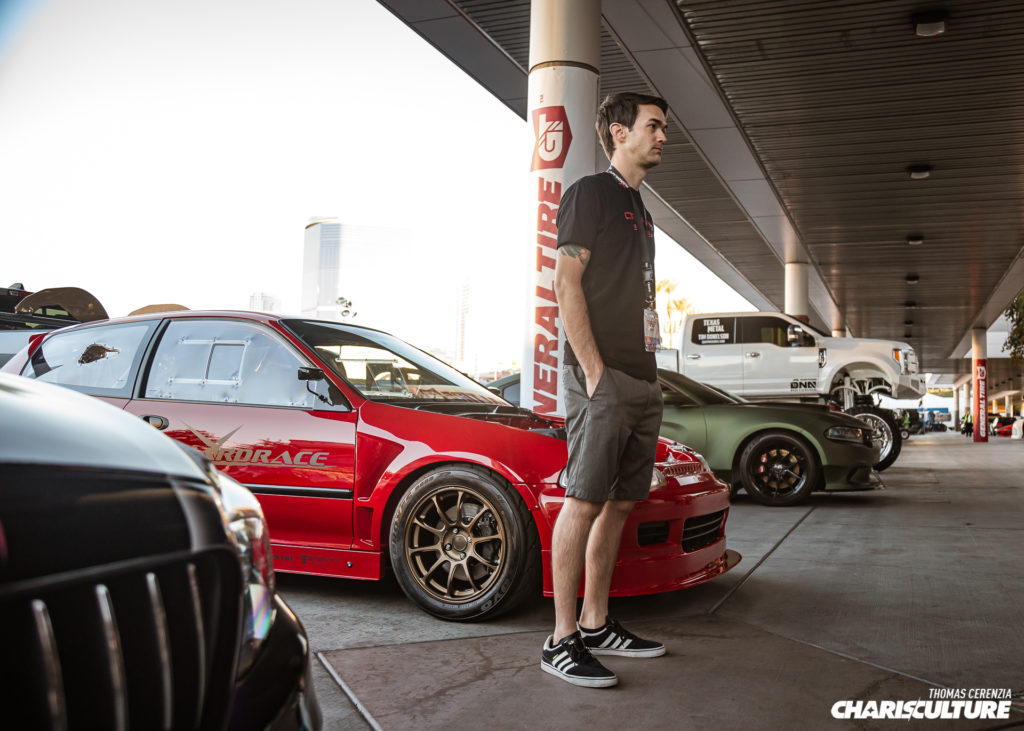 Here at The Charis Culture we are all about the story, and Raul's story is about as good as it gets for an enthusiast. We can speak about modifications for hours and hours regarding his EG4, but ultimately its about inspiring others to go out and build.
We highly suggest you follow Raul and his journey through Checkerd Sports, you can do so by checking out the following links :

http://www.checkerdsports.com/
@checkerdsports
@checkerdbuildtipsanstricks
There is so much more to this build then we can capture in words for one night, so check out the following set of photos to satisfy your thirst. For even more checkout our Flickr Gallery of this build here.