As we close on 2016 with the last big show, Wekfest Palm Beach, I can't help but look back at what this year held for me. I bought my first home and my first new vehicle in 12 years. Now that I live in Boca, I'm getting exposed to a whole new car scene. I'm seeing cars and shops up here that I hadn't seen before. This leaves me with plenty of new places to explore and new friends to make.
Our team has also grown over the past year, and I couldn't be happier. With the new additions of Ryan and Brendon, we're getting more reach into the scene and motorsports, respectively. We're also stepping into video production, thanks to Cool Coconut Studios & Cosmic Media Group. Through those connections, we've also teamed up with Skylabs for aerial support.
Thanks to this growth, we've been able to truly realize what The Charis Culture is – a network of creative individuals collaborating on amazing projects.
As we step into 2017, we've got some great stuff in the works, and we look forward to sharing it with all of you.
Now with that out of the way, on with the show!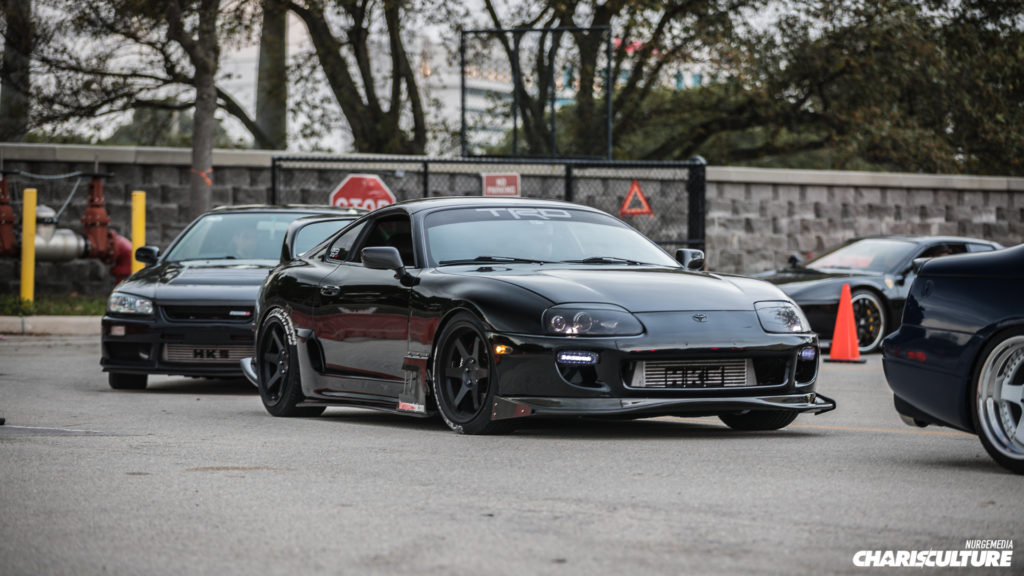 Usually, I'm at a show by the crack of dawn. Unfortunately, this year, I overshot the exit by 15 miles because I didn't realize that Google Maps wasn't navigating me to the convention center. Apparently, I missed the message saying, "The destination might be closed when you arrive. Would you like to navigate anyway?" So, I just kept driving. It wasn't until I asked for a route update that I got a "15 miles south" response. I started laughing: "Well, so much for that sunrise!" When I finally made it to the Palm Beach Convention Center around 6:30am, cars were already flowing in. I checked in with the staff and got to work. Right off the bat, I was greeted by HP Logic's black Supra rocking some Shine Auto bits. And yes, there was an R34 lurking behind it.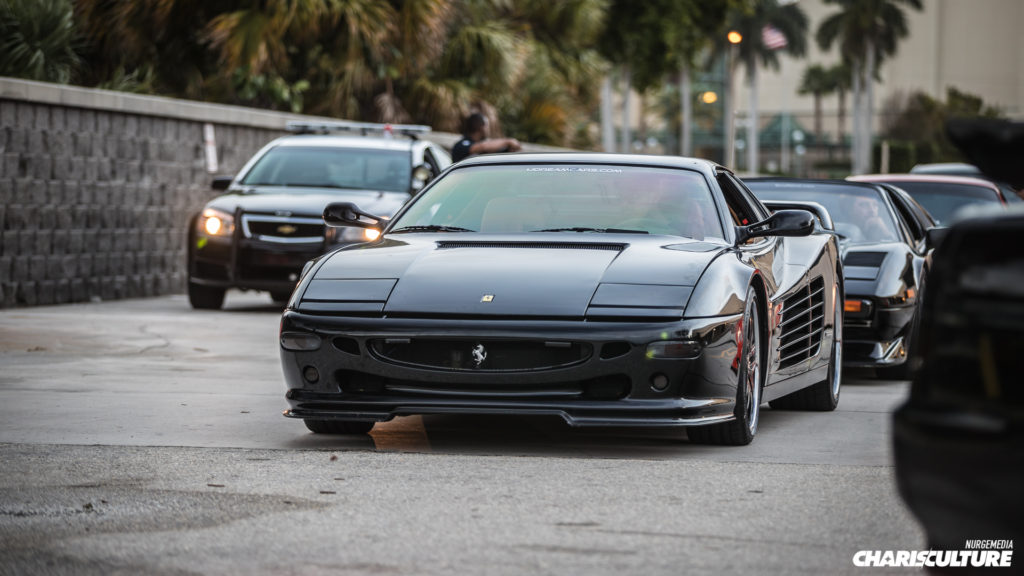 What really caught my eye though was the Ferrari Testarossa & 308 GTS right behind it. I was not expecting to see two cars from the Miami Vice and Magnum PI eras at an event where the makes were predominantly Japanese. But then again, this is Wekfest, and when it comes to quality, cars pretty much appear out of thin air.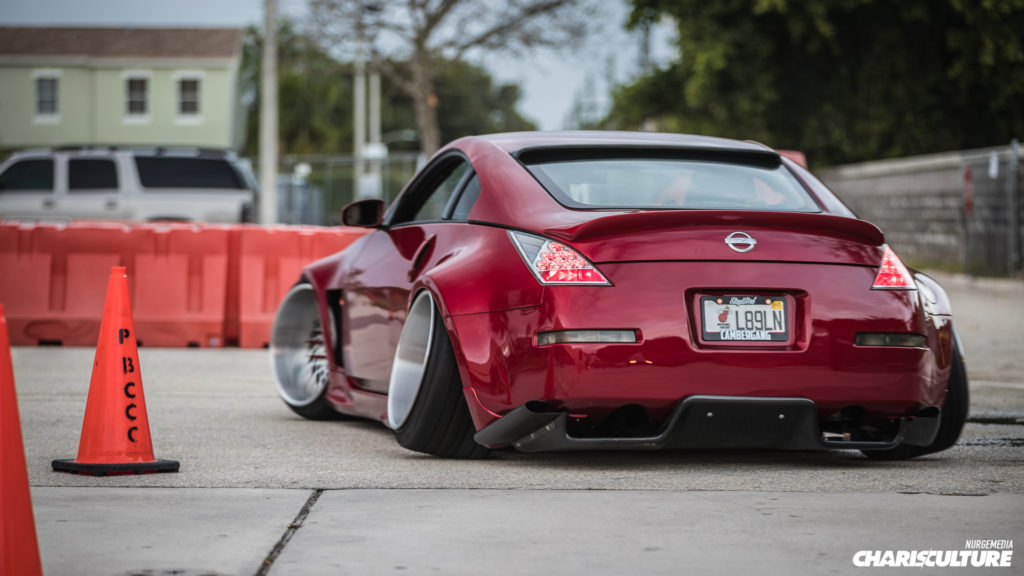 I also caught the "King of Camber" himself, Luis Vivas, entering the staging area. I've seen his car in so many different stages. When he "unveiled" this latest iteration at Tuner Evolution in June, I was very impressed. When you're the creator of Cambergang, your car better be the epitome of camber/fitment. I'd like to say he's pretty much nailed it.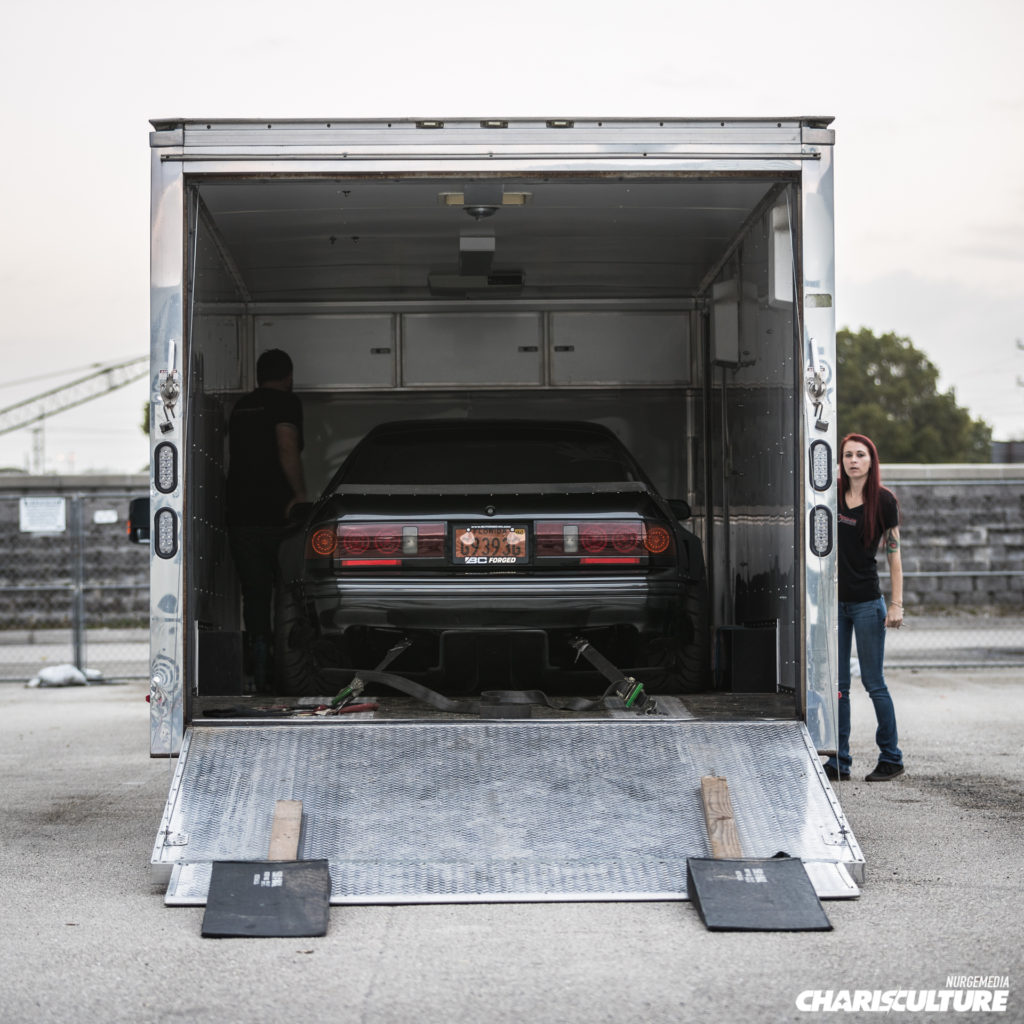 As I walked around, I saw a closed trailer pulling into the staging area. I quickly headed across the parking lot to see what kind of delights were inside. As soon as I saw the color and the BC Forged license plate border on this FC, I flashed back to Wekfest Miami 2014 where @willtet brought out his Turbo LS powered FD. I had a feeling I was in for something special.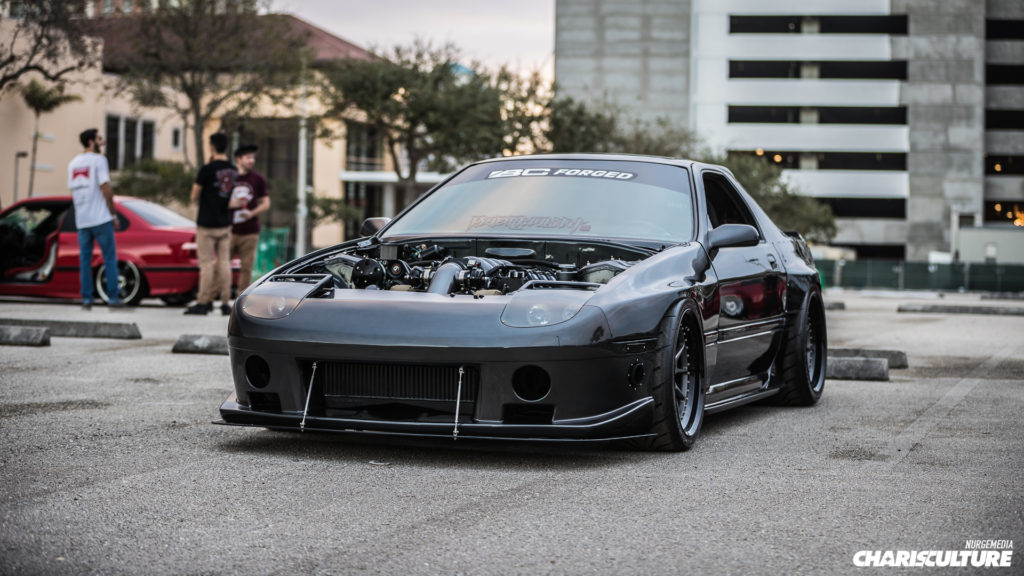 Sure enough, when Will started the car, the sound was deafening. He gently rolled the FC down the ramp and into its spot. It was beautiful. Following the earlier motif of LS powered RX-7, this FC was equipped with a twin turbo LS3. The car was immaculate. Luckily, we had some time to get more info on it. That can be found here.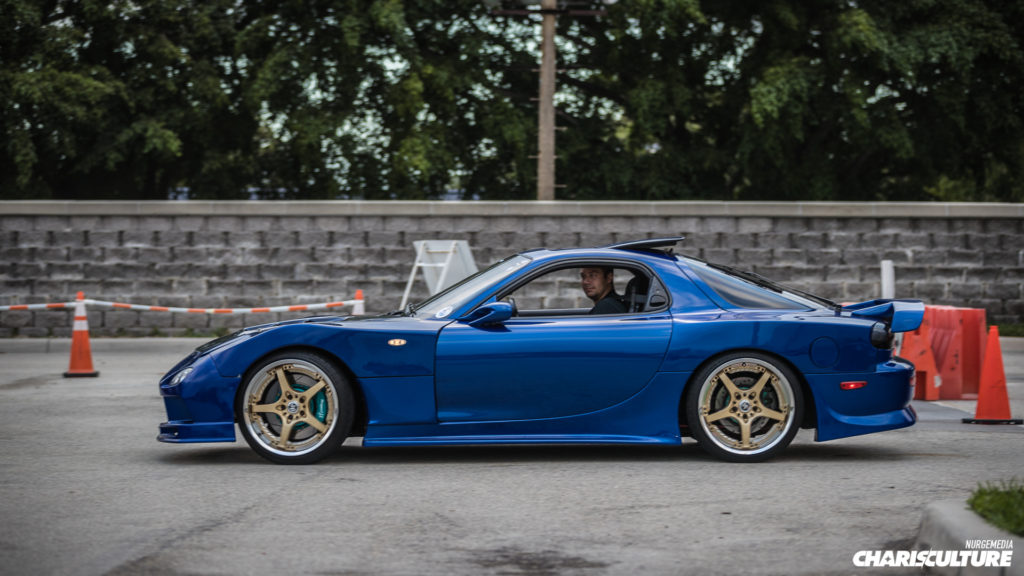 Speaking of LS powered RX-7s, I saw Harrison roll in with his Kazama Auto widebody RX-7. He was one of the last Jade Motorsports members to arrive. I also found out that Jade is going to be celebrating their 20-year anniversary this year. There might be a story there….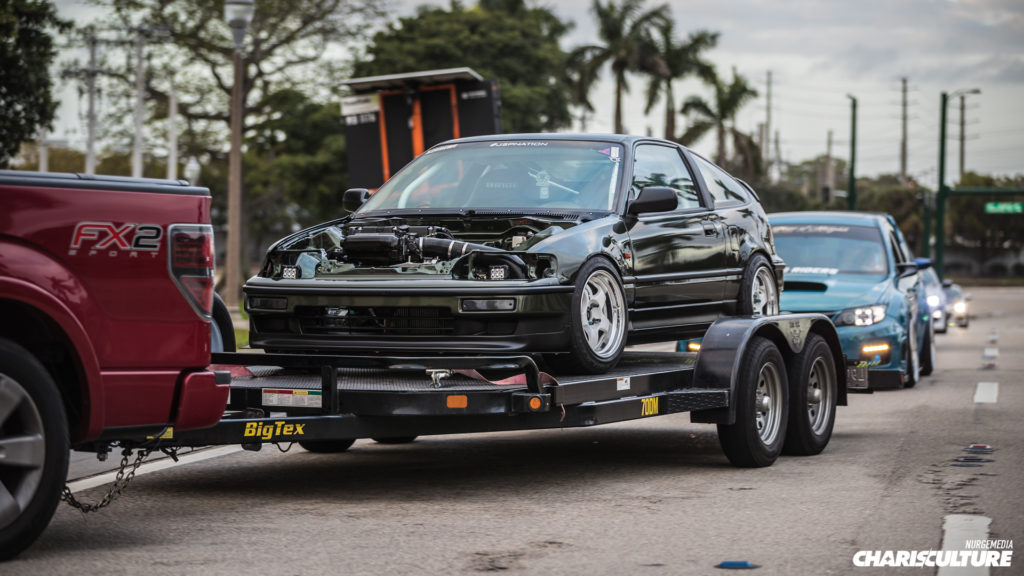 It wouldn't be a Wekfest show without the multitude of extremely well built Hondas. It's safe to say that @stickydiljoe brings all the Hondas to the yard. Yes, I went there. Because it's true. The illustrious creator of The Chronicles, Joey always draws a massive Honda crowd. It's a beautiful thing. How often do you see a CRX on a trailer? More importantly, how often do you see a CRX???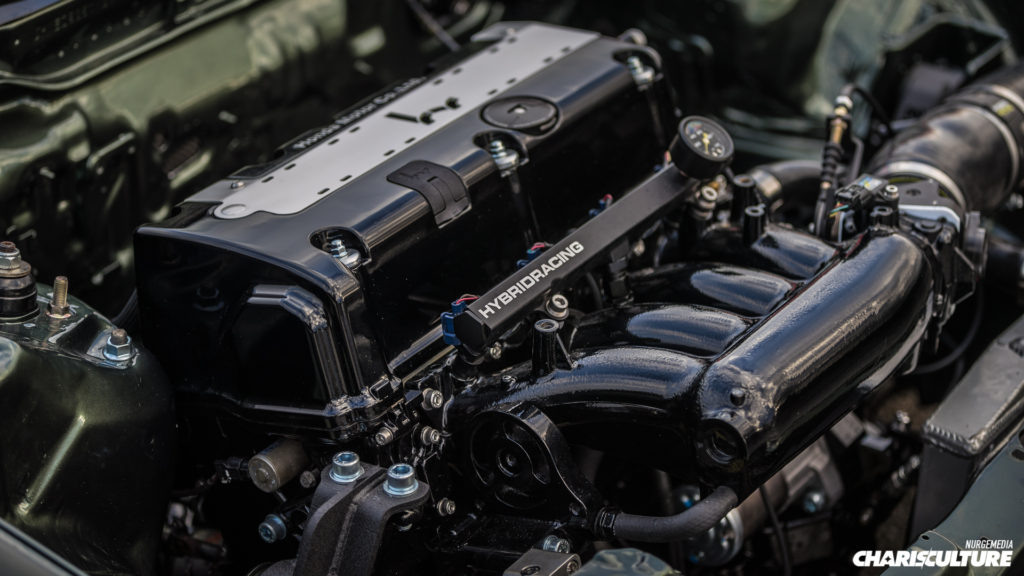 The last time I saw this beauty was Wekfest 2014 in Miami. Owner @thiendegigolo hits a soft spot for me with his CRX. I've always loved this platform and that green hue is just as gorgeous as it was in 2014. Luckily, this year, I got to see the engine bay. As expected, it's just as flawless as the exterior.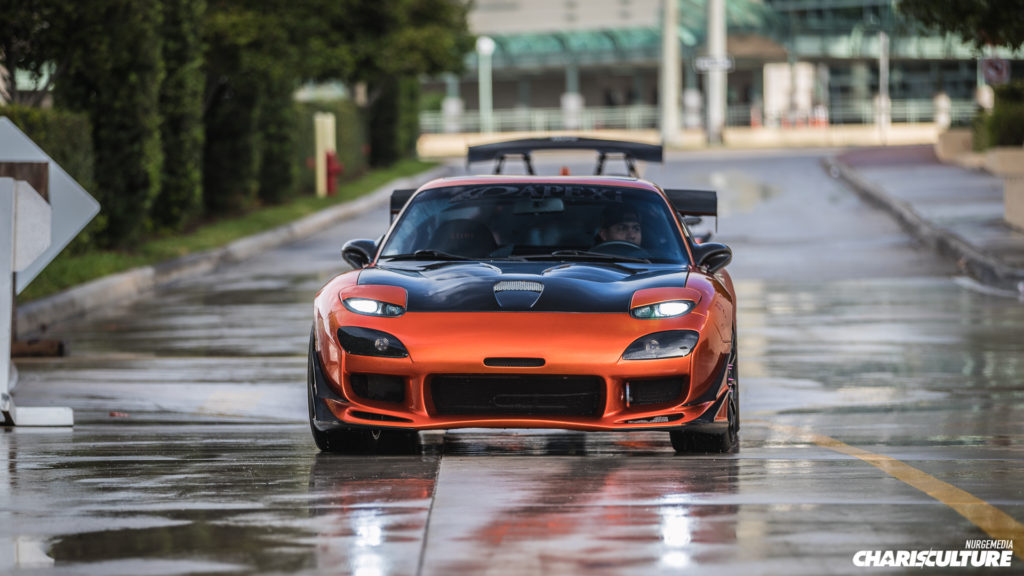 I headed towards the street in hopes of getting some pan shots. As I walked up the drive, it starting raining. Luckily, I had befriended the security team earlier and I was loaned a rain jacket, so I could shoot without issue. Thankfully, all of my gear is water sealed, so I didn't have to worry too much about getting it wet. It was more my clothes that I was concerned about. I don't like walking around soaking wet in air conditioning! After donning the hazard yellow rain jacket, I caught Ricky in his Candy Mandarin Orange ɛ̃fini clad RX-7. The overcast-ness lent to some great colors and reflections..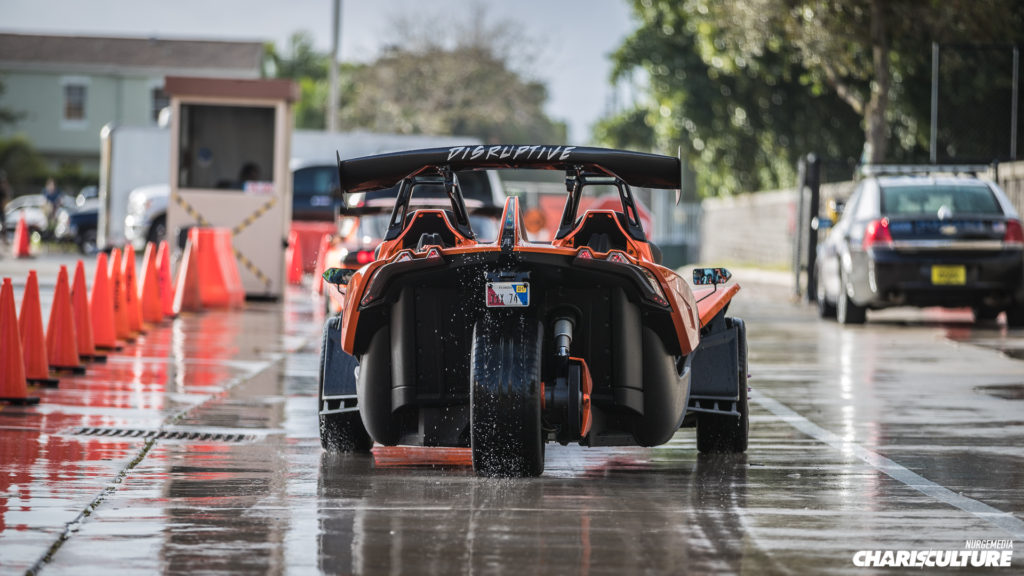 If you were wondering about that crazy "stacked" spoiler, it was just Ricky's Polaris Slingshot riding behind him!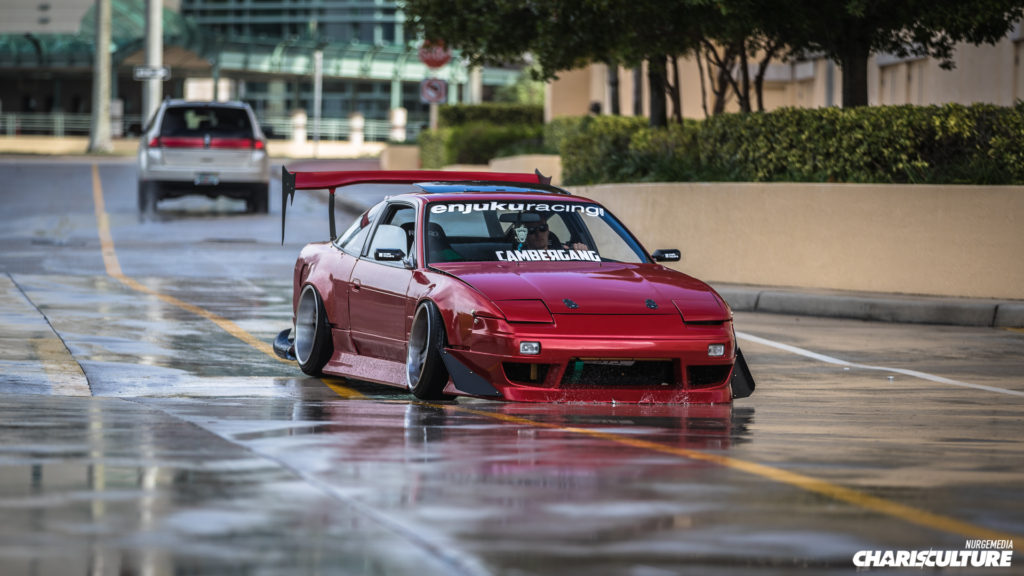 While waiting for the rain to pass, I watched in horror as @soflo_killa plowed a puddle with his front lip. He later told me that the damage on the lip was from hitting road reflectors on the way. (I know that pain all too well.)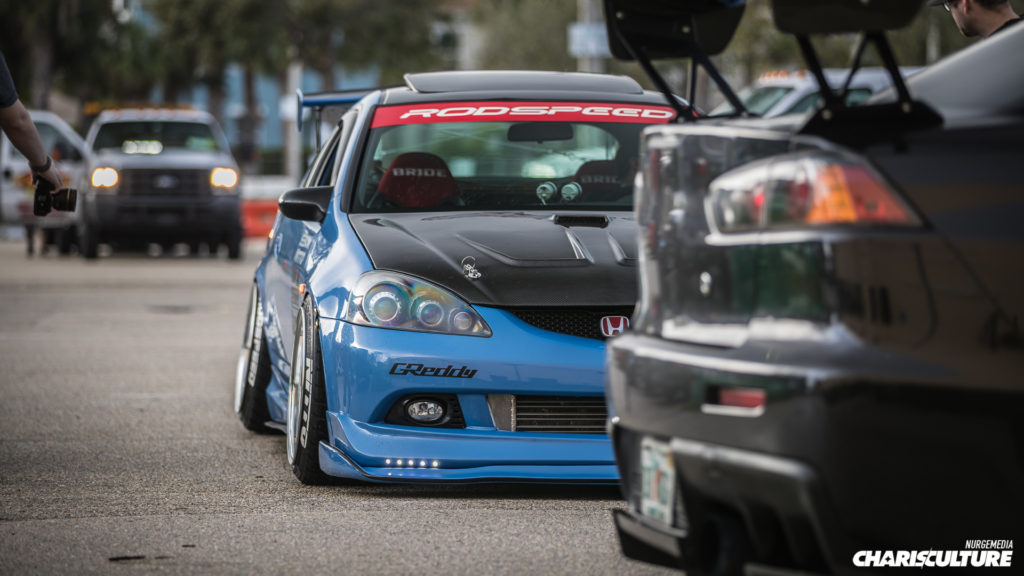 This is hands down one of the sexiest RSXs I've ever seen. It was perfection, oozing with quality parts from the SSR Professors down to the Mugen Reservoir Covers.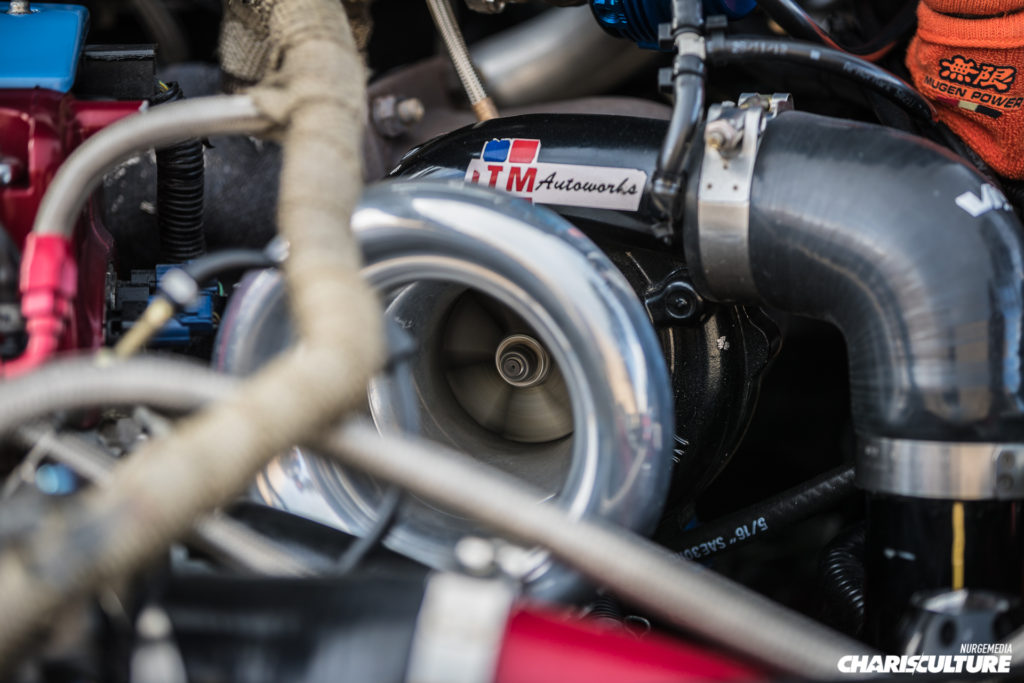 I managed to catch a couple shots with the hood up. That Garret turbo was all nestled in, spinning away.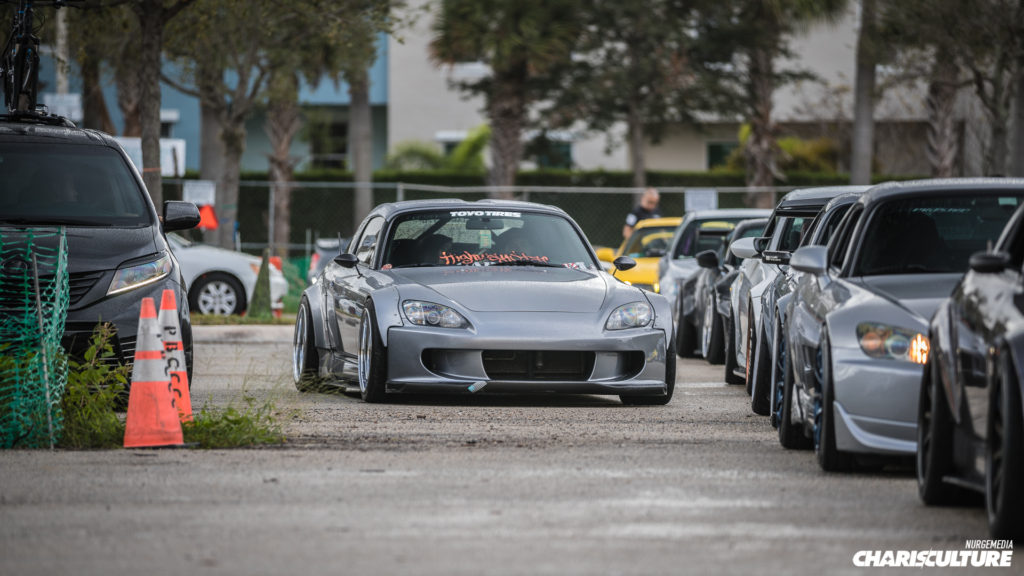 In what appeared to be an endless line of S2000s, I saw Mr. Doritos himself parked to the side. It's always a pleasure seeing @highwaystardoritos in our neck of the woods.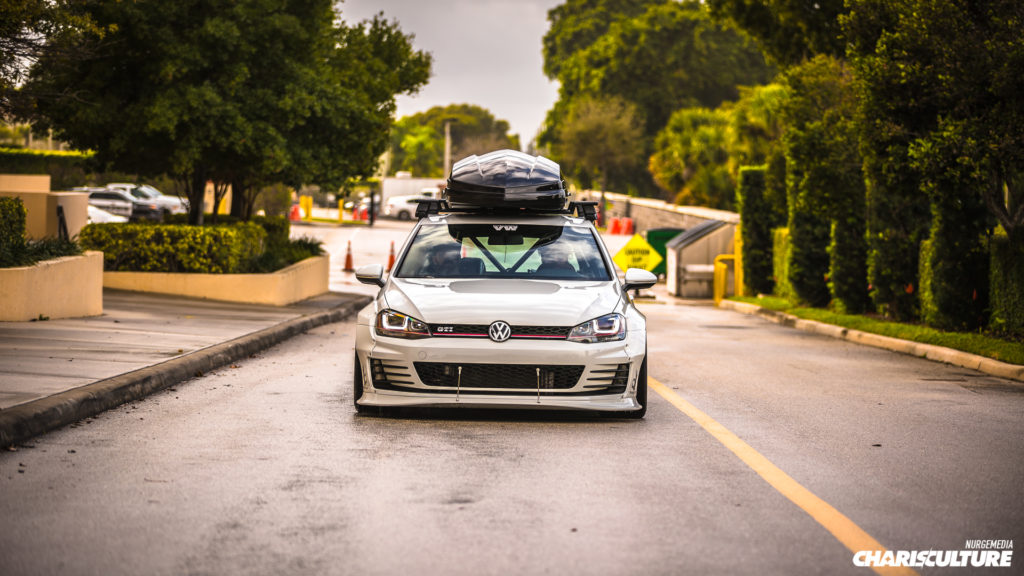 I finally made it to the street for some pan shots. The first subject was @sdobbins_vossen. He was creeping up behind me. I didn't even know he was there until I turned around. This gave me plenty of time to run across the street to the median.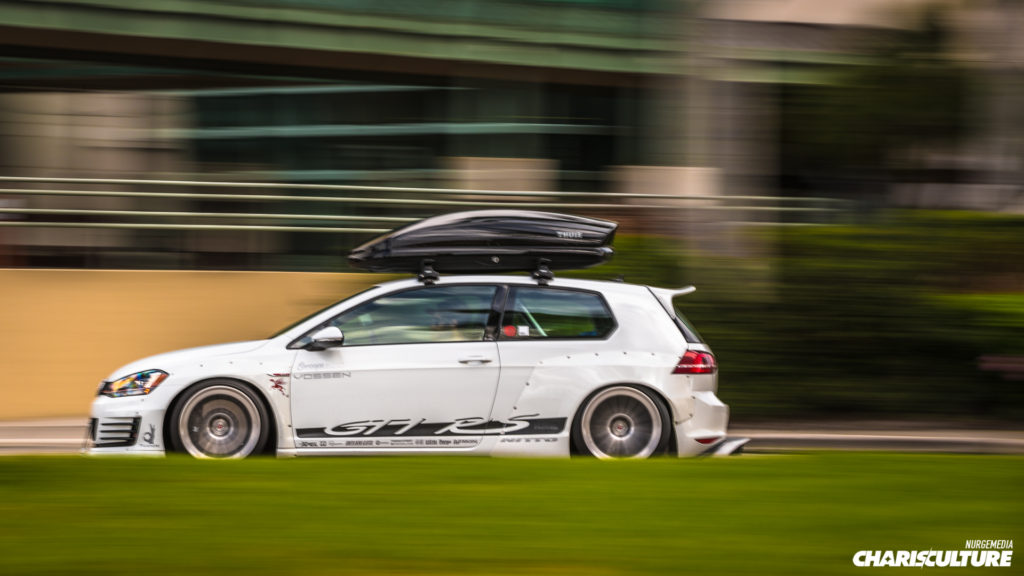 I kinda felt like I was shooting on a track infield because of all the distance between us. The median on Okeechobee Blvd has to be about 60ft wide! I'm not complaining by any means – it afforded me the opportunity to get enough distance on both sides of east and westbound traffic.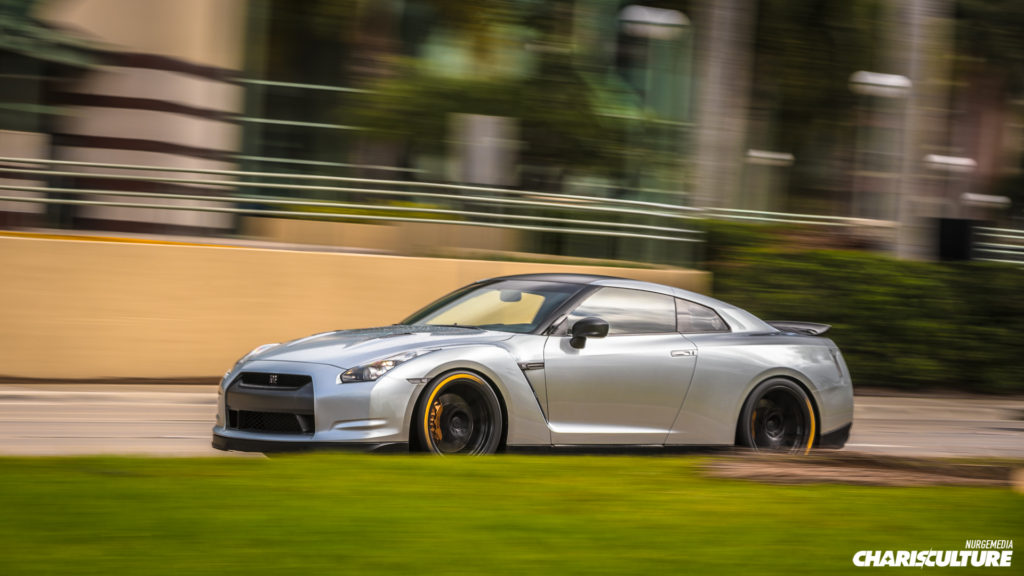 Cars kept coming, and I kept snapping. I don't even think this GTR was part of the event!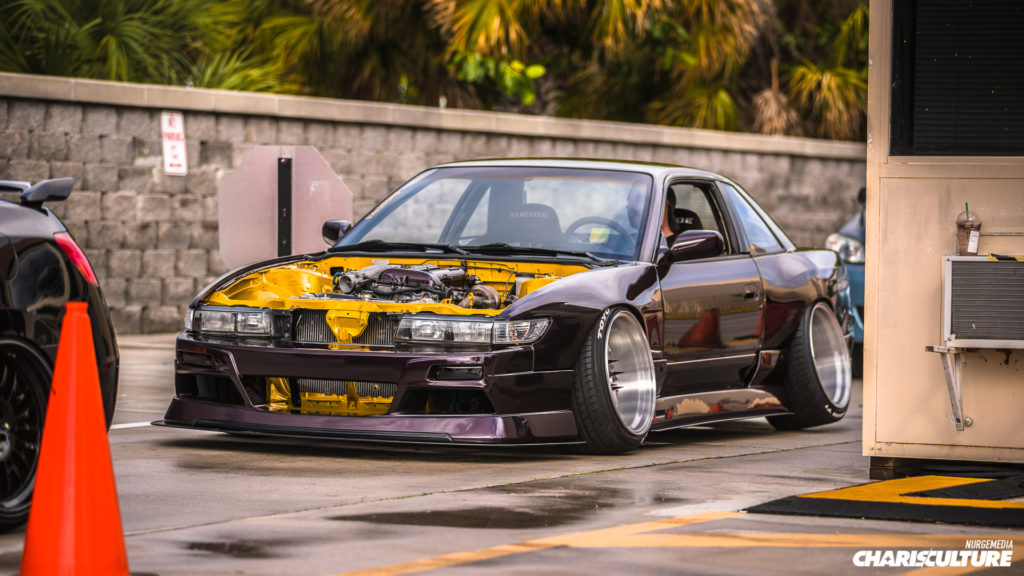 Upon my return to the entrance, @hdwerks was rolling in with Luis' next project – this beautiful purple Spirit Rei kitted 240. The bodywork looked stunning, especially fitting those massive wheels in there. I'm sure it will reach the upper echelons of cambedness.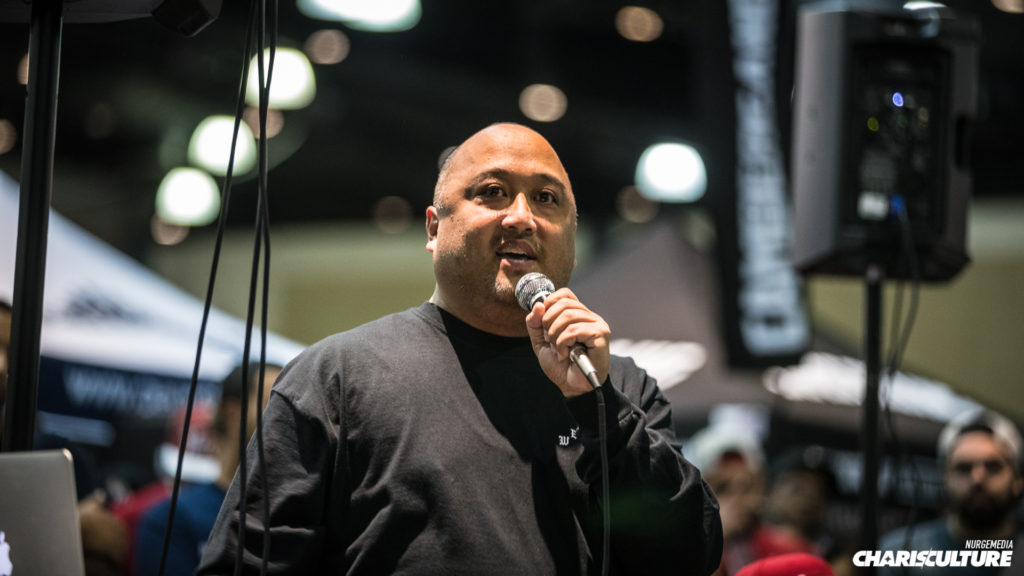 Finally inside with the rest of the crew, Charlton & Ryan, we were able to absorb the words of wisdom by Junior and co. To put it simply: Wekfest is here to push people to really make their builds exceptional. They don't want to see the same old rims, wrap, bags. They're looking for standout originality, and I couldn't have put it better myself.
I had to leave early for my grandfather's 90th birthday, so I leave you with this link to our beastly Wekfest photo gallery.
Enjoy and stay tuned for some amazing stuff in 2017!