January is a wonderful time of year. The mark of new experiences and possibilities. Most people are beginning their resolutions or trying something different. Well last year around this time I left the ad agency I worked for and tried something very different, I went out on my own.
Since then we've shot a TV show about our friends at The Creative Workshop, I've experienced The Quail, A Motorsports Gathering and Pebble Beach, we created a project for the one and only Ferrari 330GT Speciale and the list goes on with the clients we've been able to work with on other projects that haven't launched yet.
That change, that leap that I took a year ago has impacted my life in so many ways. What Charlton and I have been building with The Charis Culture has always been about pushing ourselves to do more, to do things that we think we can't. As we continue on we have many interesting projects on the horizon. We are currently reworking the entire site to provide more of the experiences that we're creating with clients. The articles and pictures will still be here but we have so much more to show and we hope that you all will enjoy what we're working towards.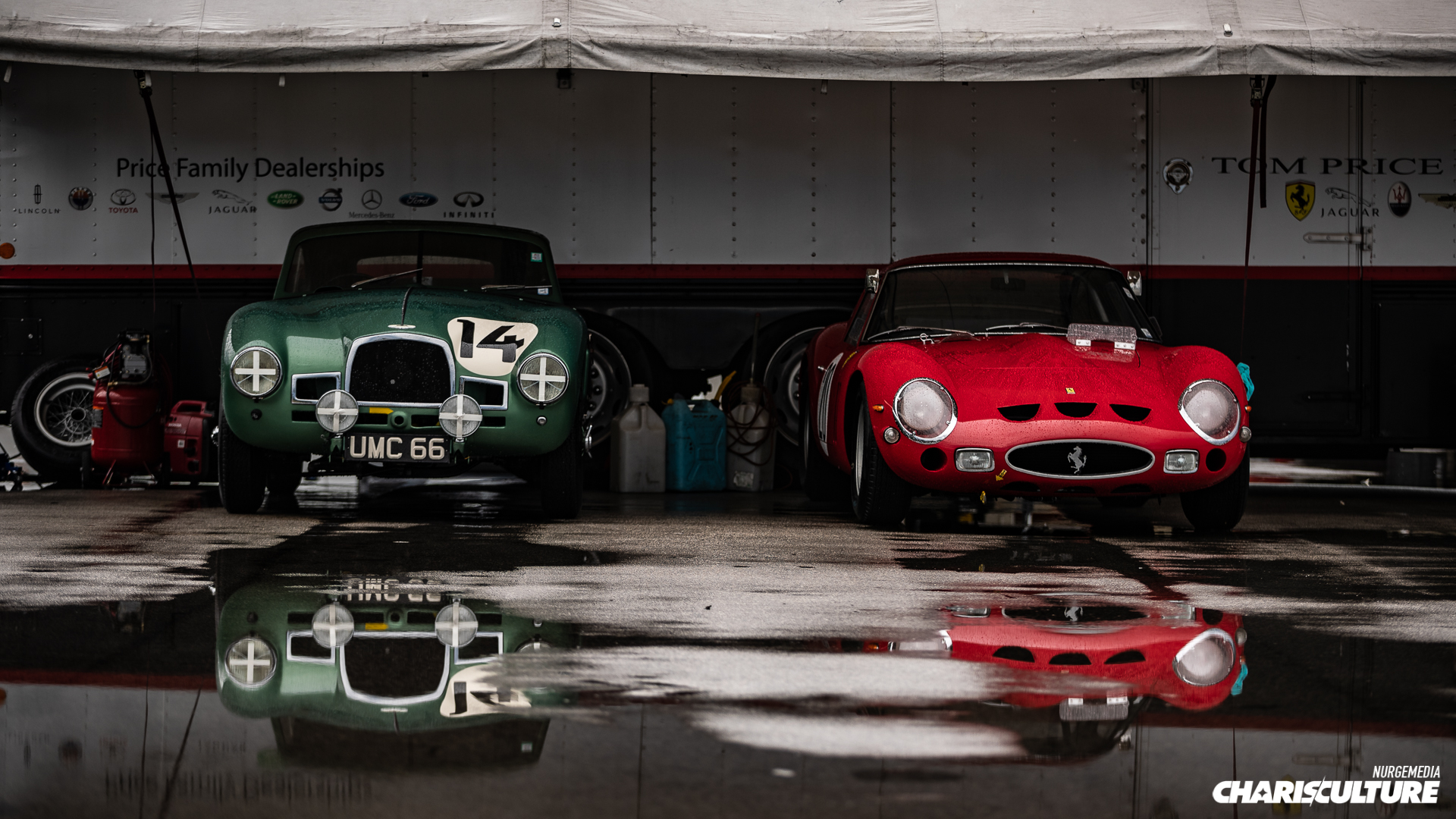 Not only is January a wonderful time of year, it's also a Ferrari time of year! Our good friend Bill Adam would be providing his expertise once again at the 28th Cavallino Classic. I had the pleasure of spending some time at the track with Bill. Unfortunately there was a lot of rain but with such clouds also comes great diffusion along with great raindrop and puddle shots. Last year I got to spend some time in Tom Price's 1963 Ferrari 250 GTO, talk about an amazing experience!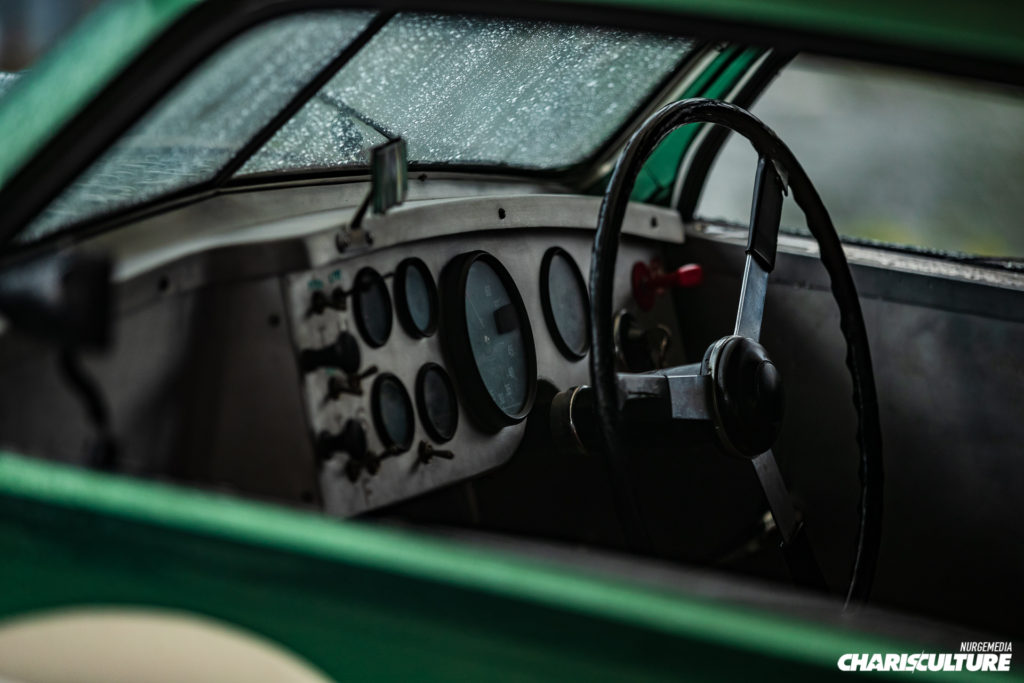 This year Tom brought along a very rare 1949 Aston Martin DB2 prototype race car. According to Sean, one of Tom's engineers, this DB2 was nicknamed "The Sweatbox" due to the small cabin size and that is was used by David Brown to test racing engines. When you combine tight spaces and racing engines, you know it's going to get hot real quick!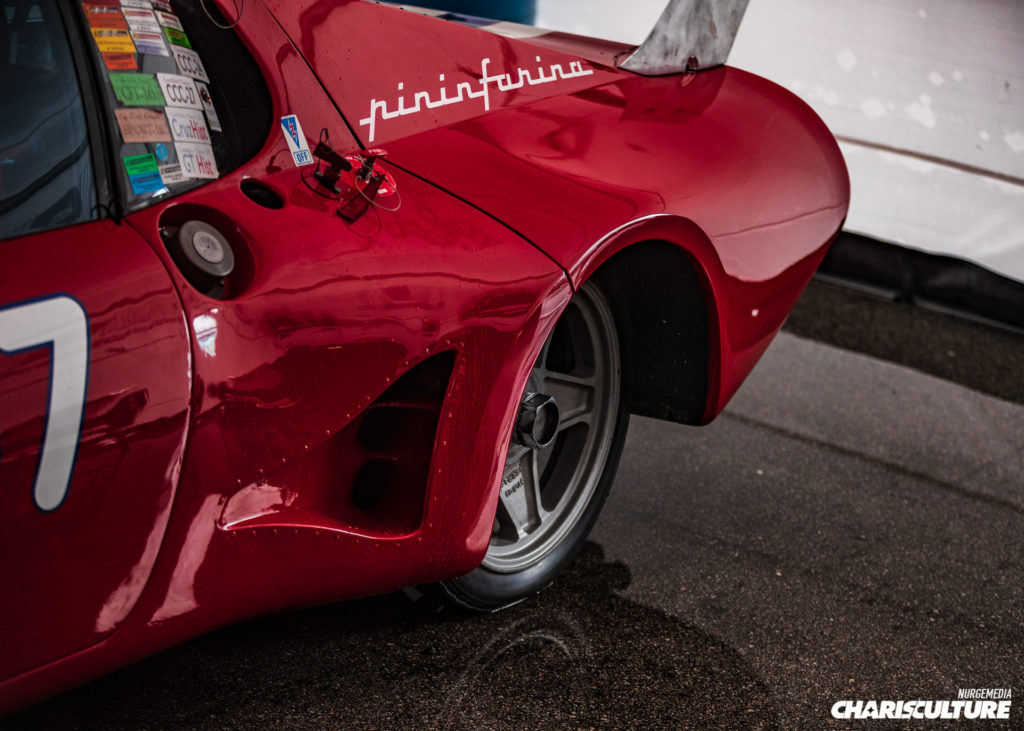 As I walked around to different tents in an attempt to escape the rain, I came across this sunken battleship of fitment. It threw me a bit as I've never seen a racecar on skinnies. It reminded me of that dude that built a bicycle powered Porsche GT3 RS. Thankfully it's fitment changed rather quickly.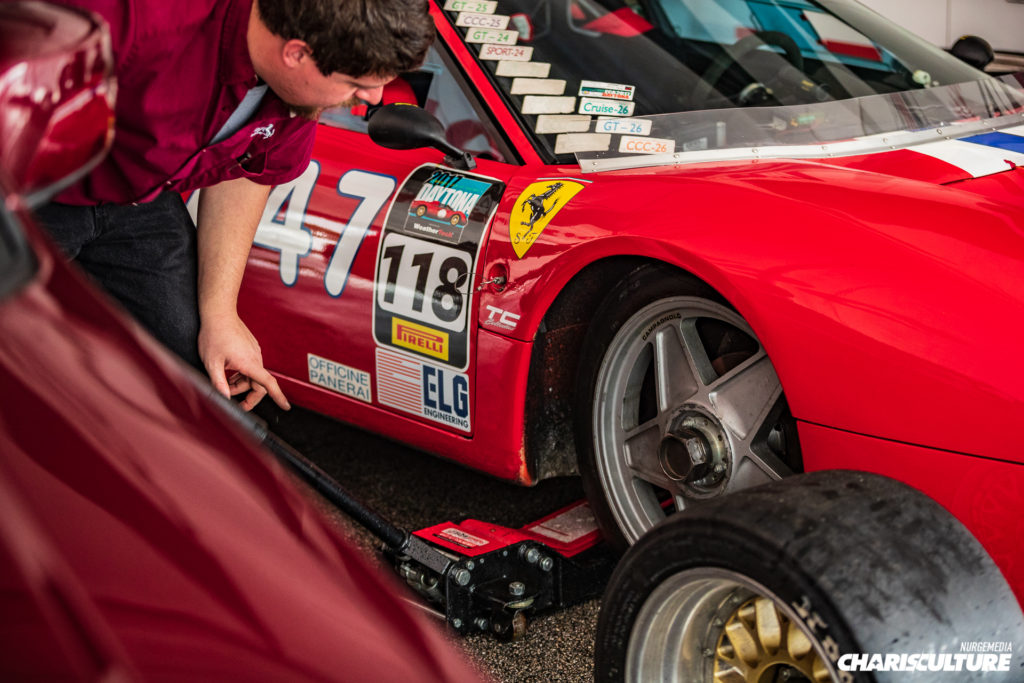 The rain let up and the skies were clearer, so owner Jim Fuchs told his crew to get the rain tires on, they were going out! I always enjoy watching a race car come together, watching the crew check tire pressure, run diagnostics on the various systems, warm it up and rev it. All the parts that come together to get these machines safely on the road and back again in a short time is very impressive.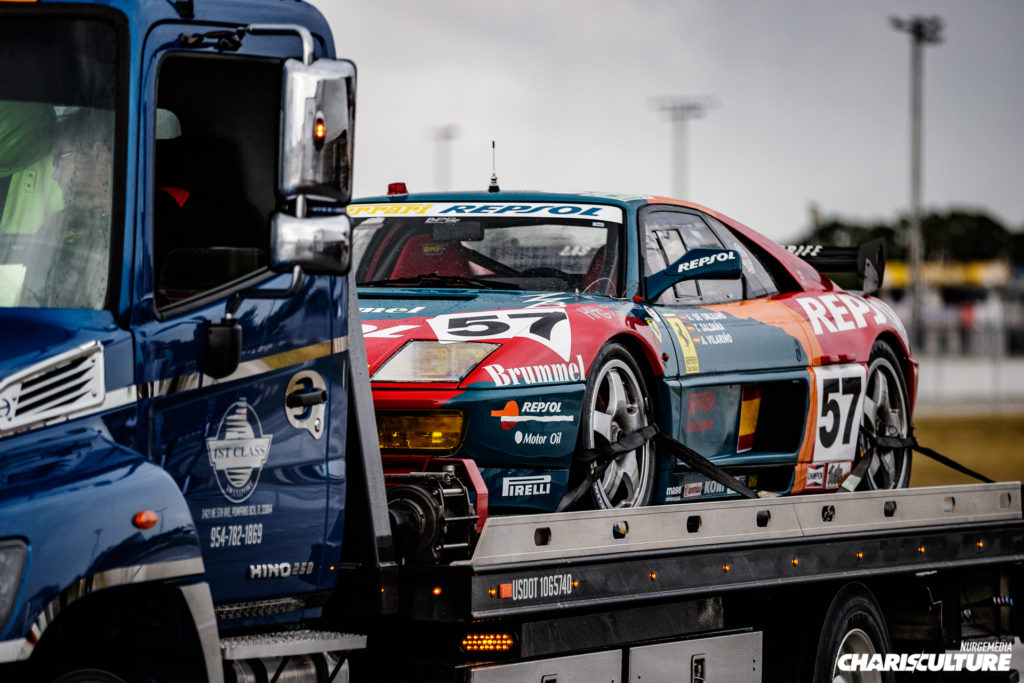 As the final touches were being put on Jim's 512BB something else rare and wonderful appeared, one of two Ferrarri 348 GTC-LM racecars, sure why not! This particular one raced at Le Mans in 1994 and finished 11th overall and 4th in class making it the first Ferrari to finish at Le Mans since 1982. As you can see the car looked like it was taken right off the track, I of course went over to investigate.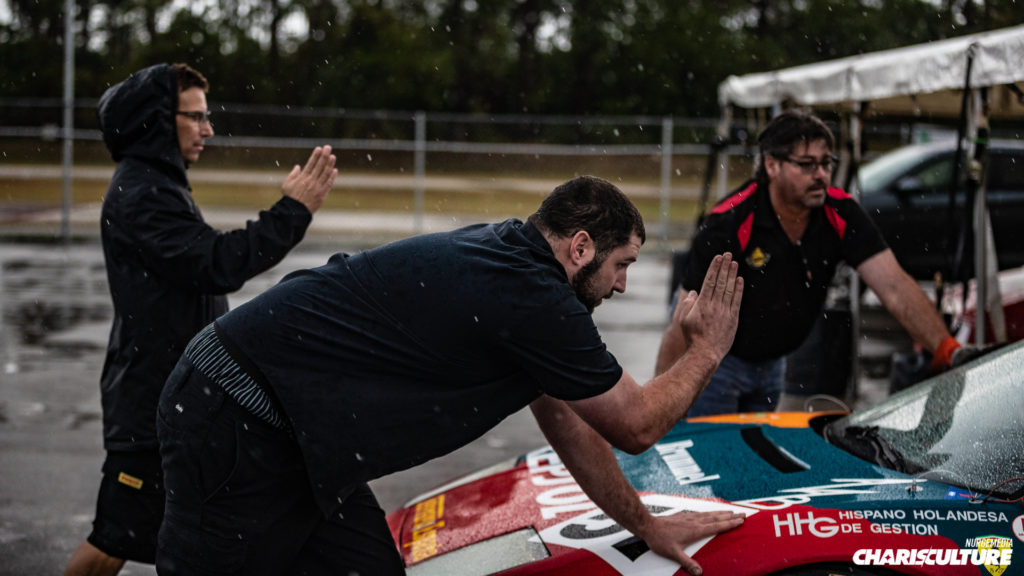 A slight drizzle began just as the crew started moving the car off the trailer, of course. Thankfully it wasn't heavy enough to be concerned about so I followed the whole process of the car unloading and parking. We were all treated to the symphony of it's exhaust system shortly there after.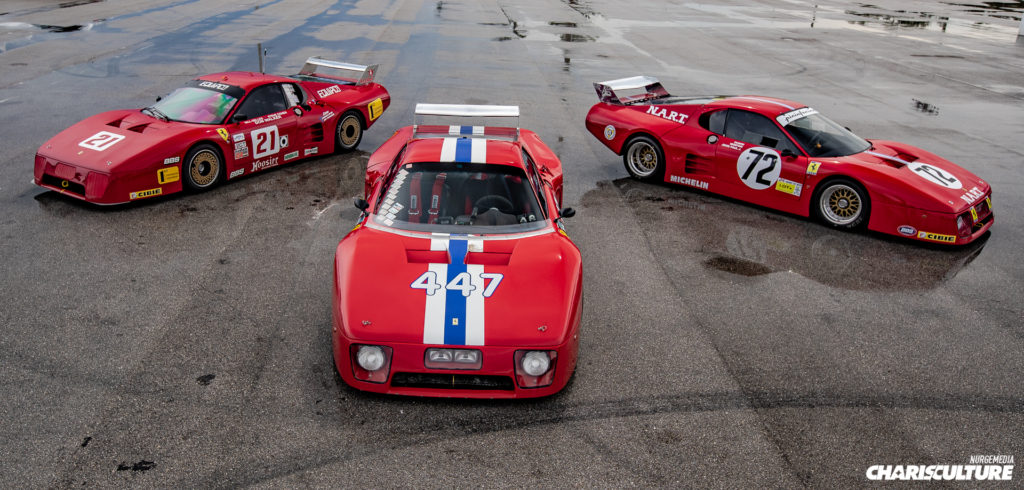 With the last bit of drizzle gone Bill told me that they were going to check the track to see if anyone could race. During that time Peter Singhof, one of the other photographers there, was setting up a shoot with all three 512BBs in attendance,clearly it worked out rather well.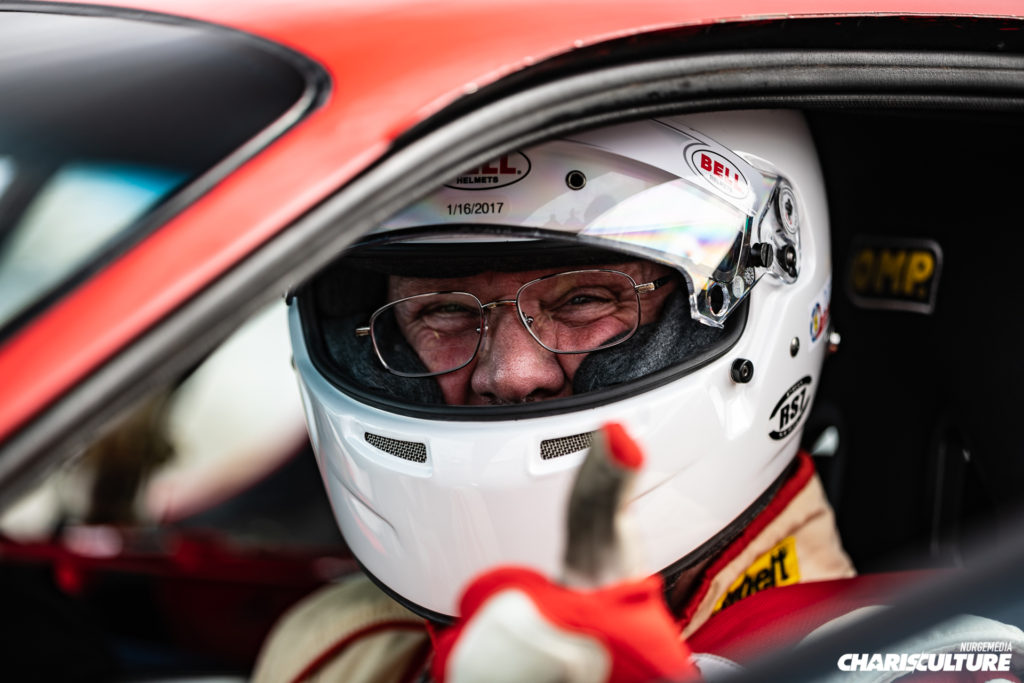 Once he got the ok Jim suited up and got in his car. He would be the only car on the track this day and Peter would be riding shotgun. As we all headed towards the track Bill mentioned he had an ideal spot for me to shoot from. He pointed towards the tower right at the start/finish line. Yeah, I'm going up there!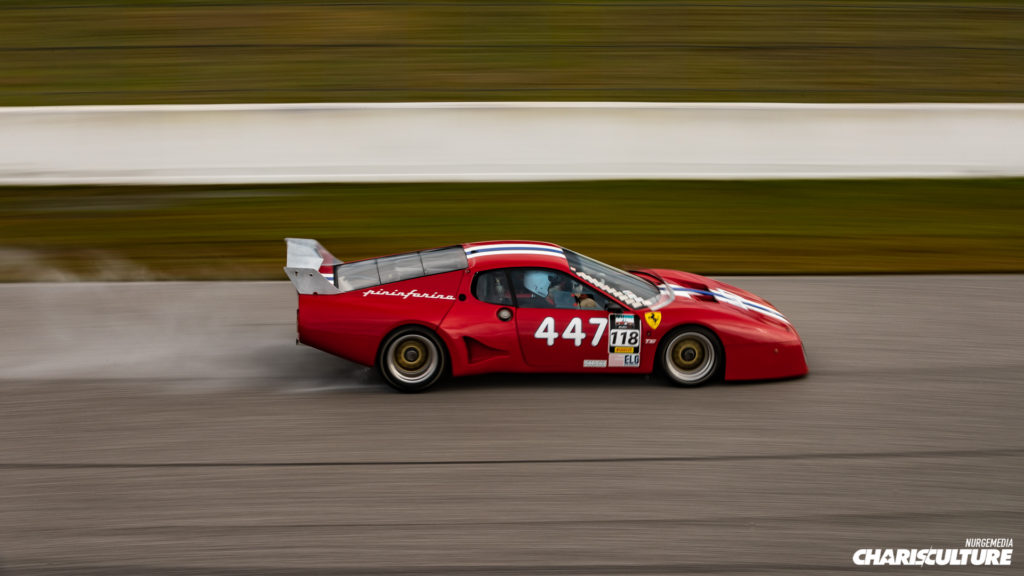 It was pretty cool to watch Jim cruise around the track. The sounds were amazing especially on the straightaways. The water mist flying up was also excellent. Jim did several laps each time working the track to find the best area of travel as to not hit too much water. The tones of downshifting and acceleration were bouncing up and down the track like a surround sound pinball machine. I could only imagine how intense it would sound with more cars racing.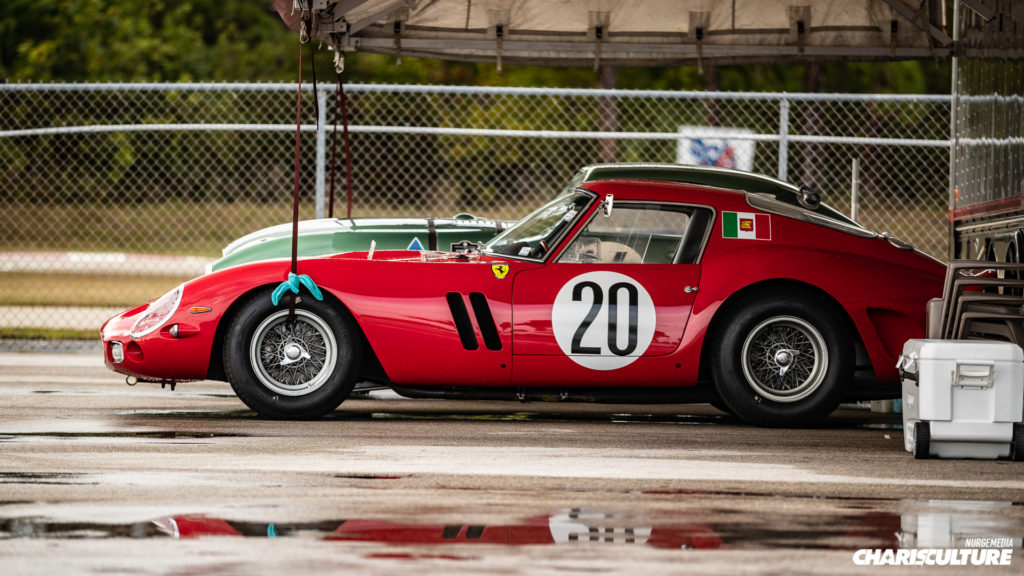 With his run complete, Jim headed back to the paddock area. No one else was going on the track so the call was made to end the day. The weather kept much of the cars under wraps but the little bit of sunshine we had was put to excellent use. As I left I took one last look at that gorgeous GTO and headed home ahead of traffic and ready for a nice mid afternoon nap.
The rest of the pics are on flickr, enjoy!