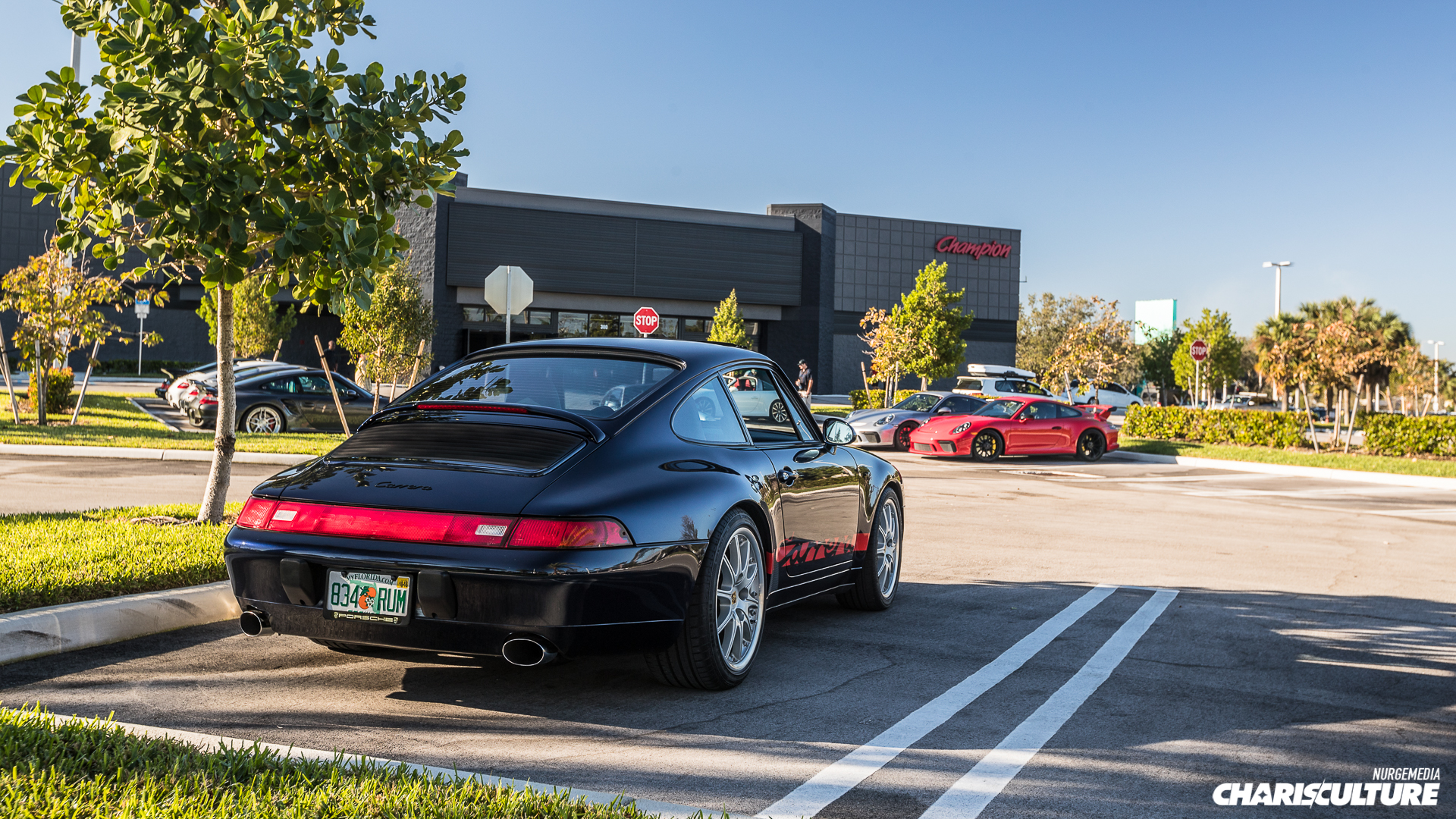 Last year was the first time I learned of the Cars & Brunch event at Champion Porsche. This, of course, was thanks to our good friend Bill Adam. This year was no different. Bill sent me the info about Cars & Brunch 3 with a teaser of what his friend was going to bring.
I, of course, was in. As usual, I arrived early and was greeted by the Champion Porsche crew. I was about two hours early so there wasn't much going on just yet.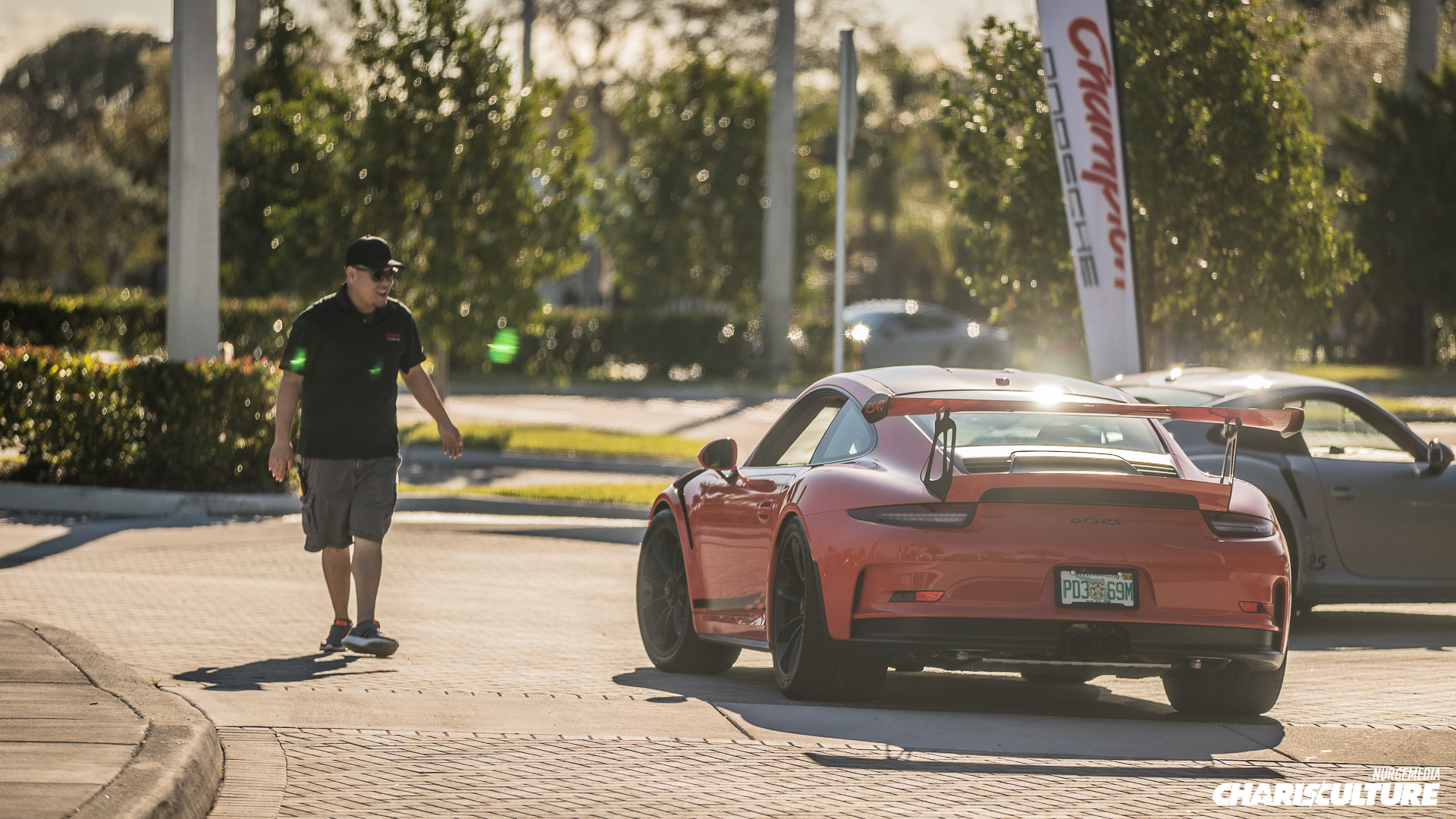 I watched the parking lot fill up quickly. Cars of all makes were pulling in, and it was about an hour before show time. Most were porsches with the occasional Ferrari or Lamborghini finding its way in.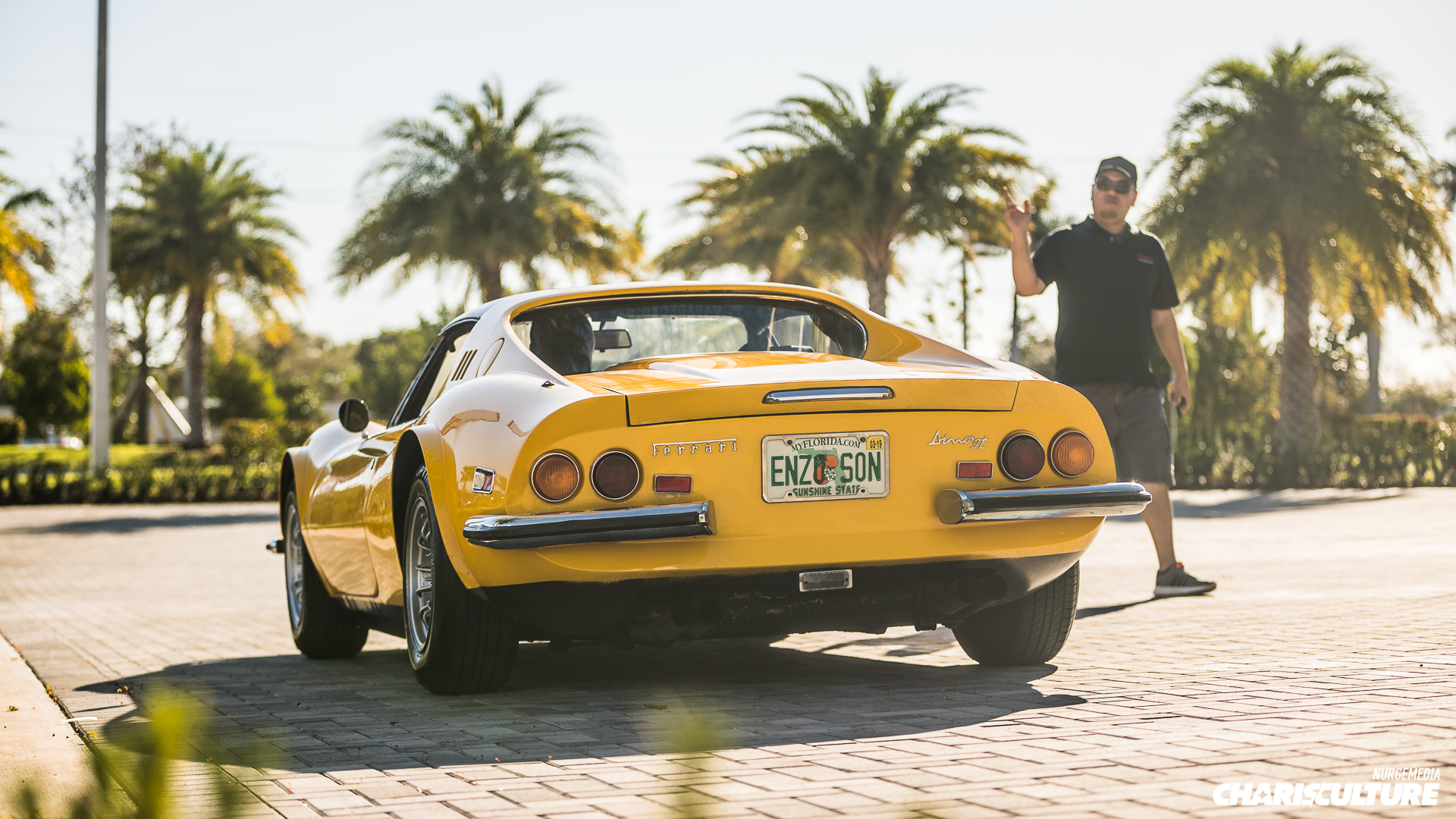 Even a vintage Dino showed up! (I think this was the same one from last year.) I can't imagine there's more than one Dino driving around with the "ENZO SON" license plate.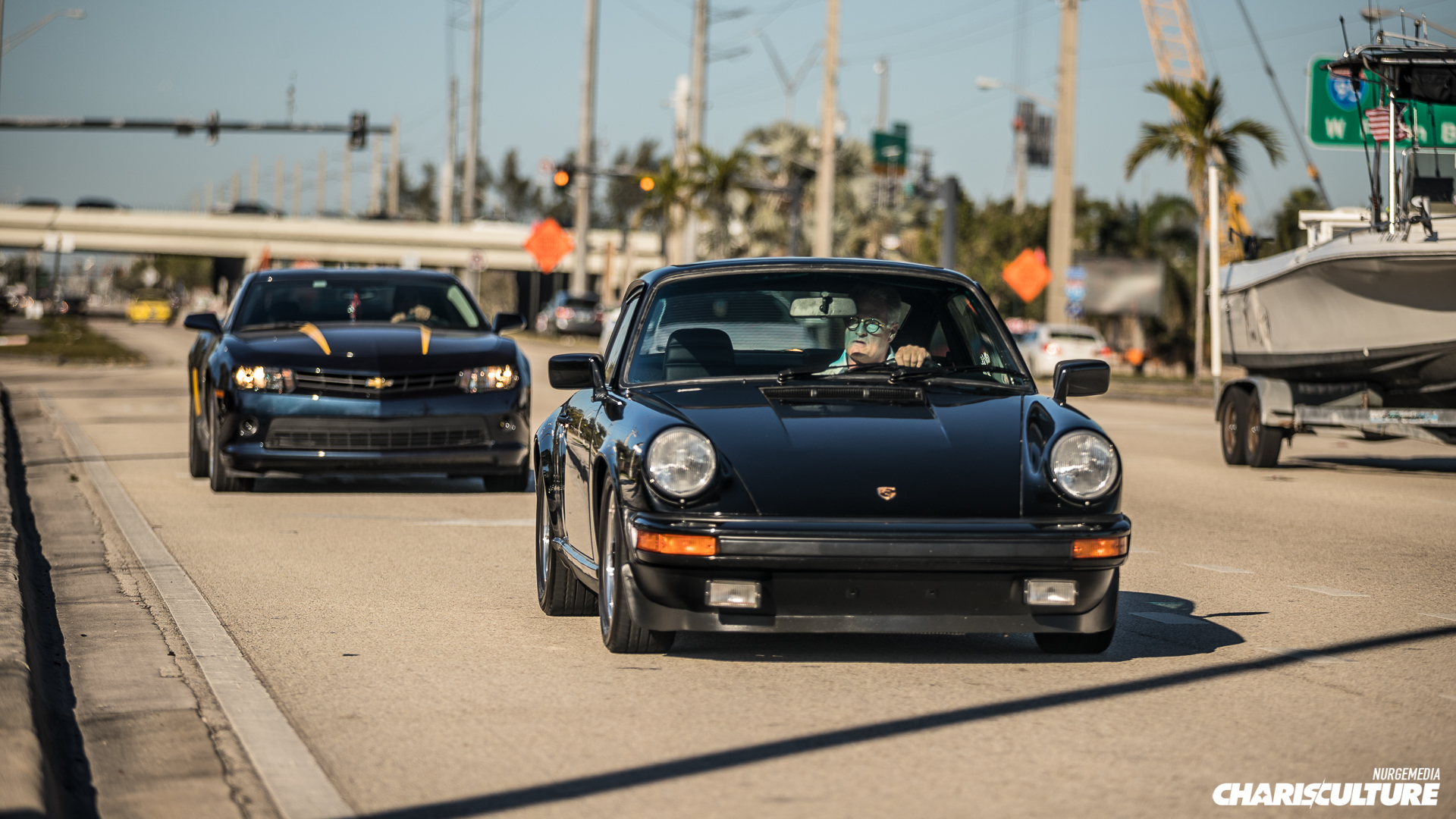 Seeing as I still had about an hour before the show started, I figured I'd head to the off ramp for some pan shots of showgoers. On the way, I caught this guy about to turn in looking like he was all about that brunch. I know I was!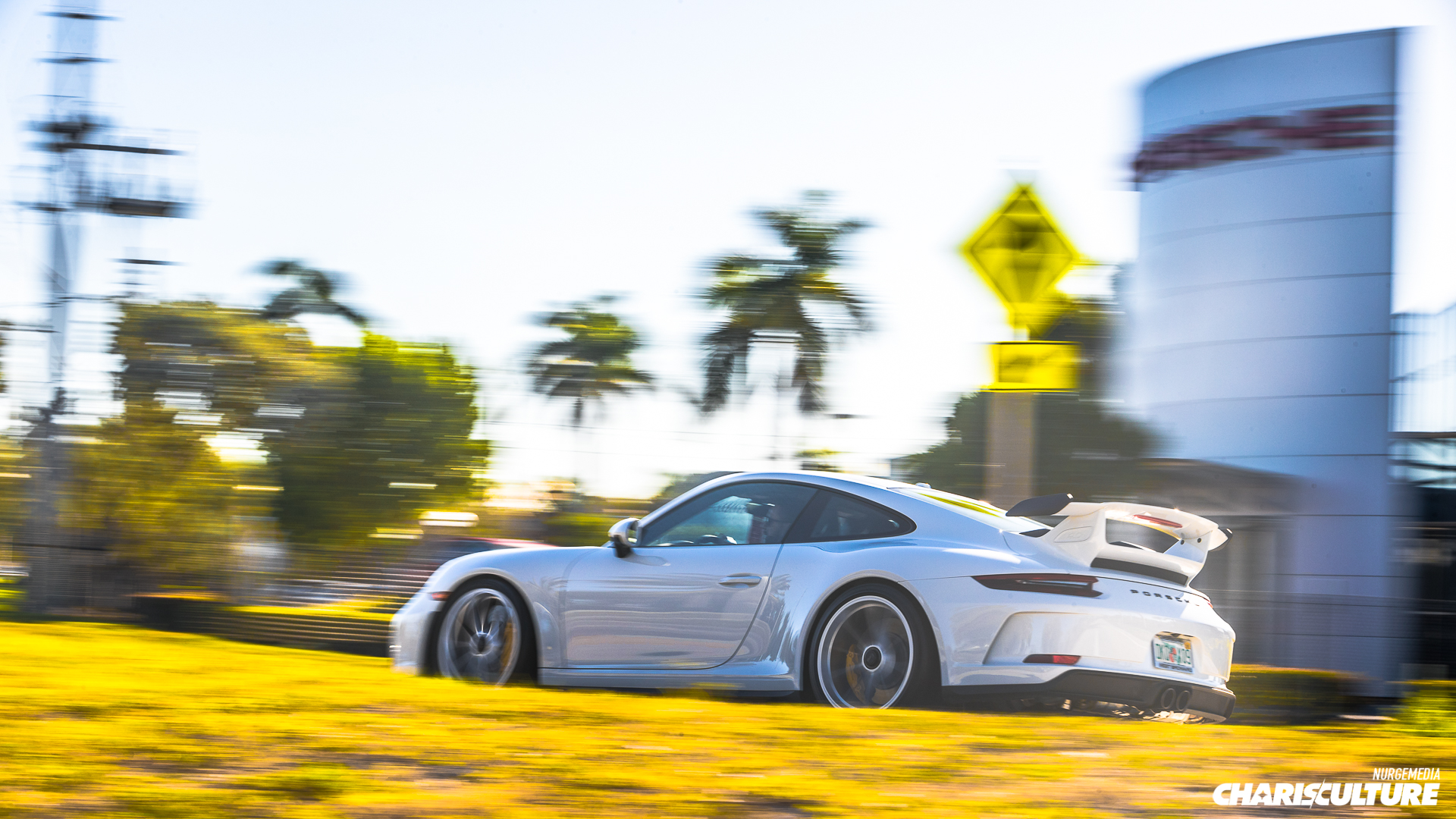 I found my spot. The cars were coming in a few at a time, and after about ten minutes, my patience paid off. It was closer to 9am at this point, and cars were coming in from 95, as well as from Copans Road. So, I was able to cover two main entry points where cars were coming in at speed. Plus, I had the advantage of shooting uphill. This created a nice effect where the grass obscured the road, making it appear like hills, which we all know don't exist in Florida.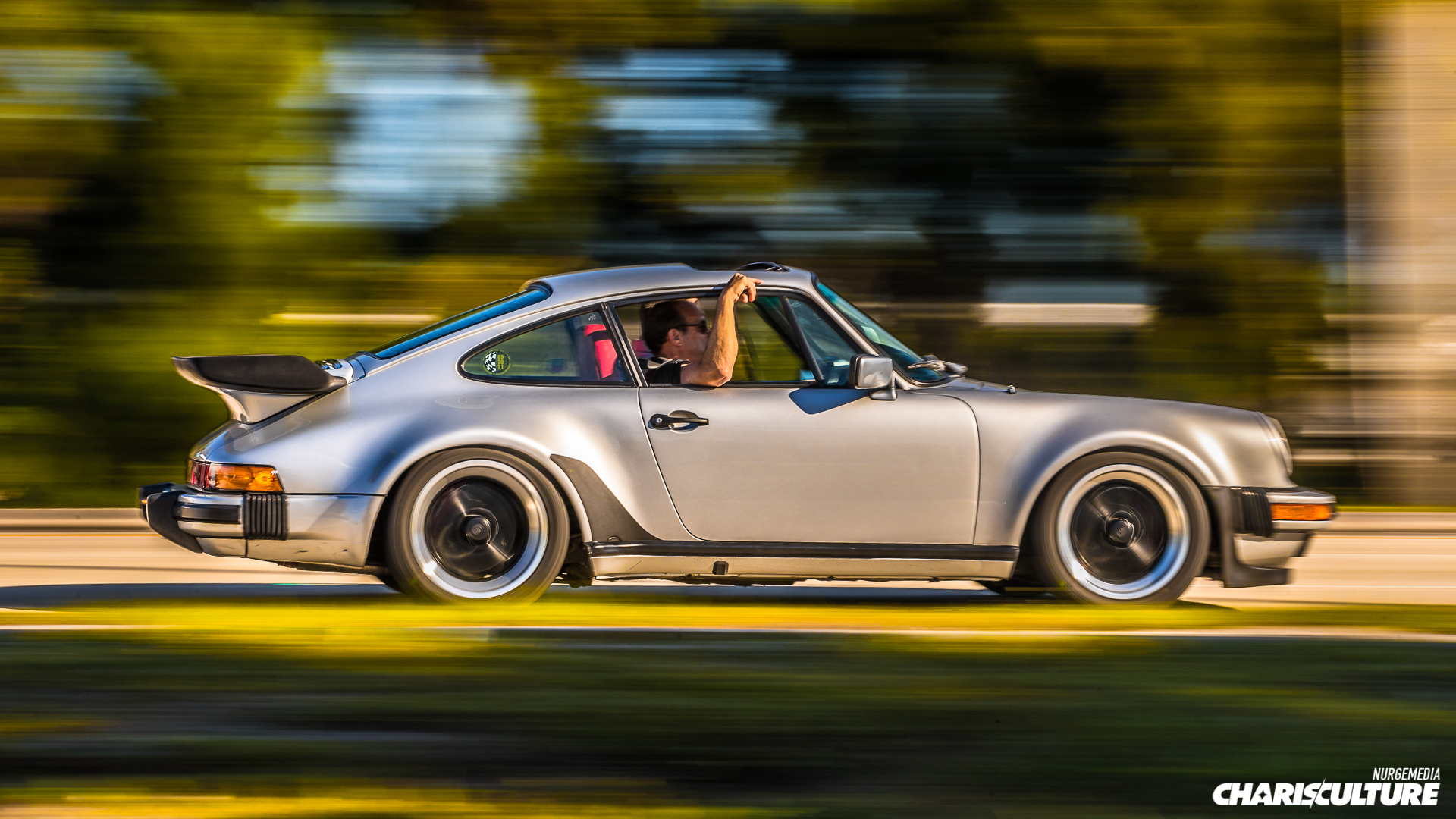 Now all I had to do was listen for the sounds of high speed engines roaring down the off ramp or the sounds of screeching tires, as cars peeled out at the stop light on Copans and the entrance on 95.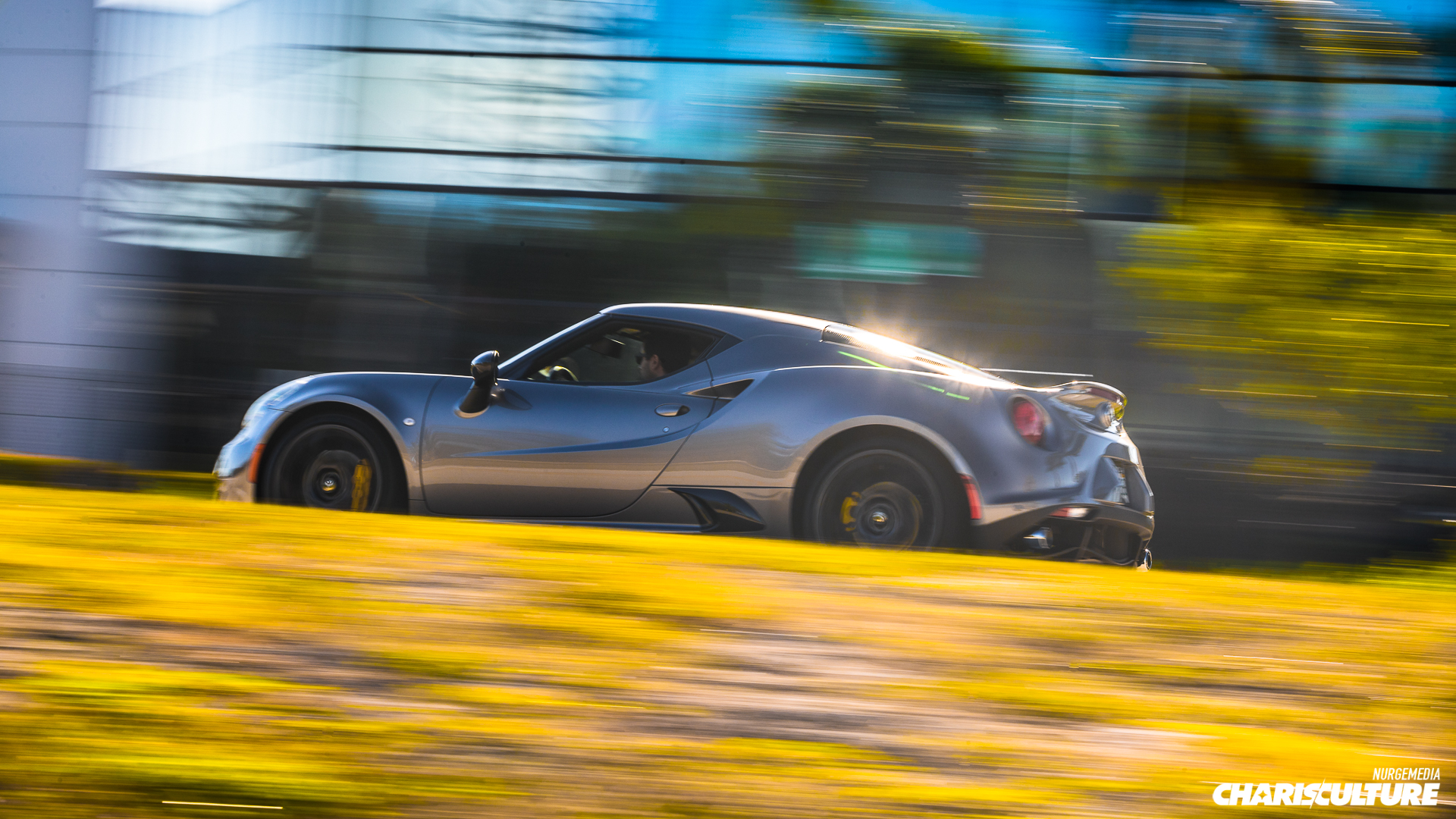 After a few cars from Copans, I swung back around to the 95 exit. Then, a strangely familiar shape appeared in the distance. It was an Alfa Romeo 4C in Basalt Gray Metallic. Funnily, I met a fellow photographer the weekend before that had just purchased a Basalt Gray Metallic 4C, and since the car is so rare, I thought, "It would be so funny if that was Josh." What was even funnier is that not even two minutes later, the next car to come down the off ramp was a 4C Spider in Giallo Prototipo! I was laughing. "What are the odds!?"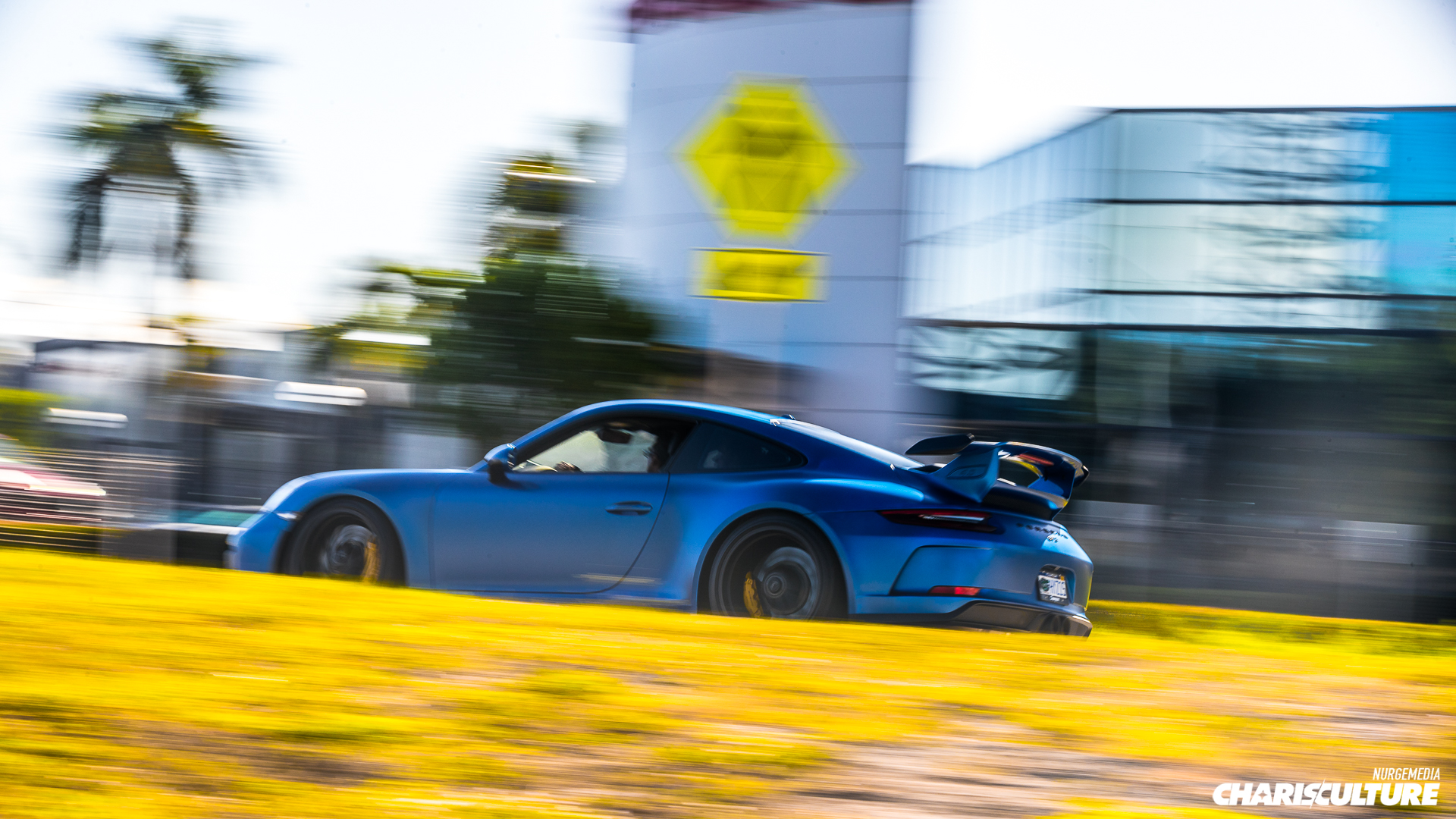 My main focus for going out to get pan shots was to capture Bill's friend in motion, but then something occurred to me: "What if he didn't take his car on the highway? What if he took the 'scenic' route and came in from the East?!" I shot a few more cars and headed back to the show area.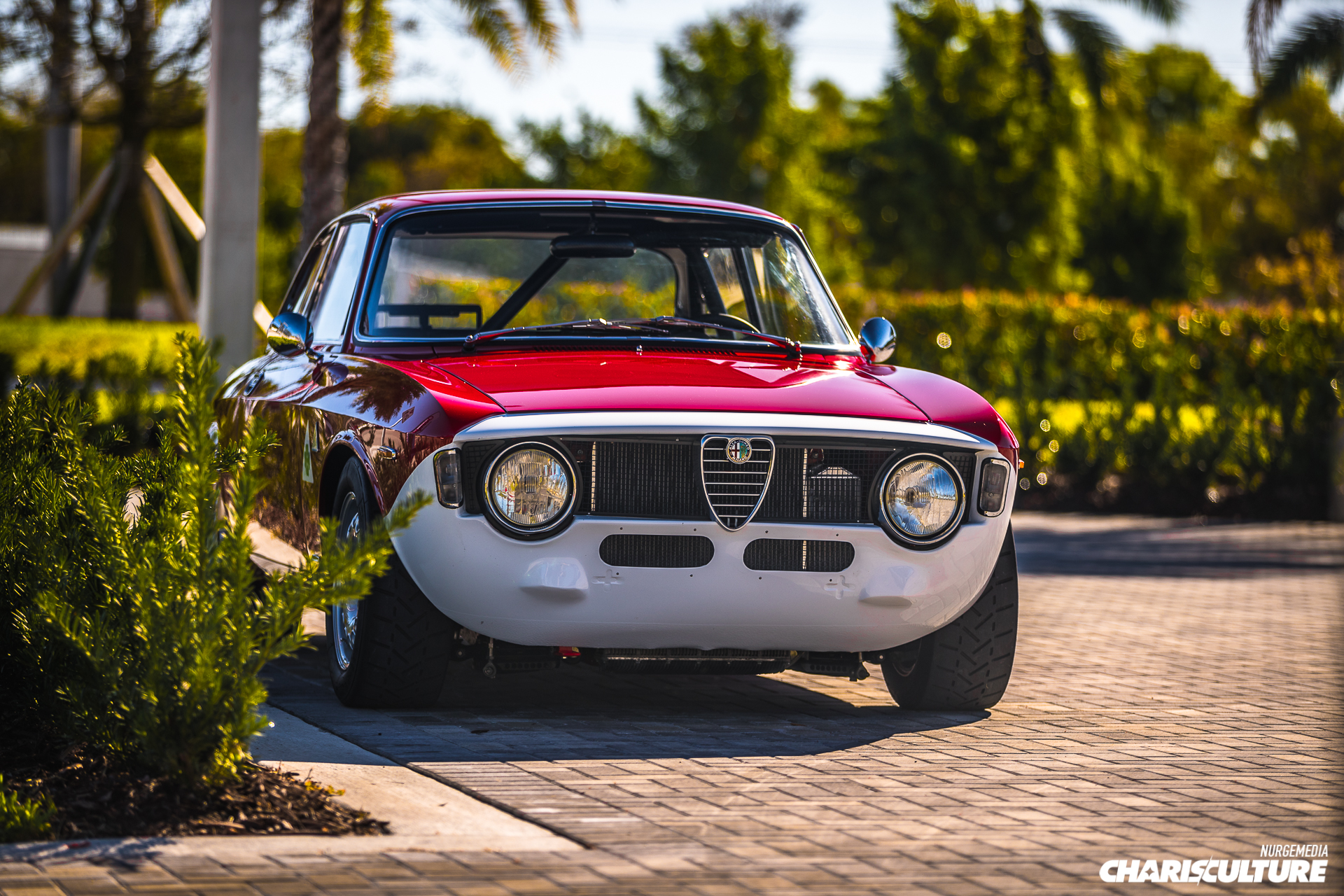 Upon my arrival, I was greeted by this beautiful GTV. I immediately felt nostalgic for the one we shot for Petrolicious last year. I later found out from Bill that this GTV was also quite the restomod with a fully built 2.0 engine over the stock 1.8. Unfortunately, the hood wasn't open, but I could only assume the engine bay was just as immaculate as the rest of the car.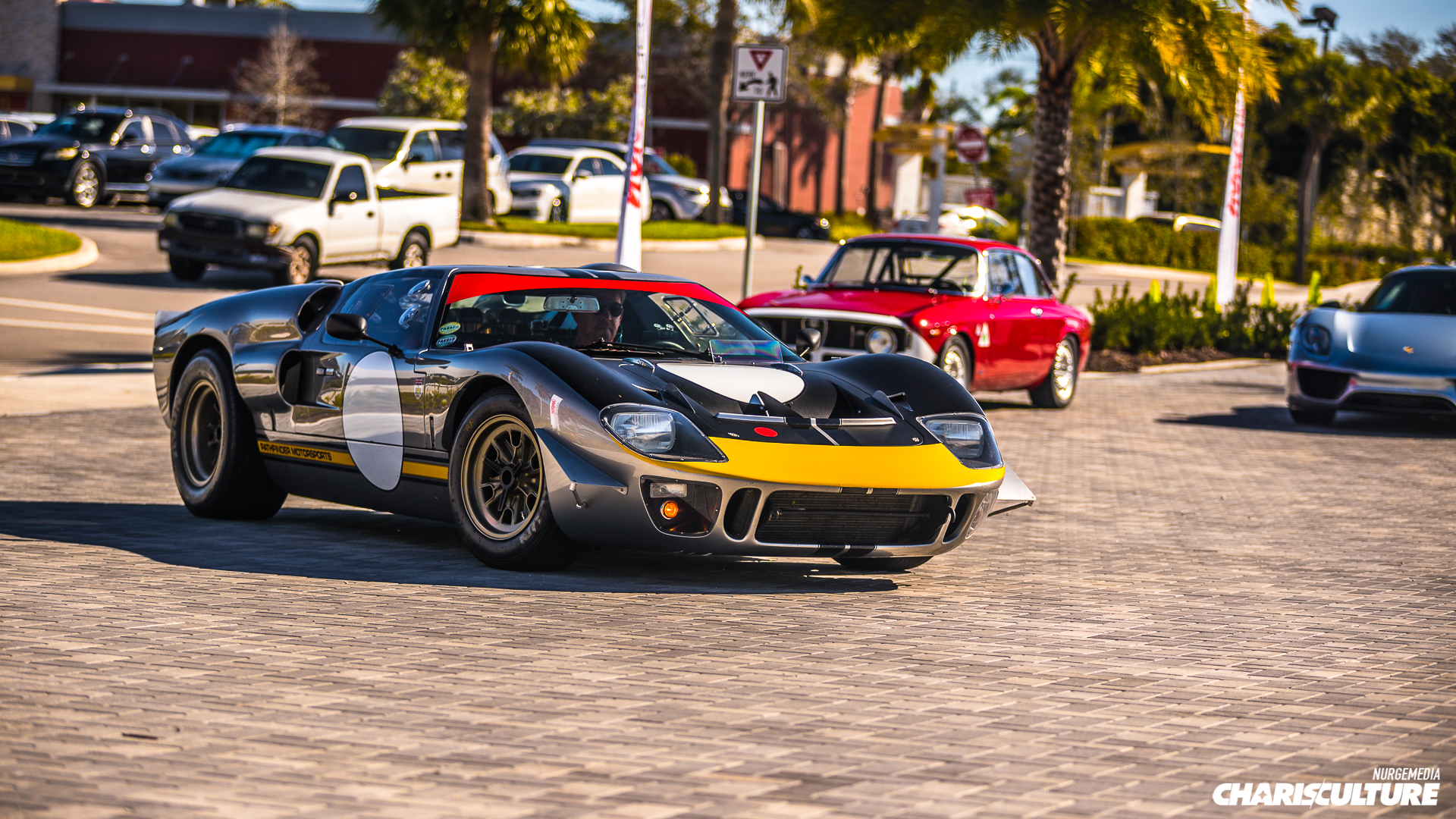 Speaking of Alfas, this is when I noticed the gray and yellow 4Cs parked next to each other. Sure enough, that was Josh driving the Gray 4C. Too funny! I caught up with him and told him that I caught him in a few pan shots and that the yellow 4C was only a couple minutes behind him. The owner of the yellow 4C came over, and we all started talking. Mid-conversation I heard something amazing. I quickly turned and scanned the entry area to the show. Sure enough, Bill's friend had arrived in the most amazing GT40 replica I had ever seen. And yes, he was driving in from the east, so I would have missed him had I stayed at the off ramp! I apologized to the Alfa duo and darted off to capture the arrival.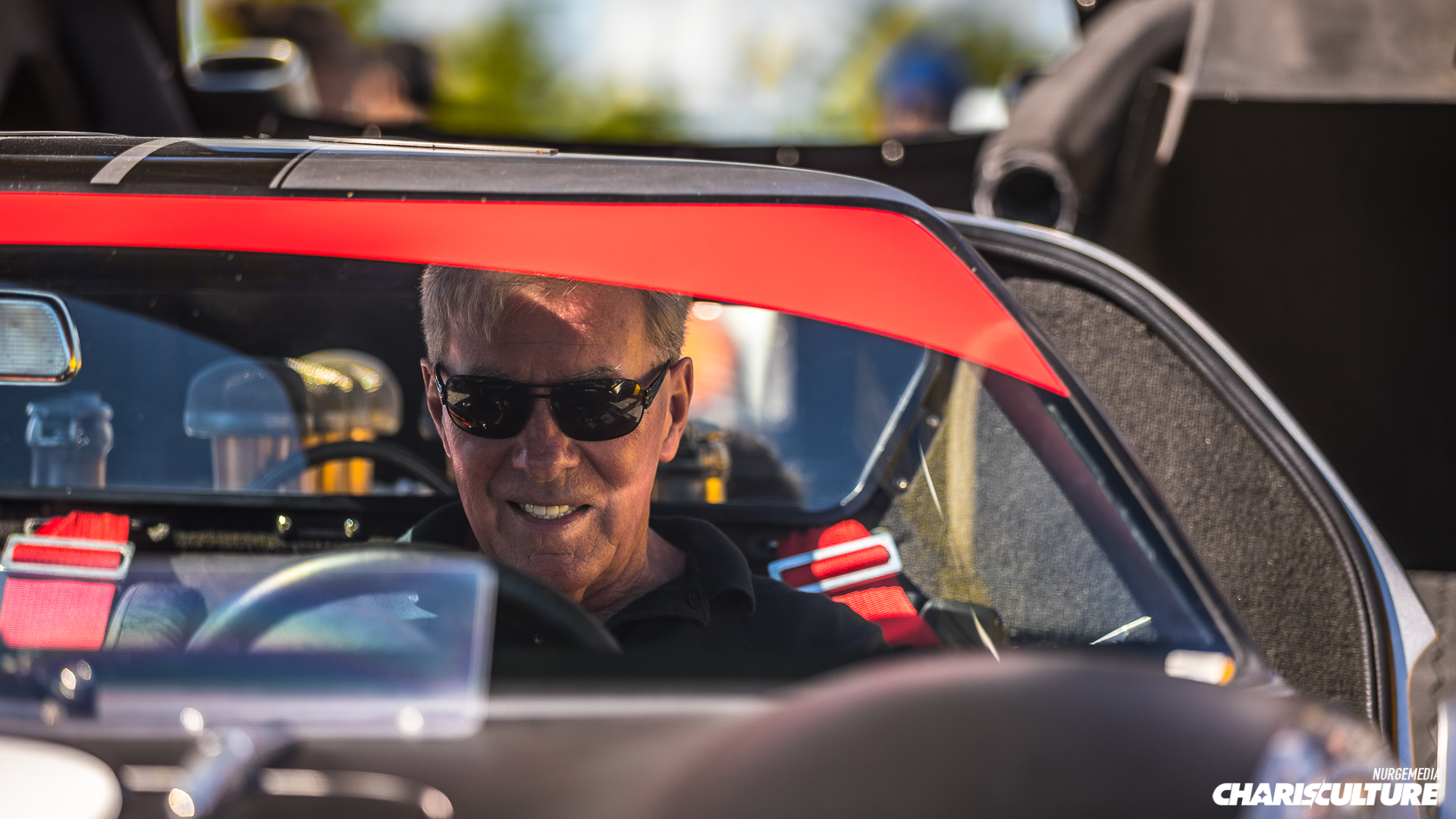 At that point, I also ran into Bill and his daughter, Shay. We did a lap around and came back to the GT40. Of course, you have to get a pic of the race car driver in the seat of a race car, right? It was nice to see Bill again, and I haven't seen Shay since the Rides & Smiles event from 2016, so we all caught up as we did another lap around.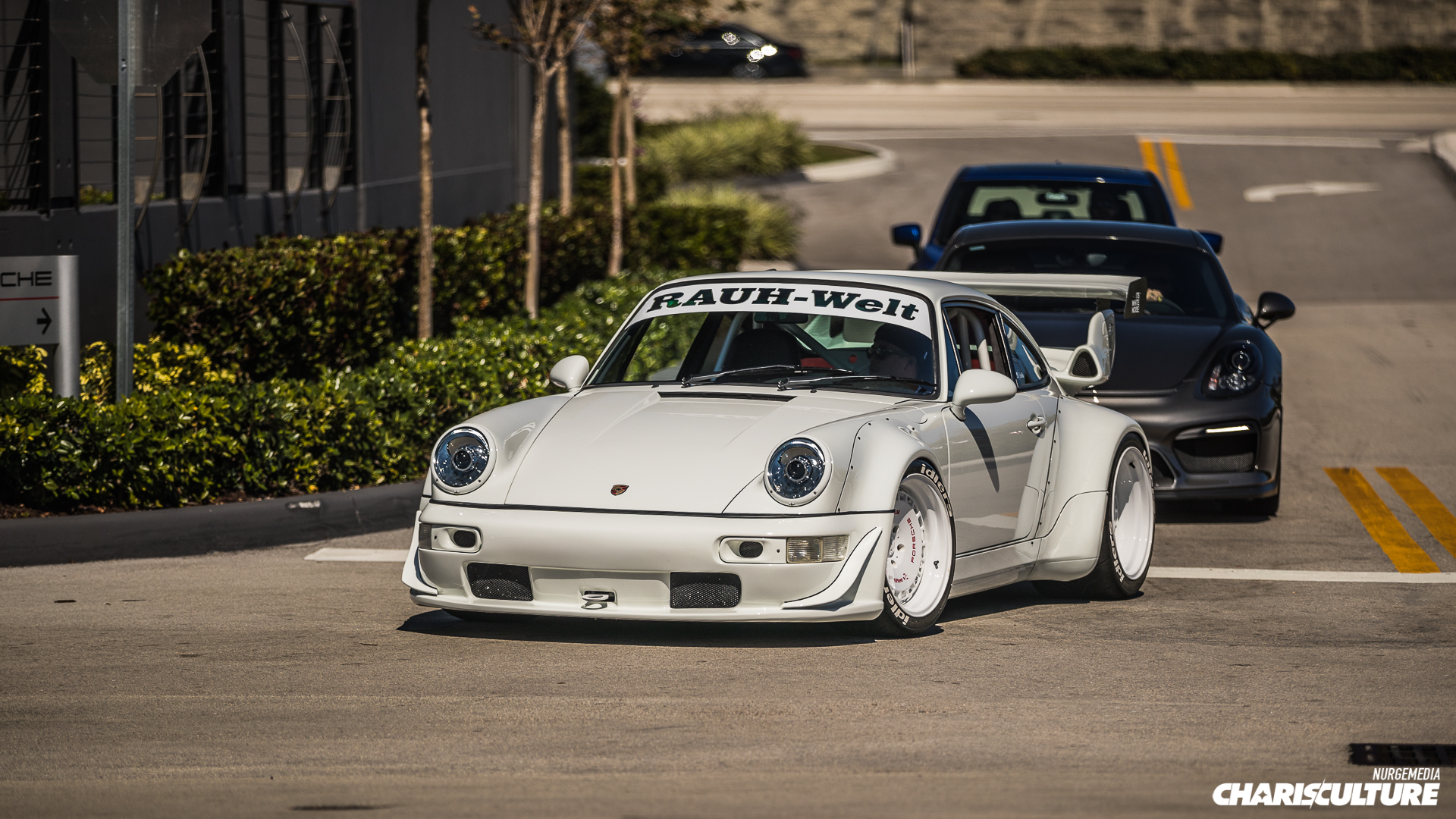 Our time was brief, as Shay had some studying to do, so I bid them farewell and went back to checking out the show. I was also keeping an eye on the time and thinking maybe I should head home as well. Just as the thought crossed my mind, that RWB "Hollywood" pulled in.
The last time I saw this RWB was at SEMA 2015 in the KW Suspension booth. Apparently, it's in Florida now. Good thing we have a Hollywood too!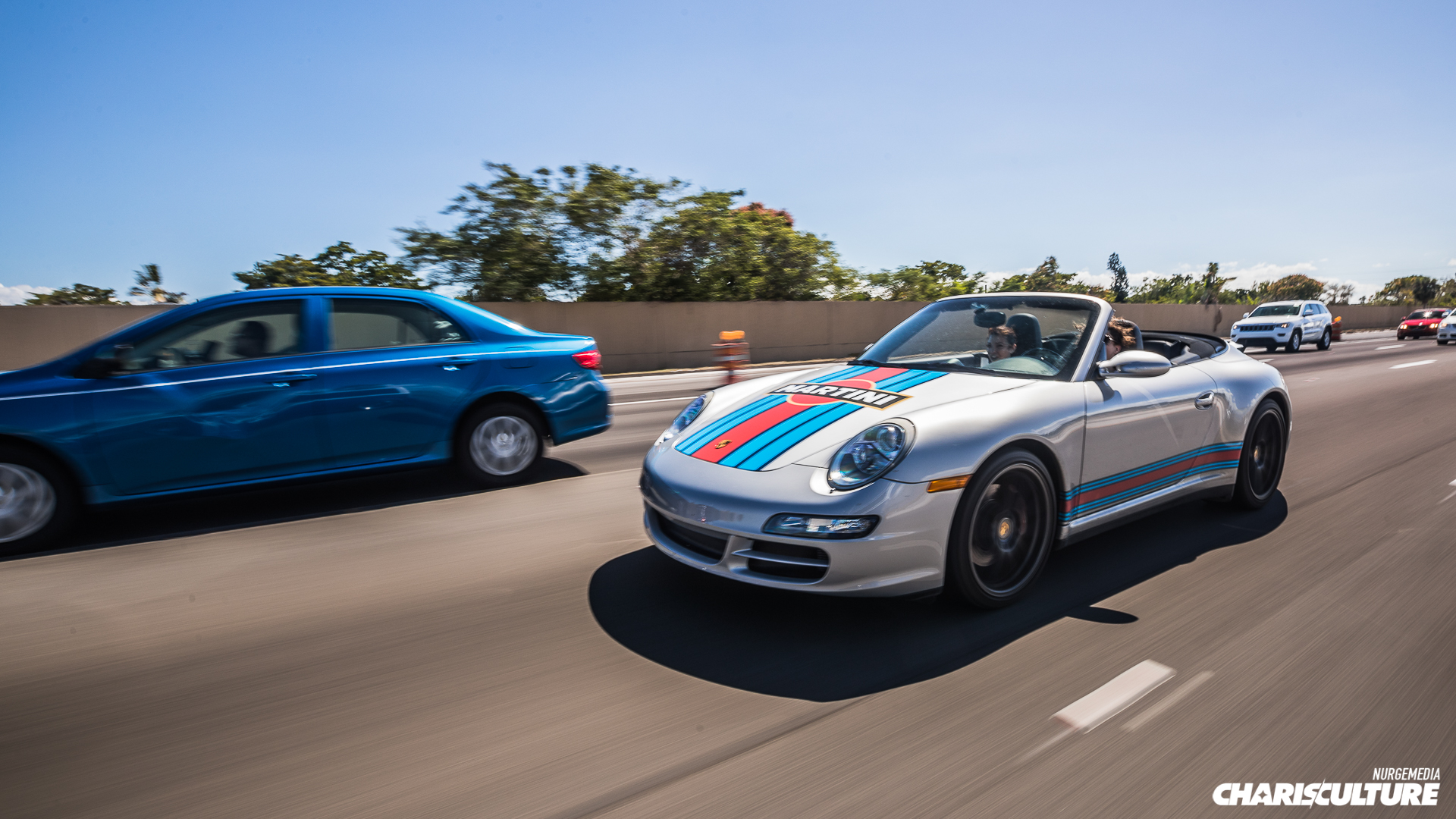 I left the brunch after taking a closer look at "Hollywood" and headed home, but not without some company. On the highway, I came across this couple cruising in their Martini racing covered cabrio. It was a nice day to roll with the top down!
Enjoy the rest of the pics on our flickr